Check out the entries and resources on Naomi Klein's website The Shock Doctrine to put some of the recent economic issues in perspective. There's a bunch of good pieces & links under Disaster Capitalism in Action.
It gets more interesting everyday.
More personally, I left last Thursday's demonstration without the usual malaise and disenfranchisement of NYC protest. A couple hundred folks gathered with a variety of slogans on hand-made signs, in supposedly one of over 200 demonstrations in a dozen states.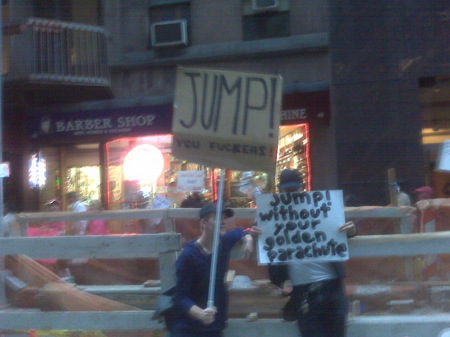 The crowd shouted "You Broke it, You Bought it" and "The Bailout is Bullshit" among other chants expressing the rage against such a backwards policy. Some photos of the protest can be seen on NYC Indymedia, and on LetsgetridofNY, and Alternet, or on video at NY Mag among many other places online.