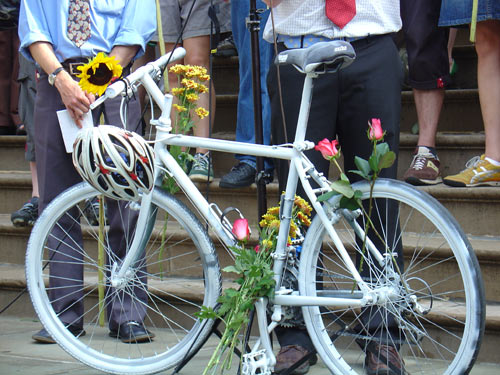 Yesterday, members of Visual Resistance and Time's Up installed two ghost bikes for 23-year old filmmaker Derek Lake, killed June 26 on Houston St, and Dr. Carl Nacht, killed June 22 by a NYPD tow truck that cut him off on the West Side bike path. Transportation Alternatives writes:
In the past three weeks there were four serious bike crashes in New York City, three of them resulting in the deaths of individual cyclists, Donna Goodson, Dr. Carl Nacht and Derek Lake.
On June 5, Donna Goodson was killed by a truck on Rockaway Parkway in Brooklyn. On Monday June 19, a taxicab driver opened his door and knocked a cyclist into the path of a passing bus on 10th Avenue in Manhattan. On Thursday June 22, an NYPD tow truck driver crossing the Hudson River Greenway hit Dr. Carl Nacht as he was riding with his wife northbound on the bike path. Dr. Nacht died Monday, June 26. On Monday June 26, Derek Lake was killed by a truck when his bike slid out of control and he fell beneath the truck on Houston Street at LaGuardia Place.
All four recent crashes were caused by dangerous conditions that are commonplace on New York City streets but should not be: drivers and passengers opening car doors into the path of cyclists; drivers failing to yield to cyclists and hazardous street conditions that can send bikes out of control.
We will be installing a ghost bike for Donna Goodson this week. For background information, see our ghost bike project page and our map of NYC memorials.
Update: Mike from Bike Blog has a nice photoset from the Memorial Ride for Derek Lake and Carl Nacht on flickr.
Photo at top by DMo, via Gothamist.