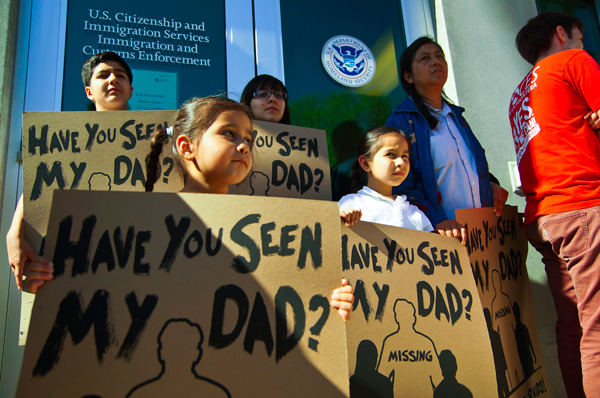 photo by
Joe Brusky
Yesterday Voces de la Frontera organized a demo in front of the Immigration & Customs Enforcement (ICE) offices in Milwaukee to protest the recent rash of arrests in Milwaukee – at least a dozen undocumented people taken from their homes and workplaces by MPD and ICE. The demo itself was heart wrenching: listening to teenagers speak of the pain of having a father arrested and the uncertainty that this brings. For it is a basic human rights violation to tear apart families and the Obama Administration is falling on the wrong side of history with their draconian responses to immigration issues.

Like all Voces demos this one included multiple banners and posters. Josiah Werning designed the "Have You Seen My Dad" image the day before the demo. John Fleissner, Josiah, and the YES crew were at our studio space screening the images and they also took some of my "Imagine No Borders" posters for the demo. Additionally Paul Kjelland's banners of Obama and the Voces logo were on hand.
I recall John saying the night before the demo that the image of multiple people carrying Josiah's image would be powerful and he liked that a more utopian message "Imagine No Borders" would be present. John was right. It was powerful and it did serve as a magnet for the cameras. Local and national media (New York Times) covered the demo and broadcasted the images, and more significantly, the issues far and wide. That said nothing was as powerful as the words spoken from the brave family members who addressed what they were going through and spoke out against the arrests.
Here is a link to the NYT story.
And more photos by Joe Brusky: