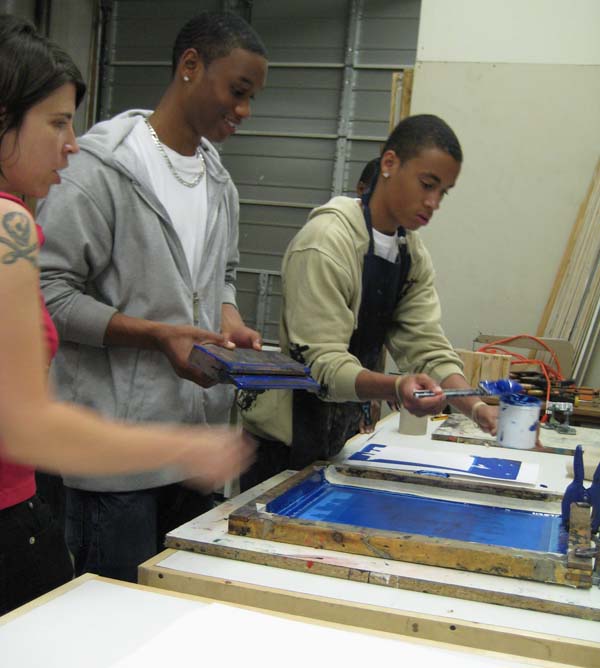 This week saw the culmination of a project I've been working on the last couple of months alongside
Mary Tremonte
(also of Justseeds), Pittsburgh artist (and beekeeper) Ashley Brickman, and Jenn Knops from University of Pittsburgh's Street Law program. As agents of the
Warhol Museum's Education Department
, we worked with three
"Theory of Knowledge"
classes at Schenley High to create posters about current social justice issues.
We started by taking the classes on a field trip in late February to see the
"Signs of Change
" exhibit while it was on display at the Miller Gallery in town. The students had to pick images from the show to discuss with the group, and began thinking about how to communicate through poster design. Over the course of the next several weeks we held discussions about current events, helping the kids focus on problems they saw in the world and researching them to gain a better understanding of the issues they felt were important. Jenn brought in a lot of information on international human rights for the students to chew on, and once they broke into groups we started going over some design fundamentals, using imagery from some Justseeds artists along with the "how to" design chapter at the beginning of Josh and Favianna's
"Reproduce and Revolt"
(a great, encompassing primer on fundamentals of clear graphic design). The kids set to work collaborating on their designs, combining their experience at "Signs of Change" with their own knowledge and opinions.
The best part, of course, is the actual printing of the posters, which happens in a day-long field trip for each class to
Artist Image Resource (AIR)
! There they screen print their poster designs and learn the whole process firsthand! Besides getting some amazing posters printed and having fun doing it, I'm really proud of how this project worked out, and it's amazing watching the kids' eyes open to the possibilities of printing! In the coming weeks the students must find places in the city to hang their posters (storefronts, schools, etc) in order to spread their messages.
Check out our Flickr album
for more images of the students making their posters…