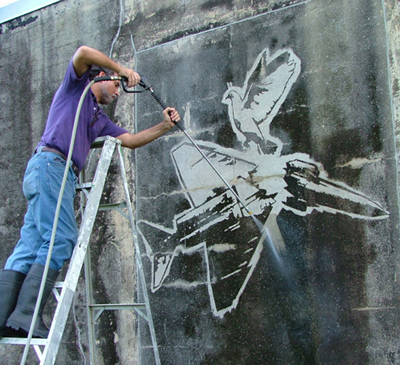 Here is a short text that I wrote about the work of Rafael Trelles in the book Art and Social Justice Education: Culture as Commons edited by Therese Quinn, John Ploof, and Lisa Hochtritt. Below is the text, posted by permission from the editors. Over twenty other activist artists and art collectives, including Justseeds, are discussed (along with a number of essays) in this highly recommended book that is essential for artists, activists, and educators alike.

Rafael Trelles: Cleaning Up the Stain of Militarism
The rebellion and underground edge of the modern day street art movement has faded. Born out of New York City in the 1970's and the 1980s, artists – mostly disenfranchised black, brown, and white youth bombed the trains, subway tunnels, and walls of the city and launched a global phenomenon. The explosive colors and designs screamed out against power, privilege, and property. Today, street art has gone mainstream. Corporations hire street artists to paint billboard advertisements. Street artists have their own merchandise lines with mass produced T-shirts, hoodies, and skateboards that are churned out of the sweatshops of China and the global south. Shepard Fairey's images can be seen wheat pasted all over Pittsburgh… to promote his museum show at the Warhol. In the UK, workers employed to clean up graffiti by the Network Rail are instructed not to remove Banksy's stencils because it might negatively impact tourism.
Lost in the new rules of the street art career path and individual branding is dissent and social justice. The atypical street artist is the political street artist whose motivation derives from the urgent need to communicate political messages to the public through images and text. Rafael Trelles, a Puerto Rican interdisciplinary artist, represents this vital sub-subgenre.
Trelles's street art medium is reverse stencils – environmental street art were he creates images by cleaning. Spray paint and its toxic legacy are avoided. Instead, specific areas of dirt and built up layers of pollution are removed from a wall with a power washer to produce a design that stands out against the areas of the surface that remains untouched.
Trelles's venture into reverse stencils began a decade ago. His iconic street art image is of a dove breaking a warplane, an image that condemns the US Navy's practice of turning the island of Vieques into a bombing range. His image and technique becomes metaphoric. Cleaning the walls to clean up society. Cleaning the walls to cleanse the stain of war, militarism, and imperialism. Cleaning the walls to help kick the US Navy off Vieques, a victory that was achieved in 2003 after a long protest movement.
Trelles's street art becomes so vital for it is part of a local and international movement that calls for justice. Equally important, his work is part of the environmental street art movement. Yet, we should be mindful that it is the imagery and the intent of the artist that matters for environmental street art has also been co-opted. Today, a growing number of "environmental" advertising firms (Green Graffiti, Mind the Curb, Element Six Media, etc.) hire street artists and offer a range of services that places corporate logos and messages on sidewalks, walls, and other surfaces with eco-friendly materials. All of which equates to green capitalism and little to no systemic changes. Luckily, we can turn to Trelles for inspiration as an artist who keeps it real, an artist who harnesses environmental art for grass roots organizing and social justice movements, instead of corporate profits.
-Nicolas Lampert