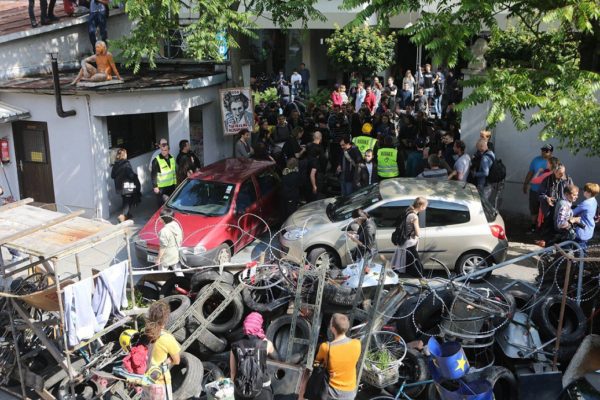 In 2011 Justseeds traveled to Ljubljana, Slovenia to create a collaborative installation for the 29th Graphic Arts Biennial. During our visit there we became familiar with various projects and fellow travelers. It is through these comrades that I heard of the recent struggle over one of the squatted social centers, Rog. After 10 years of activity in the former bicycle factory, the city of Ljubljana is attempting to evict the space, where over twenty collectives are active.
I stand in solidarity with all of those people who have constructed, maintained and are defending the anti-capitalist space right now.
I am hastily putting this post together, to inform our network and audience of the activities in Ljubljana right now. It was the basic request from our comrades in Slovenia.
Until I have time to draft something more succinct, check out the following links to learn more:
For latest updates check out Ohranimo Tovarno Rog
A radio piece on the History of Rog:
Sign the petition that was published last month:Support Autonomoous Tovarno Rog
The Rog website, in Slovenian: Tovarna
#‎FreeTovarnaRog‬ ‪#‎OneWorldOneFight‬ #‎DefendRog