MILK NOT JAILS is a consumer campaign to mobilize NY residents to support the dairy industry and the long-term sustainability of the rural economy. It is a political campaign to advocate for criminal justice and agricultural policy reform that will bring about positive economic growth. MILK NOT JAILS insists that bad criminal justice policy should not be the primary economic development plan for rural New York.
MILK NOT JAILS has made significant headway over the past year, and we are now at a critical moment in our efforts to build a new urban-rural relationship in New York State. We have mobilized farmers to help us achieve our political demands and we are working with them to build a political line of dairy products. We hope to make significant policy changes in New York and create a new model for social change that other groups around the country can utilize.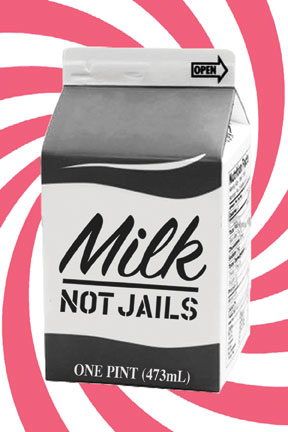 But we need your financial support today to make this happen. Please make a pledge today to help us get a MILK NOT JAILS delivery truck and marketing materials. We must raise $22,000 in pledges by August 31, 2011, so make a donation today and please share this email with your family, friends, and neighbors.
Fill out their survey as well
http://www.surveygizmo.com/s3/548408/MNJ-Consumer-Survey-5-19-11