and the street art is made with red clay.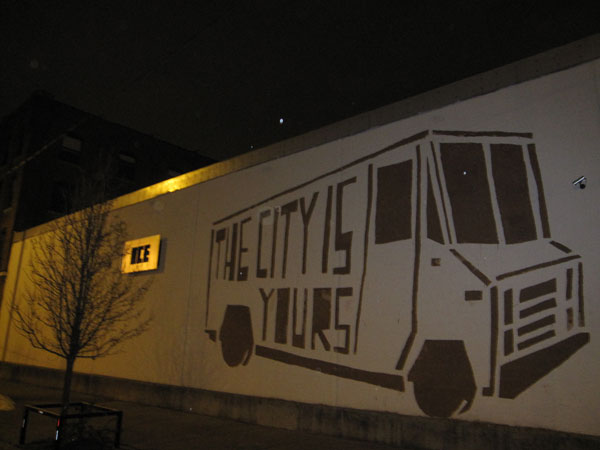 A number of Justseed's members are in Philadelphia this week installing three different shows at three separate venues across the city as part of independent projects associated with Philagrafika 2010.
Here are install shots from the Medium Resistance show at the Ice Box (Crane Arts) of our red-clay mud stencil! The image is by Alec Icky Dunn (included in the Cut and Paint zine), the technique was inspired by Jesse Graves, and the mud stencil crew was Nicolas Lampert, Colin Matthes, Josh MacPhee, Erik Ruin, Emily Abendroth, and the fine folks at Crane Arts who provided incredible assistance every step of the way.
All three Justseed's / Cut and Paint shows open this Friday. Information posted below.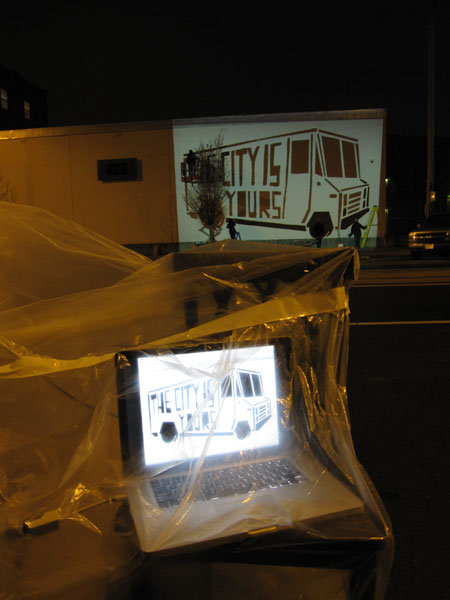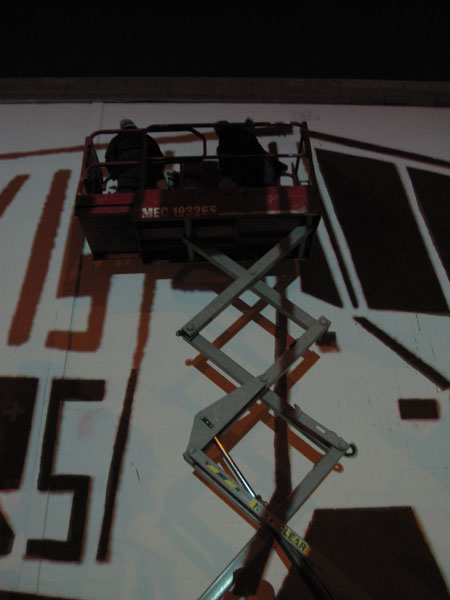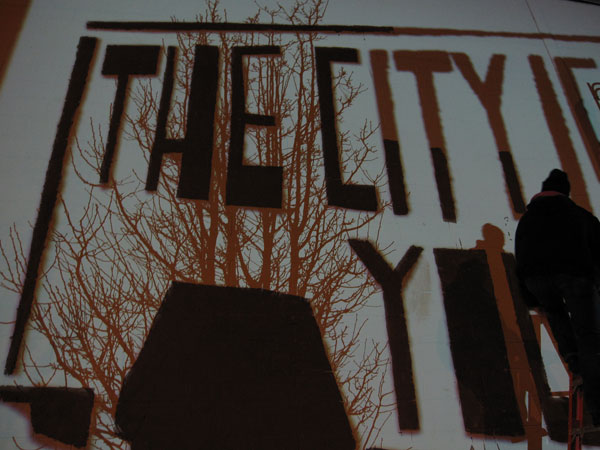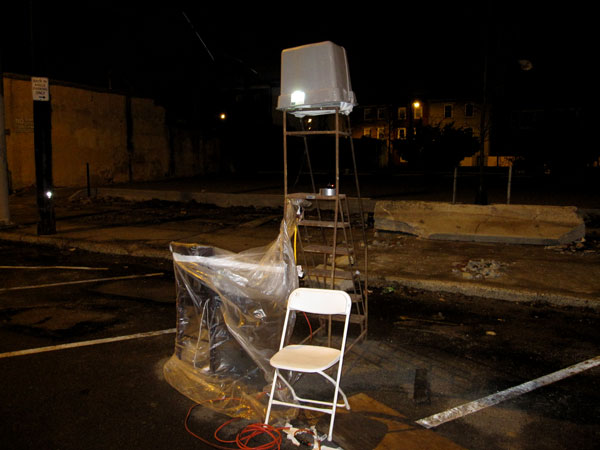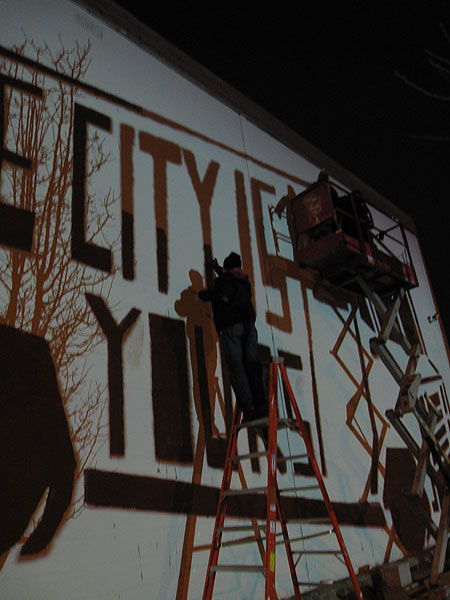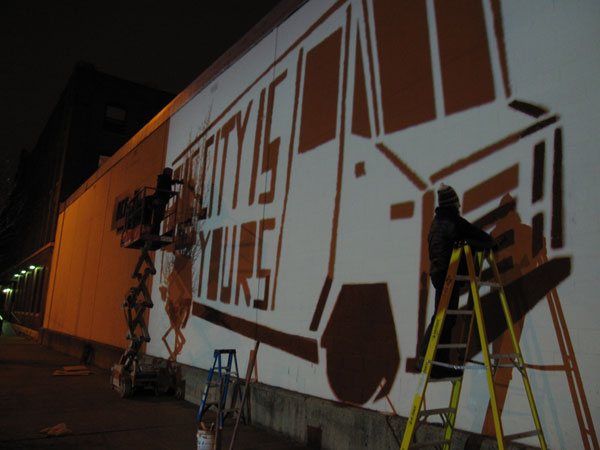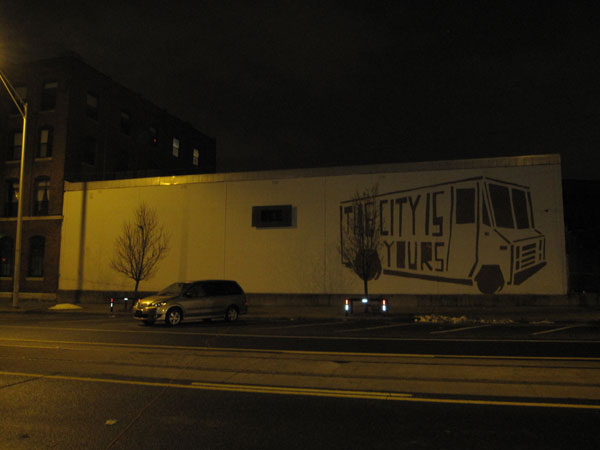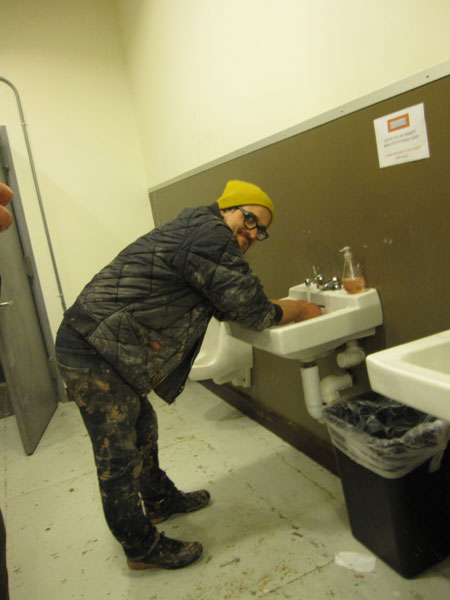 cold, wet, hungry mud-stencilers head to the bar: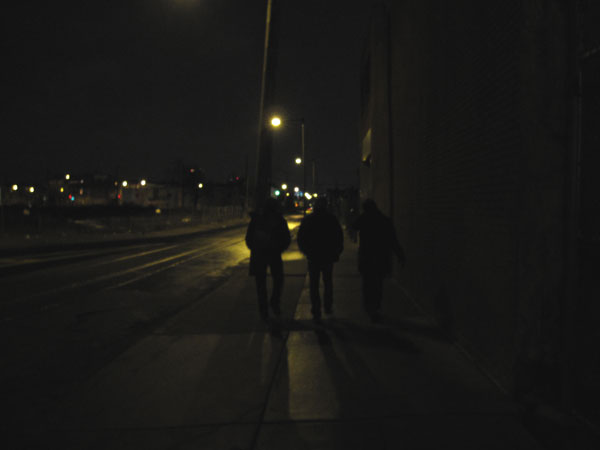 Justseed's shows that open Friday, March 5th:
Beginning March 5th, international artists' cooperative Justseeds presents Bring Down the Walls!, a series of artistic exhibitions and educational events. The series celebrates radical movements that struggle to collapse the boundaries of class, race, gender and generation. The majority of events will take place at two locations, blocks apart on Baltimore Avenue in West Philadelphia. An Independent Project of Philagrafika 2010, Bring Down the Walls! is organized in collaboration with local activists.
Exhibitions-
At the A-Space (4722 Baltimore Ave.), there will be an exhibition of Justseeds' recent portfolio Voices From Outside: Artists Against the Prison-Industrial Complex and related materials. This project is a limited edition portfolio of original prints that either critique the prison industrial complex or address alternatives to incarceration. Twenty artists from the US, Canada, and Mexico contributed prints, which were then collated and presented to 50 different groups working on prison related issues. Many organizations have organized exhibits and have used the images as tools for educating and discussing incarceration.
At Studio 34 (4522 Baltimore Ave.) there will be a larger and more varied exhibition of prints from Justseeds members. This show will feature dozens of pieces from over 25 artists from across North America, with bold images addressing topics from personal inspiration to environmental devastation.
At the Ice Box at Crane Arts (1400 N. American Street), Cut and Paint (three members from Justseeds) has work included in the Medium Resistance show. They also created a 25 foot tall red-clay mud stencil on the exterior of the building.