I was recently commissioned to design a poster for the law firm Meyer, Glitzenstein and Crystal to commemorate their 20th anniversary. MG&C has spent the last twenty years aggressively defending the livelihoods and habitats of a broad array of species across North America, and they've had considerable success doing so. The occasion of their twentieth anniversary, however, has been clouded by developments in one of their most prominent struggles- against the abuse of elephants in circuses.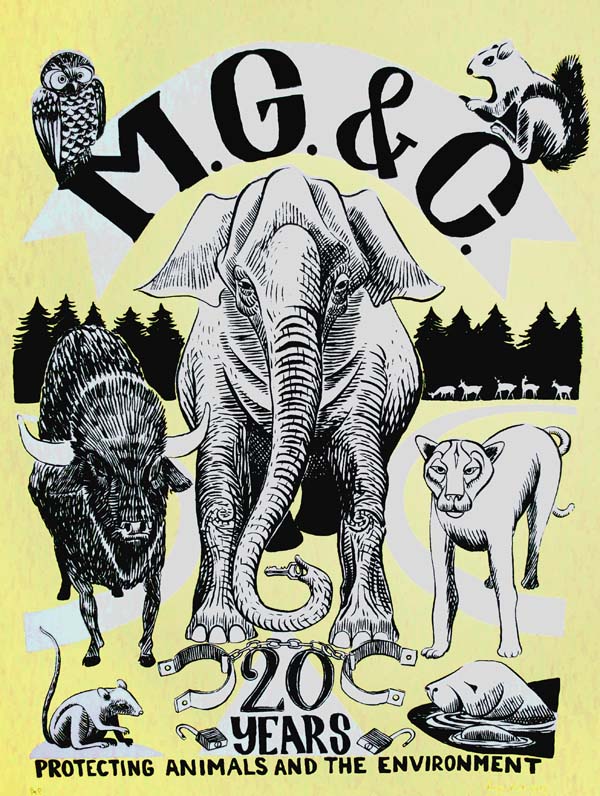 MG&C has waged a long and bitter legal battle against Feld Entertainment, parent company of Ringling Brothers circuses over their treatment of their animals. Testimony sags with grim details of life as an elephant under P.T.Barnum's contemporary Big Top: whipped, electrocuted, hooked with a cruel tool of discipline called an ankus. It's not pretty. Depositions point to instances of baby elephants beaten across the face. Mother Jones wrote a lengthy, well-formed article about the case, and the abuses on which it was based.
What's happened in recent months is that Feld Entertainment has been able to turn the tables on MG&C and is now suing them. The judge in the case has thrown out their arguments and is permitting an investigation of the firm under the RICO laws, historically used to investigate organized crime, but also notorious as a tool for bludgeoning activists. MG&C faces a grim future if all rulings go against them, and the suit represents a chilling sea change- essentially prosecution of activist legal workers for the suits they've brought.
Donations are needed. If you can help, send an email to me at mold2000@yahoo.com, and I'll put you in touch..
Featured in the image, clockwise from top left: Cactus Ferruginous Pygmy Owl, Mt. Graham Red Squirrel, Pronghorn Antelope, Florida Panther, Manatee, Preble's Jumping Mouse, Bison Asian Elephant- all are species that MG&C has worked to conserve, either directly or through habitat preservation.