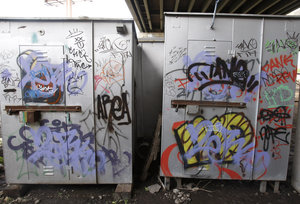 Looks like Wichita, Kansas just passed a broad and sweeping bill outlawing all kinds of "graffiti tools." Below is the text of an article from the
Wichita Eagle
found
HERE
, and an earlier piece is
HERE
. The comments are crazy as usual…
Wichita outlaws tools for graffiti
BY BRENT D. WISTROM
The Wichita Eagle
Leave the spray paint and fat markers at home.
Wichita City Council members passed a new law Tuesday that bans people from carrying spray paint, broad-tipped markers and a variety of other potential graffiti tools on public property or within 100 feet of it. It also bans stores from selling the materials to anyone under the age of 18.
If caught and convicted, violators face a fine of $250 to $1,000 and up to six months in jail.
Police would need probable cause to search people for the banned materials, and they say the law won't stop children from carrying normal, school-approved markers.
The city says that graffiti cleanup cost $280,967 in 2008 and $290,954 last year. That doesn't count tags the parks department or private residents removed.
Police say graffiti is an eyesore, costs businesses and residents to clean up, and often has links to gang activity. A task force assembled in 2008 debated the issues and came up with the new law.
Council members voted 6-1 in favor of the new law. Council member Paul Gray opposed. He said he's seen graffiti on signs above a major Wichita freeway.
"If a person can manage to get up there and spray-paint that, I don't think they're going to be encumbered by an ordinance," Gray said.
He said he doesn't think the law will do much to stop graffiti and could be a hindrance to people in the community who need spray paint and similar things for legitimate reasons.
"I think it's unreasonable," he said.
In addition to the new law, City Manager Robert Layton said the city is considering using security cameras to catch people defacing property in some locations.