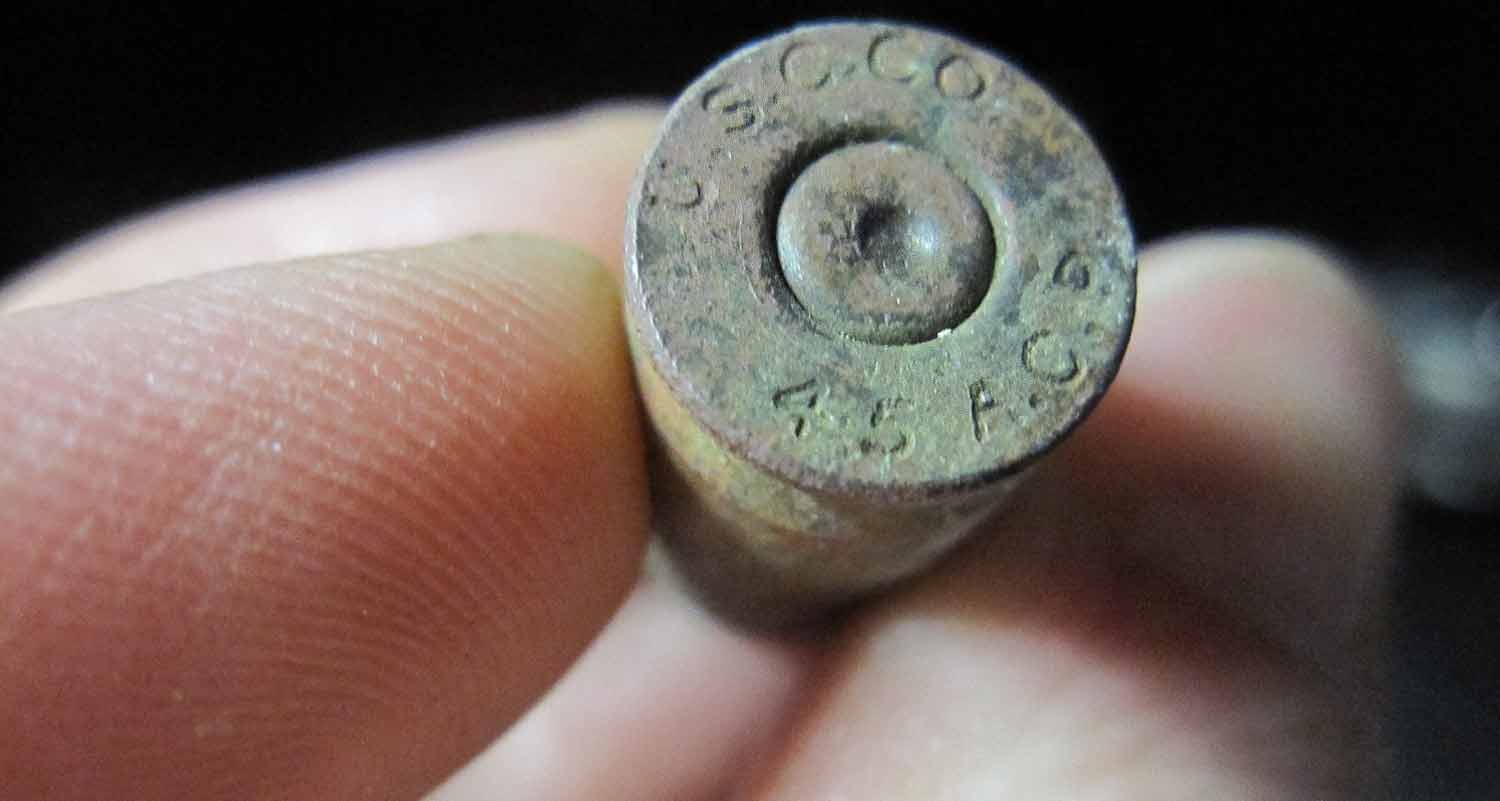 [.45 ACP bullet casing, from Thompson submachine gun, recovered from Crooked Creek Gap area of Blair Mountain battlefield, collection of Kenny King]
Since early 2014, I've worked closely with a small, incredibly dedicated group of folks to launch the West Virginia Mine Wars Museum down in Matewan, WV: an independent people's history museum right in the heart of the Southern West Virginia coalfields. We're still working, actually, because even though we had a wildly successful opening last May, and loads of visitors since, now we're in the first phase of planning for an actual future for the museum. We got the ship built and put it in the water, and now we've got to sail it!
During the time we were building the museum, filmmakers from PBS's highly-lauded historical documentary series American Experience were moving around the region interviewing folks connected to the history our museum was telling. Given that our entire project is about reclaiming a history that had long been buried, it has been very exciting to know that a nationally-aired documentary was going to be part of spreading these stories. We got even more excited when the rumors surfaced that the film is really good!
Last week, Chuck Keeney, one of our board members and a professor in labor and Appalachian studies, posted an excellent article on the American Experience blog. He discusses the complexity inherent in the reality of the stories we tell ourselves about the past, especially when it involves violent uprisings, and writes about the importance of the West Virginia Mine Wars in larger global context:
"The Mine Wars also illuminate the struggles, serious choices, and sometimes overwhelming obstacles facing rural people who live in regions dominated by a single industry. The political, economic, and cultural influence of King Coal in Appalachia is not completely without precedent. Similar contemporary parallels of dominant industries in rural areas can be found in copper mining regions of Alaska or the poultry farms of the Midwest. And while there are no more tent colonies in West Virginia, as Frank Keeney once predicted, recent conflicts in the mining regions of Columbia, where labor leaders have been assassinated and child labor is abundant, give us an unfortunate taste of history repeating itself."
Give it a read: "An Uncomfortable History: Coming to Terms with the Mine Wars"
The Mine Wars documentary that we've been anxiously awaiting premieres on PBS tomorrow (Tuesday), January 26 at 9pm Eastern/8pm Central. You can find out more at the American Experience website, where you can also see a couple of the clips they've released from the two hour documentary.
UPDATE: you can now stream the documentary on the PBS site here!