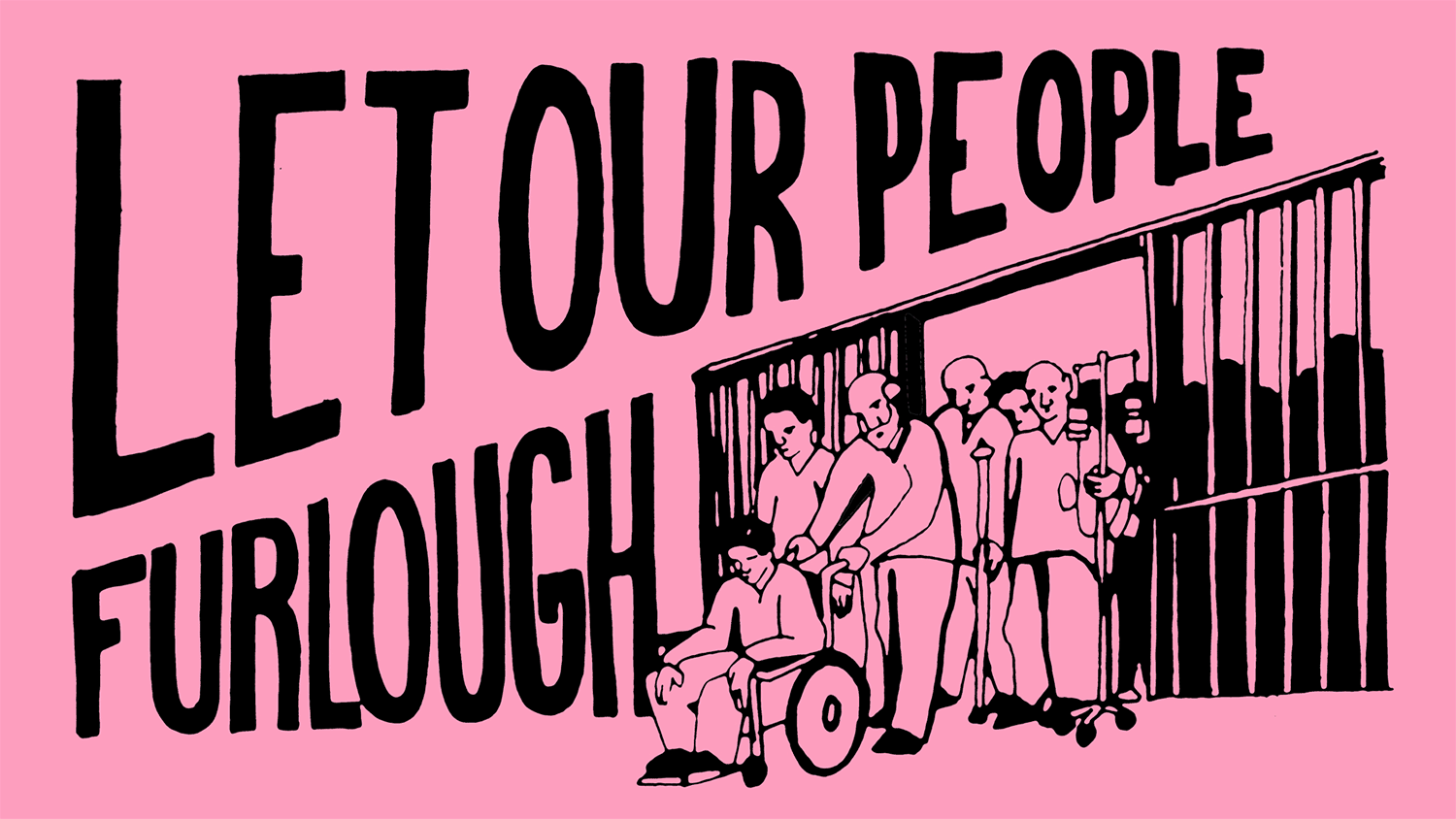 From April 13th to 17th the Illinois Coalition for Higher Education in Prison (IL-CHEP) hosted the Let Our People Go: Week of Action.
One of the IL-CHEP coalition partners is the Prison + Neighborhood Arts Project (PNAP), an art and education program at Stateville Prison that I have the privilege of working with. It has been hard to know how to respond to the COVID-19 Pandemic in general let alone how to support the many people on the inside. Many of our students at Stateville Prison are elders or have health conditions that make them vulnerable to the virus. Additionally, without proper sanitation, cleaning supplies, or personal protective equipment, the tight quarters in the prison have made it clear that COVID-19 has become an unjust death sentence for our students and other people on the inside.
With this in mind, I was grateful when Sarah Ross, one of the founders of PNAP, asked me to join in the Week of Action by making graphics with her for each day of action in order to inspire people to take action. The resulting Week of Action was a powerful release for many of us connected to the people on the inside. It also resulted in mobilizing people for decarceration and concrete changes to the way Illinois is handling the COVID-19 Pandemic in prisons. 
In hopes this Week of Action might help future efforts for decarceration, I reached out to Sarah Ross and another coalition partner Larry Barrett, a formerly incarcerated person working at Adler University's Institute on Public Safety and Social Justice, to share a bit about the situation here in Illinois and reflect on the action.
---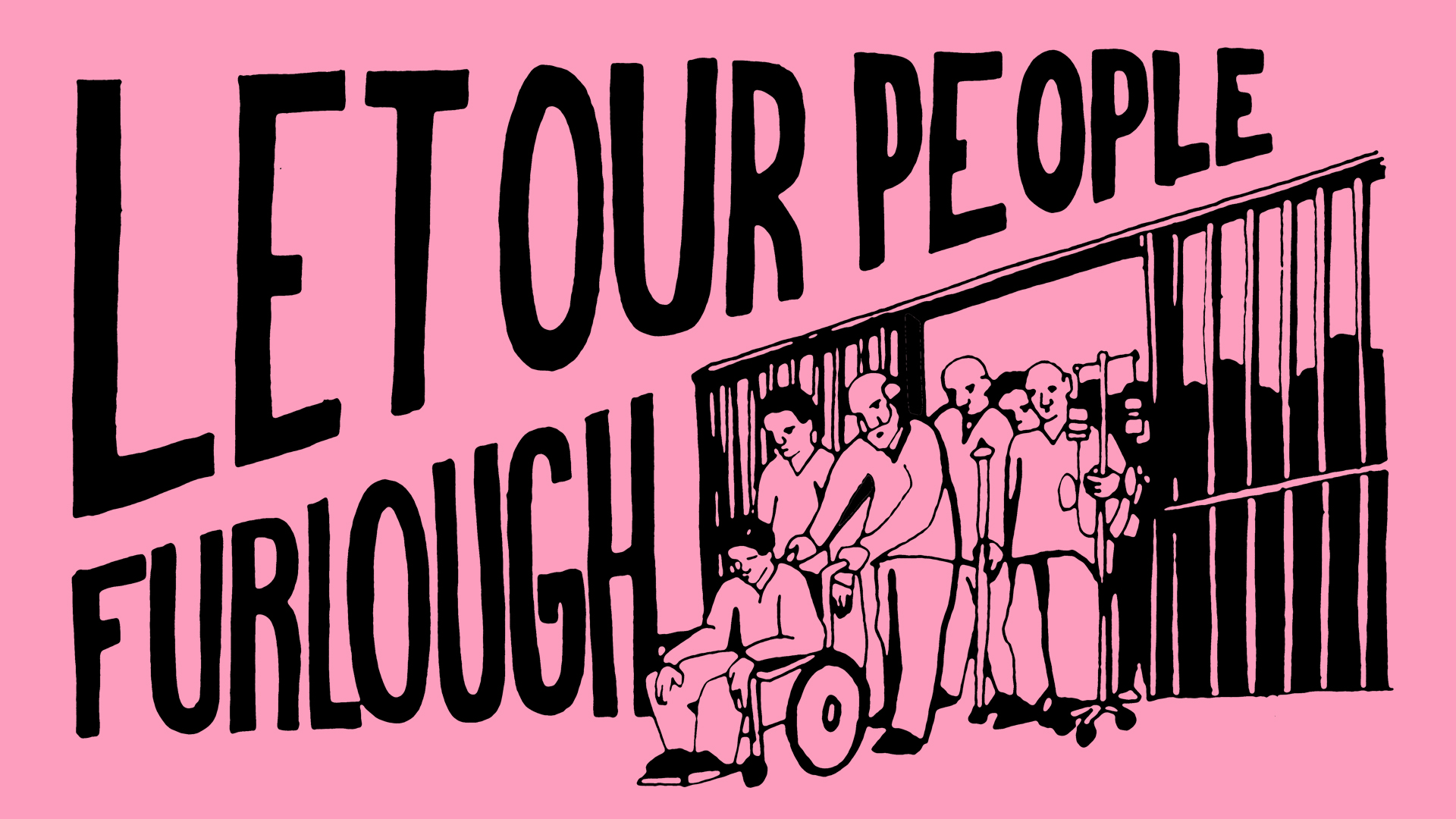 Aaron Hughes, Let Our People Furlough | Let Our People Go: Week of Action
Aaron Hughes (AH): What is the current situation with the COVID-19 pandemic and incarceration in Illinois?
Larry Barrett (LB): What this whole COVID-19 thing has done is remind me of what it was like being on the inside and needing medical care but knowing that you won't receive it. Last May, while I was still in, I was hospitalized with a heart attack after which the Illinois Department of Corrections (IDOC) failed to take me to follow up care. Of course the cardiologist wanted to do a follow up and I knew I needed the follow up. So during the final four months of being incarcerated I fought to get the care that all humans ought to have and not die in prison.
I was scared and had anxiety during the entire ordeal. This anxiety returned when I heard the recordings of the people that are currently incarcerated in Stateville. I know what they are feeling. I understand the uncertainty that they feel; the anger for not being heard.
They don't want to die in prison!
Sarah Ross (SR): Right now Stateville Prison and Cook County Jails are the most impacted in our region by the COVID-19 pandemic. There are hundreds of cases and ten deaths between the two institutions. The state National Guard has set up a hospital in the gym at Stateville Prison and the people inside have been on lockdown since mid-March.
Recently, I was told that the people incarcerated at the Northern Reception Center (a prison adjacent to Stateville Prison where people are typically held either on a court writ or for a short(er) time before being sent to other institutions around the state) have been on lockdown. But their cells have no TVs, they have no access to books or other materials because it's supposed to be a short term place.
Further, according to the IDOC website, they are low on supplies. The situation is very stressful—physically and emotionally.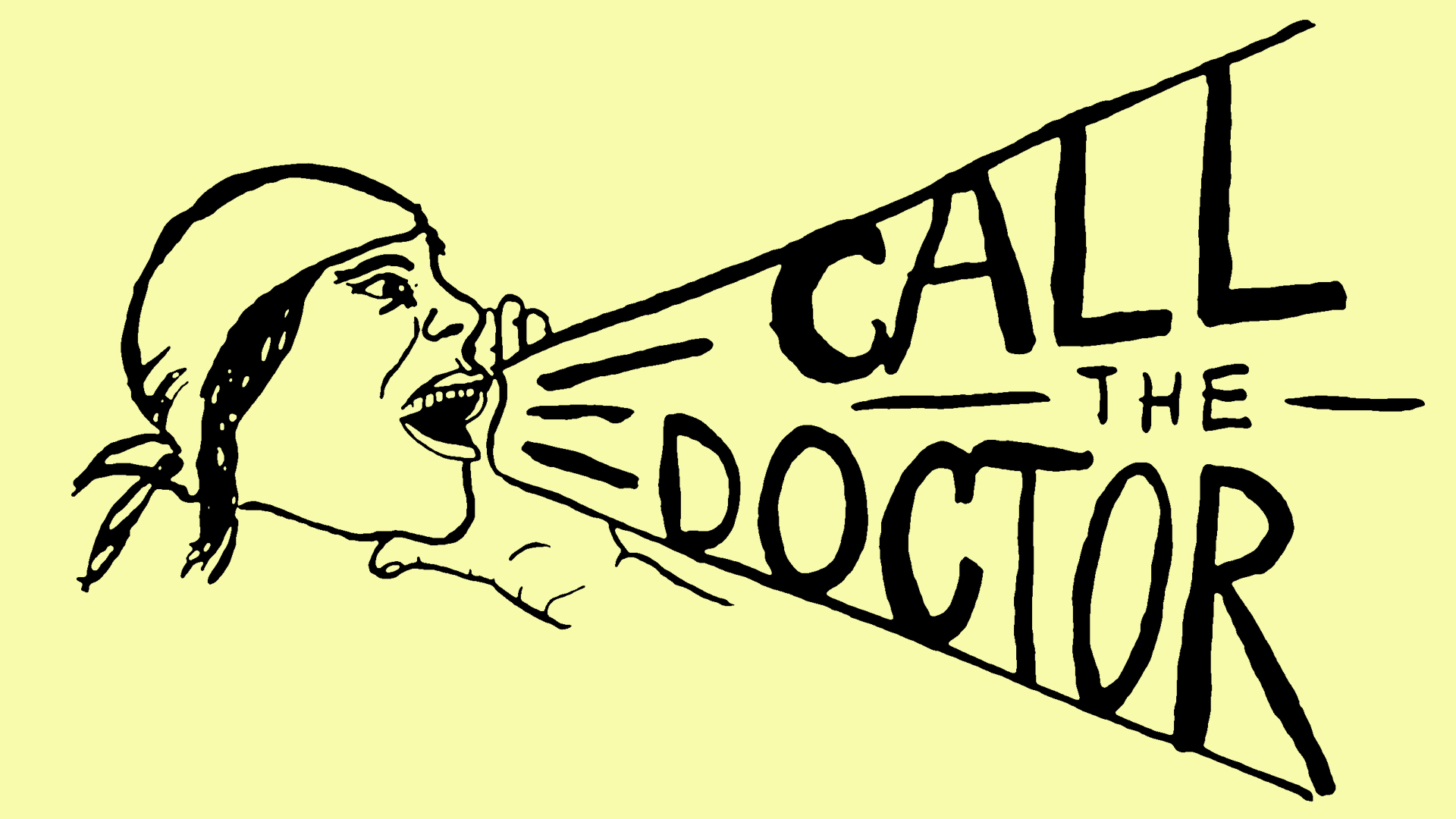 Sarah Ross, Call the Doctor | Let Our People Go: Week of Action
AH: Larry mentioned hearing from people on the inside. It would be great for people to hear directly from someone on the inside. Can you share a quote from someone on the inside?
SR: This is from Lonnie Smith, who is incarcerated at Stateville Prison. He sent this to his pen pal and it was shared to a group of us. Lonnie has been a student with the Prison & Neighborhood Art Project for several years. He says,
We're just sitting ducks and the governor needs to act fast on reviewing elderly incarcerated citizens who pose no threat to society. Right now society is posing a threat to our lives by having us cluster together waiting on a viral death sentence. I've never been on death row, but I feel like I'm on it right now. There is no phone call in sight for the governor to give us a stay. I wasn't sentenced to die, so why do I feel like I am on the fast track to a death sentence.?
He ends with a plea to the Governor, saying:
We don't want to die like this. Governor, use your powers for good; we need a miracle that you can look past political backlash and act with compassion to review elderly prisoners violent or non-violent and let us live.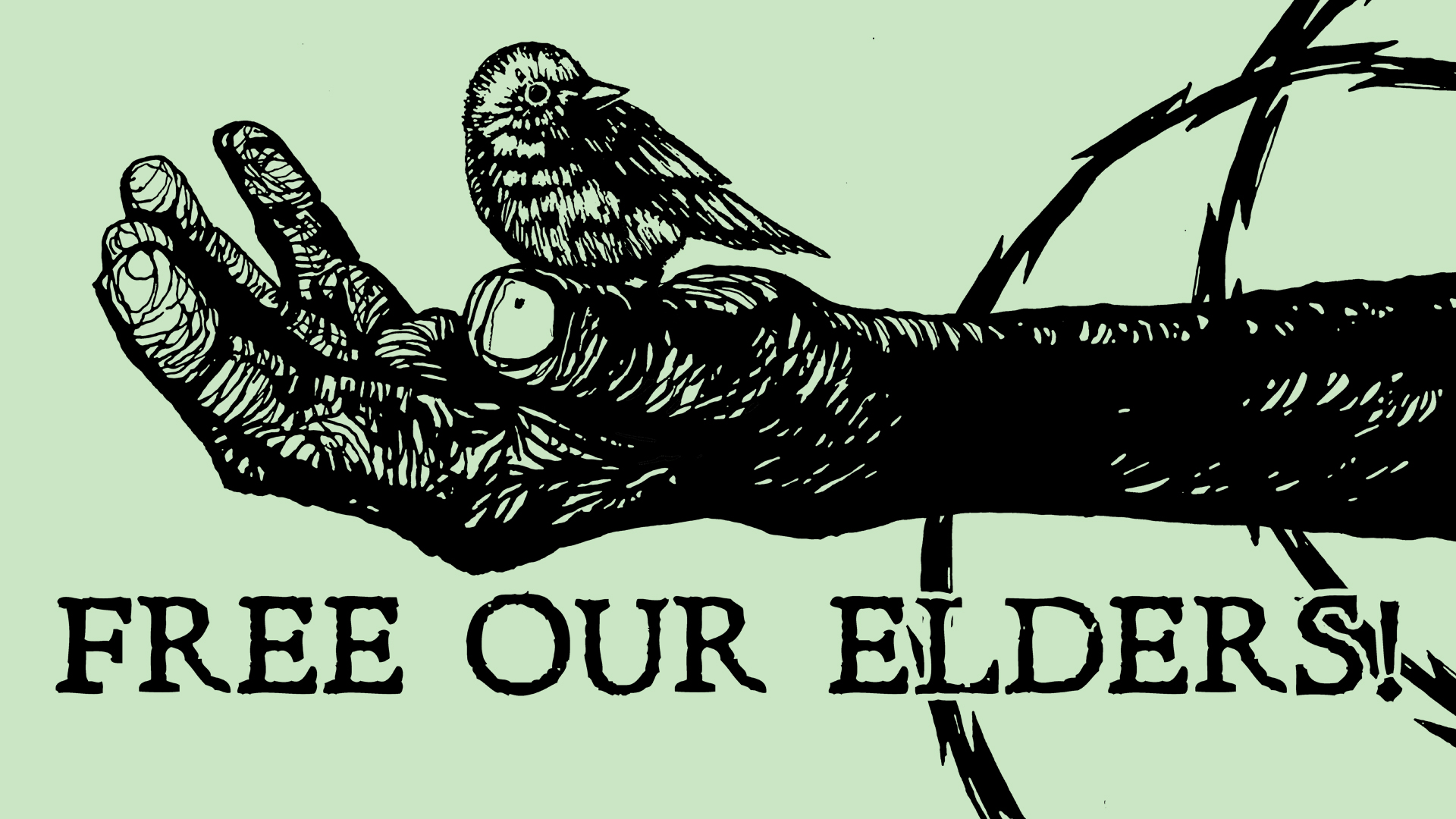 Aaron Hughes, Free Our Elders | Let Our People Go: Week of Action
AH: Sarah, we both worked on graphics for the Let Our People Go: Week of Action. What was the Let Our People Go: Week of Action? Who organized it and what was the goal?
SR: The work developed as a subcommittee of the Illinois Coalition for Higher Education in Prison (IL-CHEP). We are a group that organizes around making sure people have access to education in prison. Our members in IL-CHEP are both formerly incarcerated students, educators who teach inside, lawyers, advocates and others.
When COVID started spreading, and even before the state put the prisons on lockdown, we circulated a letter asking for an immediate review of all people in Illinois prisons and jails who are elderly or infirm, with an eye toward providing medical furloughs or compassionate release to as many of them as possible. You can read the letter here.
We also suggested other ways to decarcerate in order to mitigate the spread of the virus. After very little action, we decided to push harder. On a Wednesday nine of us had a meeting and decided to have an action every day that week starting on the following Monday. The actions consisted of twitter storms, flooding the Facebook comment section of the Governor's press conference, phone calls to IDOC and Illinois Department of Health, and a caravan to circle the Thompson Center during the Governor's Friday press conference. We also made video posts for four of the days featuring Matt Sopron, a formerly incarcerated person; Dr. Evan Lyon, a medical doctor and member of Partners in Health; Barton Fitzpatrick, actor from The Chi whose family member is locked up at Stateville; and Elena Quintana, the Director, Institute on Public Safety & Social Justice at Adler University.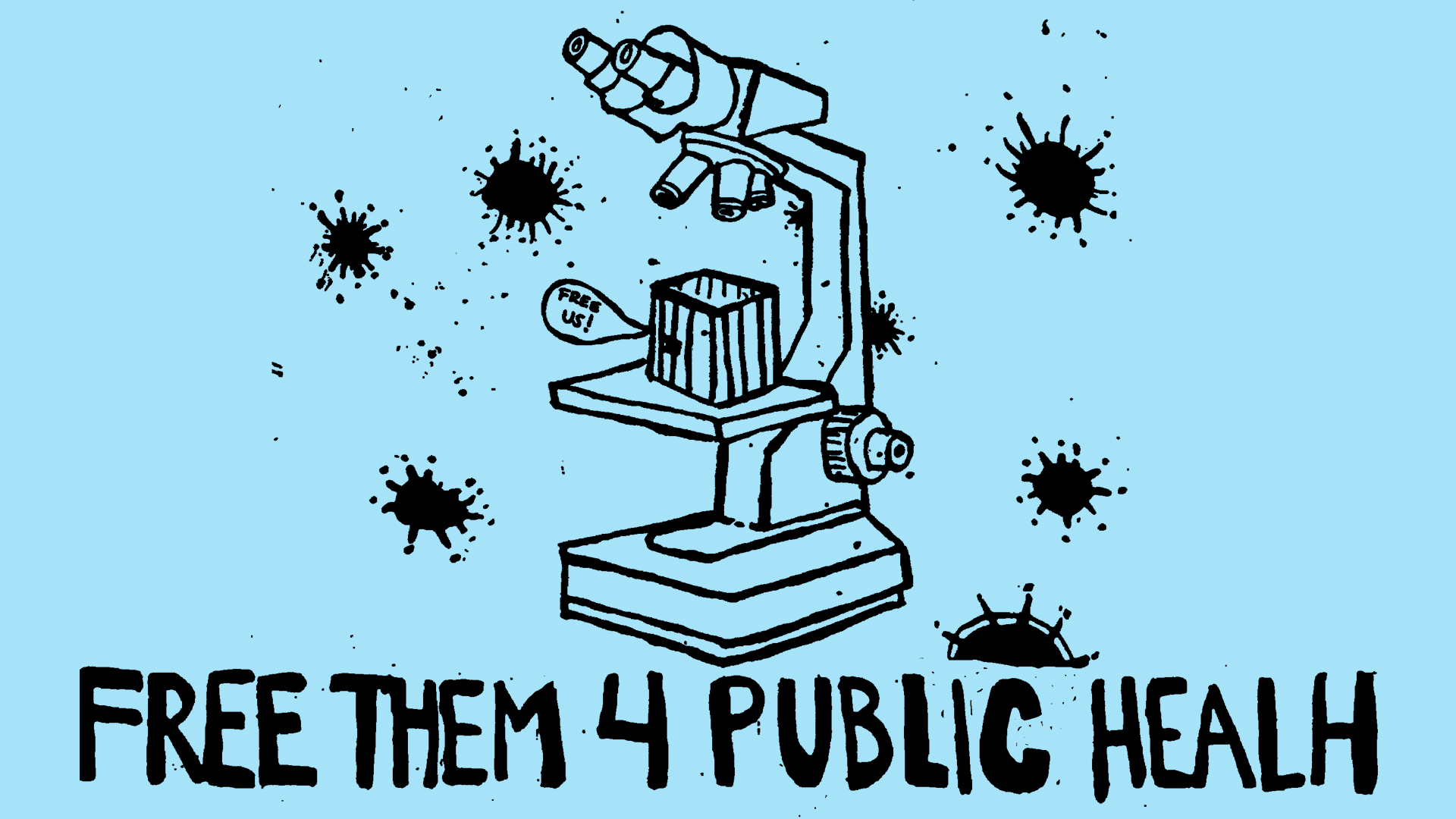 Sarah Ross, Free Them 4 Public Health | Let Our People Go: Week of Action
AH: That is a lot in a short amount of time. What was the outcome of the Week of Action?
LB: The Week of Action was a success on many levels. The biggest being IDH appointing Katrina Burlet, one of my fellow organizers, to their Equity committee. We also had Gov. Pritzker commit to using his clemency powers to help with the decarceration efforts.
That said, I believe even without either of these things happening that we were successful at bringing a lot of people together to fight to get people free. To me, this is what matters most!
Coming together as one collective voice to demand that the people in power in Illinois take action to protect all people.
There are many people on the inside that also may not know about the work that's going on. However, I know it means a lot to them. To have people out here on this side of the gate helping fight a war that others on the inside have been fighting for years has to mean a lot.
Under the watch of IDOC too many have died, deaths that could have been prevented. I know that IDOC does not provide health care services. Nevertheless, they have influence, power, and say so over who provides that service and can report when they see something that is not right. Yet, they watch as people die.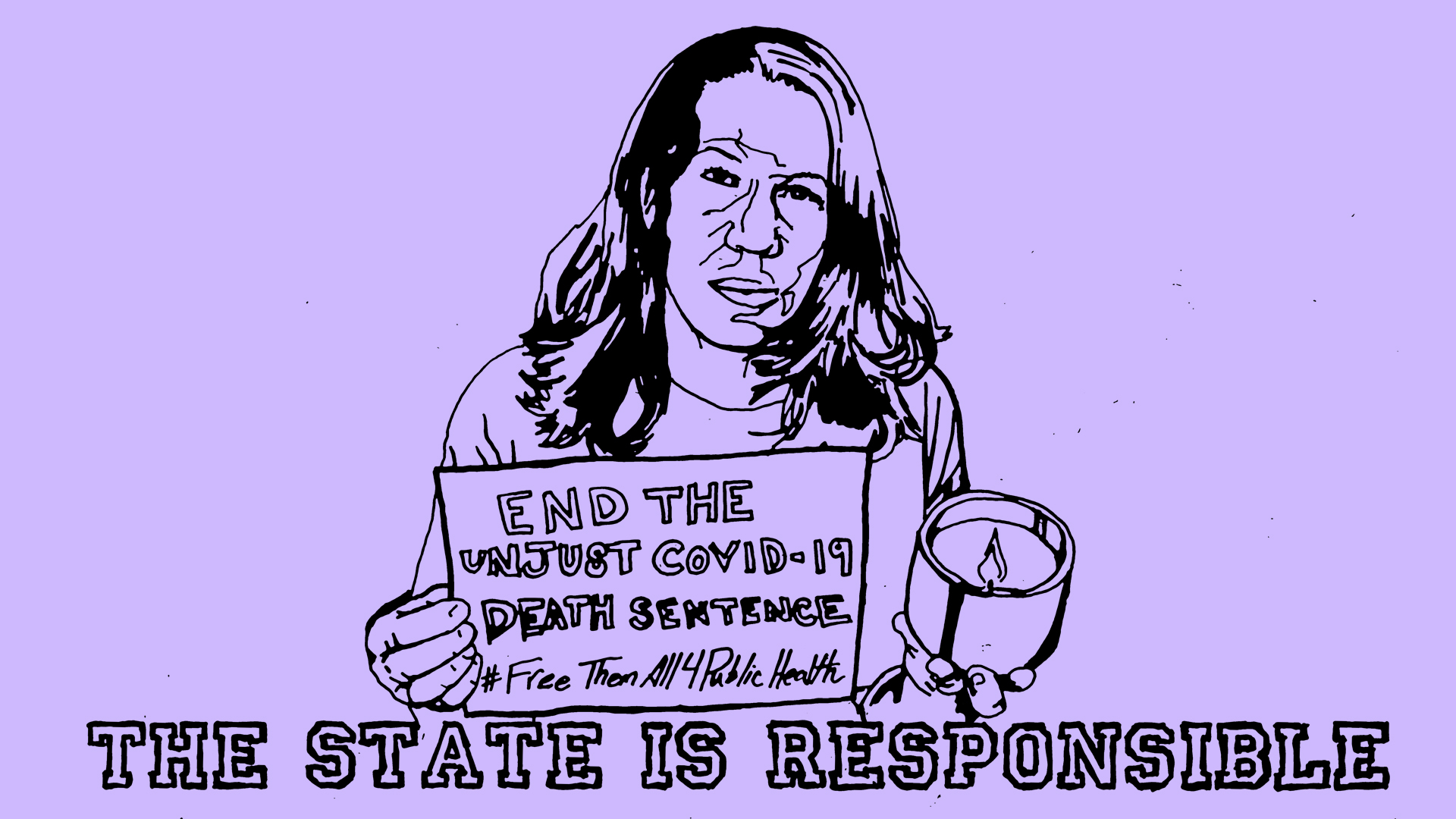 Aaron Hughes, The State is Responsible | Let Our People Go: Week of Action
AH: Knowing this struggle is about life and death I wonder why it was important to use graphics during the Week of Actions?
SR: We used a new graphic every day to signal a new action. We also used a new color each day. The graphics were a nice visual to pull people in and narrate what we were asking for that day.
AH: The graphics were also sized for different social media platforms and to be easily shared. Each graphic included all the information people needed to take action.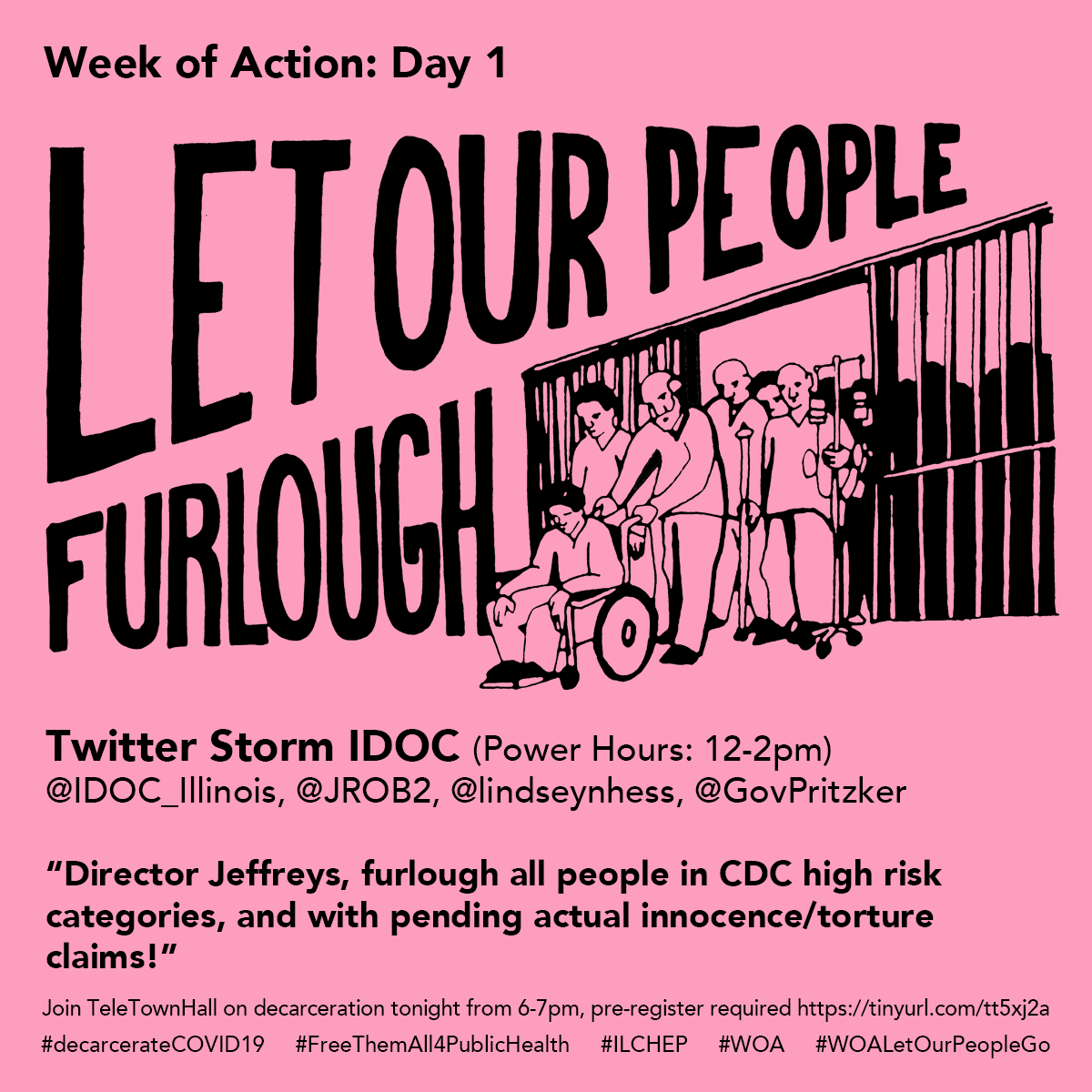 Sarah Ross & Aaron Hughes, Let Our People Go: Week of Action
SR: Making the graphics was also a way, as artists, to create images in support of our friends inside, in this moment now. This virus, especially as it relates to folks inside, feels … It feels like it's so hard to do anything. People on the inside can't do anything to protect themselves and conditions seem desperate. So it felt important to mobilize in this way.
AH: What is your hope going forward?
LB: What I would like to see going forward is continual pressure put on the Governor, IDOC, and the great state of IL to act to protect our health and safety by freeing people from these death traps. Once released, I would like to see resources be allocated to insure that this group of returning citizens are placed in the best situation to have the opportunity to be successful. This begins with housing, so lets see some of these spaces that are not used or under-used to help with the health and safety of the people of Illinois.
SR: We want to see people get out. The only way to 'socially distance' is to decarcerate. The Illinois prison system holds some forty thousand people—down from almost fifty thousand a decade ago—but only has capacity for thirty-two thousand people—which is still too many people behind bars! And even at or under capacity, no prison is designed with health concerns in mind.
We want people free.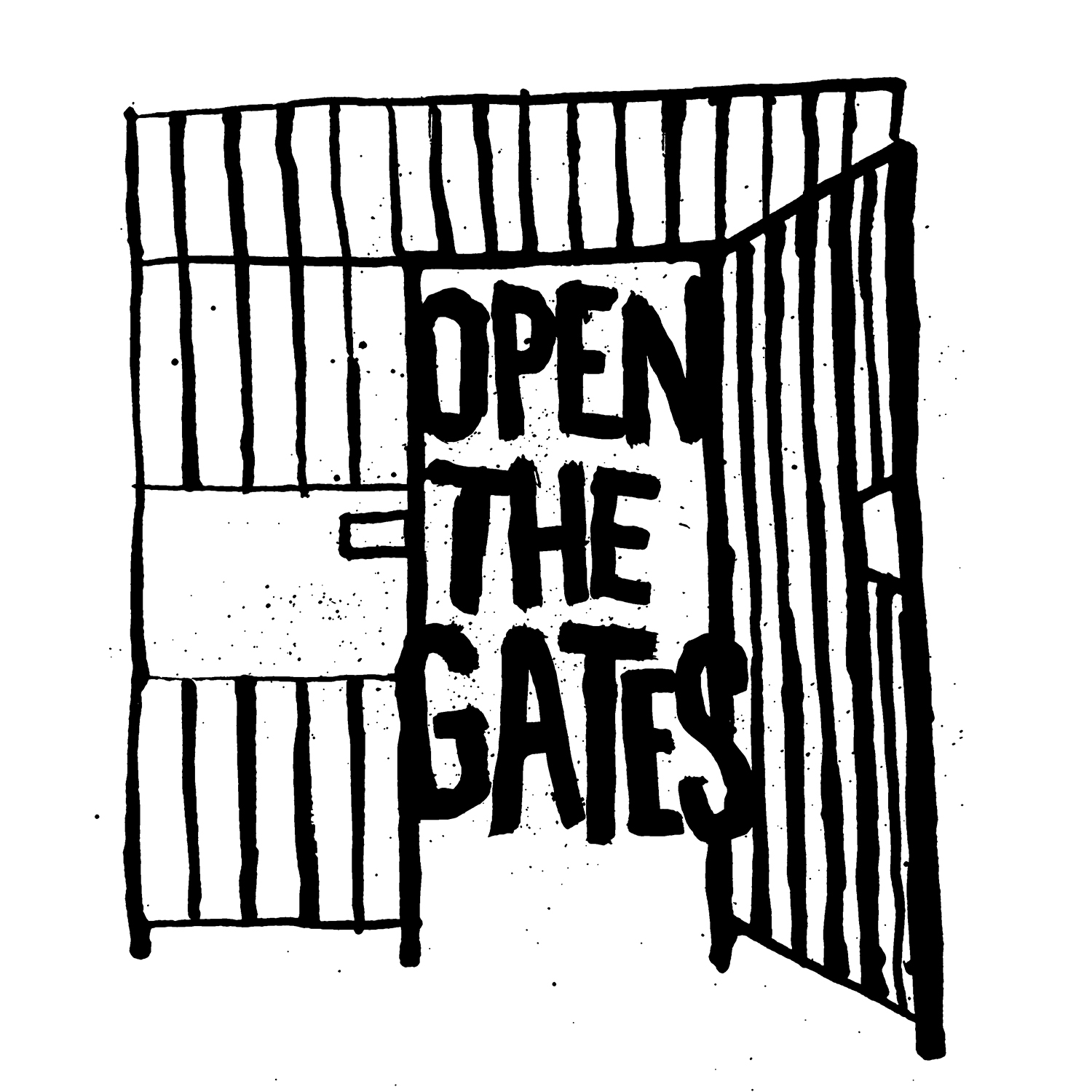 Damon Locks, Open the Gates & Free Stateville Now
---
Larry Barrett was formerly incarcerated and is now the Program Assistant at Adler University's Institute on Public Safety and Social Justice. He is an Education Justice Project alum that sits on the steering committee for Illinois Coalition for Higher Education in Prison (IL-CHEP) which has responded to the COVID-19 Pandemic by working to decarcerate Illinois prisons.
Sarah Ross is an artist, educator and organizer. She co-founded the Prison + Neighborhood Arts Project in Chicago.
LINKS