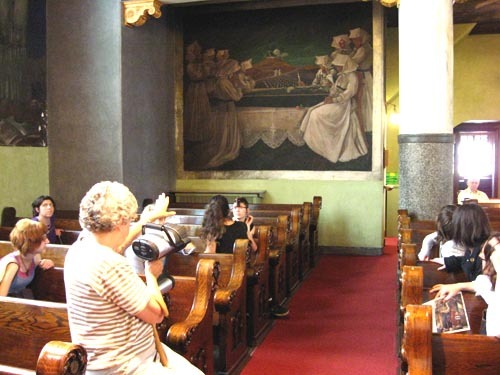 I booked a tour this week to take some of the kids we're working with at RUST to see the murals of Maxo Vanka at St. Nicolas Croatian Catholic Church in Millvale, PA (just north of Pittsburgh). Vanka, a Croation immigrant to the States, painted these murals inside the church in two stages – in 1937 and again in 1941 – commissioned by Father Albert Zagar. They are filled with fierce and vivid anti-war and anti-fascist imagery, and seasoned with some illustrations of the reality of the immigrant experience in industrial America. I've never seen work like this inside a church of any sort, and each time I go back to see them I'm still amazed.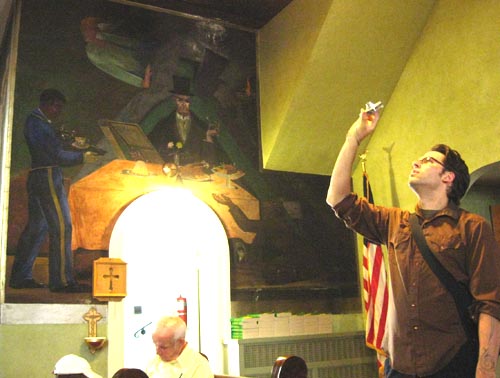 I first read about the murals at St. Nicolas four years ago in
Icky A's
zine
Nosedive (#13)
, and went to see them with friend and Justseeds artist
Erik Ruin
while he was in Pittsburgh for a visit. Mary Petrich, who remembers Vanka painting the murals when she was a child, gave the tour today – by far the best oral illustration I've experienced with these paintings. The church building is in need of financial help since the fallout from Hurricane Ivan in 2004 flooded much of Millvale and damaged the walls and roof of St. Nicolas. The church is
accepting donations
towards this work, which will include efforts to preserve the murals before the water damage gets any worse.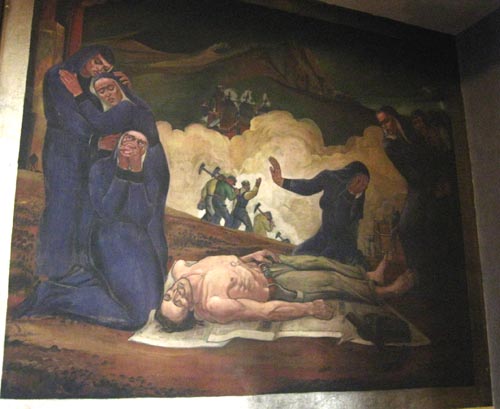 If you're in Pittsburgh, do not miss these murals! Mary Petrich can be reached for her amazing tours at 412-681-0905. Also, visit the
Society to Preserve the Millvale Murals of Maxo Vanka website
to see much better photos than I posted here!