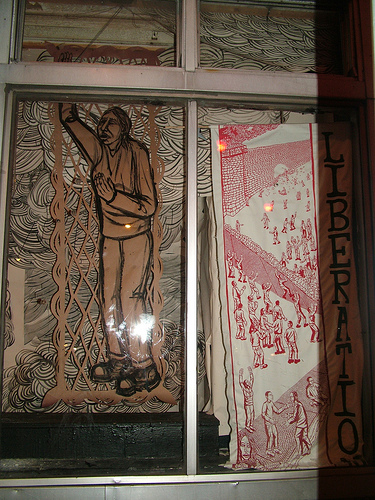 The
Dirt Palace site
just posted some nice-looking pics from my installation in
their window
, which just came down. You can check it out in slideshow format on
Flickr
.
The focal point of my installation were the
banners
i had printing during my residency at
AS220.
I also created with my dear friend the amazing
Andrew Oesch
two life-size painted-and-cut-out figures on red rosin paper and scores of painted clouds (with additional help from
Susan Sakash
).
The Dirt Palace window is a great place to exhibit as it faces onto the main square of the Olneyville neighborhood in Providence, and thus attracts the attention of a great number of random passers-by. I even had one enthusiastic fellow step into the window with me to chat while I was installing!
Big thanks to everyone who made my time in Providence such a dream- including all of Building 16 and AS220,
Meredith Stern
,
Jean Cozzens
for print help,
Xander Marro
, Andrew, Susan and
Walker Mettling
for delicious opening food & beverages.