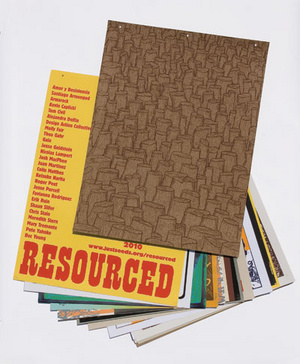 The Justseeds 2010 portfolio-RESOURCED is included in the Make:Craft exhibition at the Ben Maltz Gallery at Otis College of Art and Design.
Bronya and Andy Galef Center for Fine Arts
9045 Lincoln Blvd 1st Fl
LA, CA
Kim Abeles, Jonah Brucker-Cohen, Frau Fiber, Garnet Hertz, Justseeds Artists' Cooperative, Seth Kinmont, Liza Lou, David Prince, Mark Newport, Alyce Santoro, Shada/Jahn (Steve Shada and Marisa Jahn), Eddo Stern.
Inspired by the cultural currents represented in the popular magazines MAKE and CRAFT published out of Northern California, MAKE:CRAFT includes contemporary artists who combine handmaking and building techniques to create, engineer and hack unique, mostly functional devices, objects, machines and accessories; making either a sociopolitical statement, creating new markets for individual styled products, or creating inventive ways to experience the tactile world, non-virtual, the "real."
The exhibition is guest curated by Patricia Watts, founder and west coast curator of ecoartspace, who feels that recent trends in the DIY (Do-It-Yourself) movement of making and crafting have empowered contemporary artists and designers to create more socially relevant work that supports sustainable communities.

Kim Abeles creates a new site-specific installation inspired by her ongoing project frugalworld, which includes one of her early projects completed while living in a converted silo in Ohio, a hand illustrated book entitled Crafts, Cookery, and Country Living (1976). Jonah Brucker-Cohen installs an updated version of Crank The Web (2001-), a hand powered Internet tool combining simple automation and current telecommunications technology that allows you to crank your own bandwidth. Frau Fiber itinerant textile worker and CEO of KO Enterprises: indefinitely young apparel production will present a participatory pedal powered sewing factory knocking off Forever 21 fashions in the Los Angeles area powered by consumers. Garnet Hertz introduces OutRun, a video game concept car that renders the real world as a 1986 video game, which Hertz will personally demonstrate by driving outdoors on Saturday, November 6. Justseeds Artists' Cooperative debuts their new 2010 portfolio entitled RESOURCED with 26 prints addressing issues of resource extraction and climate. Seth Kinmont presents a series of built by hand vehicles as sculpture including models for three variations on mid-19th century European and American coaches, one that has been built as a self-driven hearse and electric car; and his most recent addition, a wooden electric motorbike entitled Dollar. Liza Lou, LA's "Queen of Beads," includes her work Loo (2006), a beaded urinal or simple bathroom fixture transformed into a provocative work of art and homage to Marcel Duchamp. David Prince's craftsman persona, The Lumberjack, will inhabit the gallery at select times, giving demonstrations of carving simple necessities out of wood such as toothpicks. Mark Newport will perform his crime fighter knitting at the opening reception and will display eight of his Superhero Costumes, including his own creations such as Naftaman (2008) and Argyleman (2007). Alyce Santoro, inventor of Sonic Fabric, a textile woven from audiocassette tapes, presents a dress that can be listened to using a jury-rigged Walkman, along with five "philosoprops," or ritual headgear pieces that engage the brain as transmitter- receiver, what Santoro defines as subtle reality technology. Shada/Jahn (Steve Shada and Marisa Jahn) investigate engine block cooking in Commuter Cookout (2008) a mapped drive of inter-county commuting, and Thanksgiving Dinner in 5 Seconds (2009), both addressing energy harvesting and notions of efficiency. Eddo Stern presents his latest iteration of the sensory deprivation computer game entitled Dark Game (2008- ), including multi-player stations and updated headgear. And, a special musical performance at the opening reception by Crank Ensemble, including Bay Area artists using handmade and hand cranked instruments, conducted by Larnie Fox.
Since I wasn't able to get this up until after the opening there go to the following:
Saturday, November 6, 11am, Tour, Free Gallery tour with curator Patricia Watts and OutRun demonstration by Garnet Hertz followed by a no-host lunch at a local eatery.