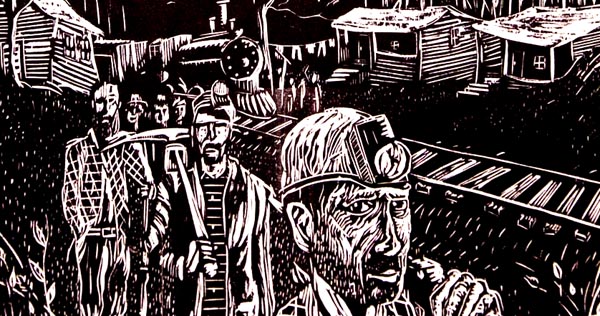 Many folks are gearing up for the June 4-11
March on Blair Mountain.
The excerpt below came down the wire from organizers, along with this awesome new print from Providence-based artist Noel'le Longhaul (see a full view after the cut). People interested in attending the five-day march, or just attending the rally and day of action after the march, can find significant details
here
.

Below is from a speech by Denise Giardina, author of Storming Heaven:
"Ninety years ago, in 1921, thousands of coal miners marched from Marmet, West Virginia to Blair Mountain in Logan County. They were West Virginians from a variety of backgrounds, standing up against coal companies for their freedom and basic human rights. They tied red bandannas around their necks and marched to throw out local politicians who had aligned themselves with coal companies. They marched because they were dying from unsafe working conditions, because they were being cheated out of their rightful pay. They marched because they were being denied the right to join a union, because their families were living in terrible conditions and dying from ill health, because coal company thugs subjected them to violence, because the companies and state government were taking away their basic civil liberties."

"When these brave miners reached Blair Mountain, they found coal company forces and state police arrayed against them with rifles and machine guns. The standoff lasted for several days and ended when federal troops with not only machine guns, but also poison gas, and airplanes with bombs, arrived on the scene. The Battle of Blair Mountain was one of the most stirring and important events in labour history in the United States. For several days it commanded the top headlines in newspapers such as the New York Times. The immediate aftermath was the crushing of the United Mine Workers throughout the region for the next twelve years, but with the election of Franklin Roosevelt in the 1930s, the hope of Blair Mountain was realized. The United Mine Workers of America began the long process of improving the lot of American coal miners."

"How far we have fallen in the last thirty years! Coal companies like Massey (now Alpha Energy) have stripped union protection from miners who are dying in devastating accidents. Because of coal company intimidation, basic civil liberties like freedom of assembly are infringed. Coalfield residents are again dying because of the poisoning of the environment from valley fills, slurry injections, and coal ash. West Virginia politicians continue in the pockets of the coal companies, where they attempt to deprive their citizens of their state of even the basic protections that the fed government provides. And mountains across the region are being destroyed. Even Blair Mountain, that most important peak in West Virginia's history, is not safe."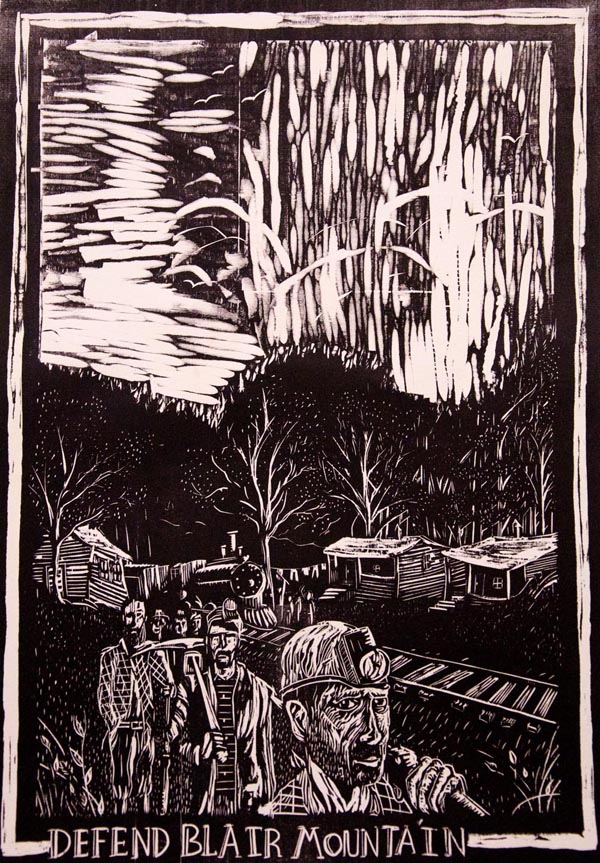 print by Noel(le) Longhaul