I'll be in a 5-person group show at the Printmaking Council of New Jersey & paticipating in a panel discussion at the opening this Saturday. please come by if you can.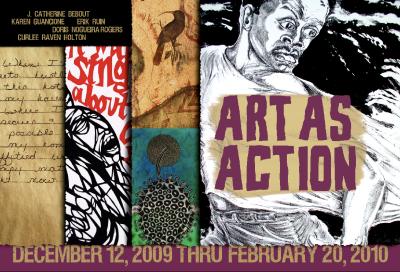 Art as Action features works by five acclaimed printmakers whose passion for complex social, economic, political, and environmental issues spills over into their art.
Featured Artists – J. Catherine Bebout, Karen Guancione, Curlee Raven Holton,
Doris Nogueira-Rogers, and Erik Ruin.
December 12, 2009 through February 20, 2010.
Opening Reception & Panel Discussion moderated by educator, essayist, poet and photographer John Ripton will take place on Saturday, December 12, 1 – 4pm.
PCNJ
440 River Rd
Branchburg, NJ 08876