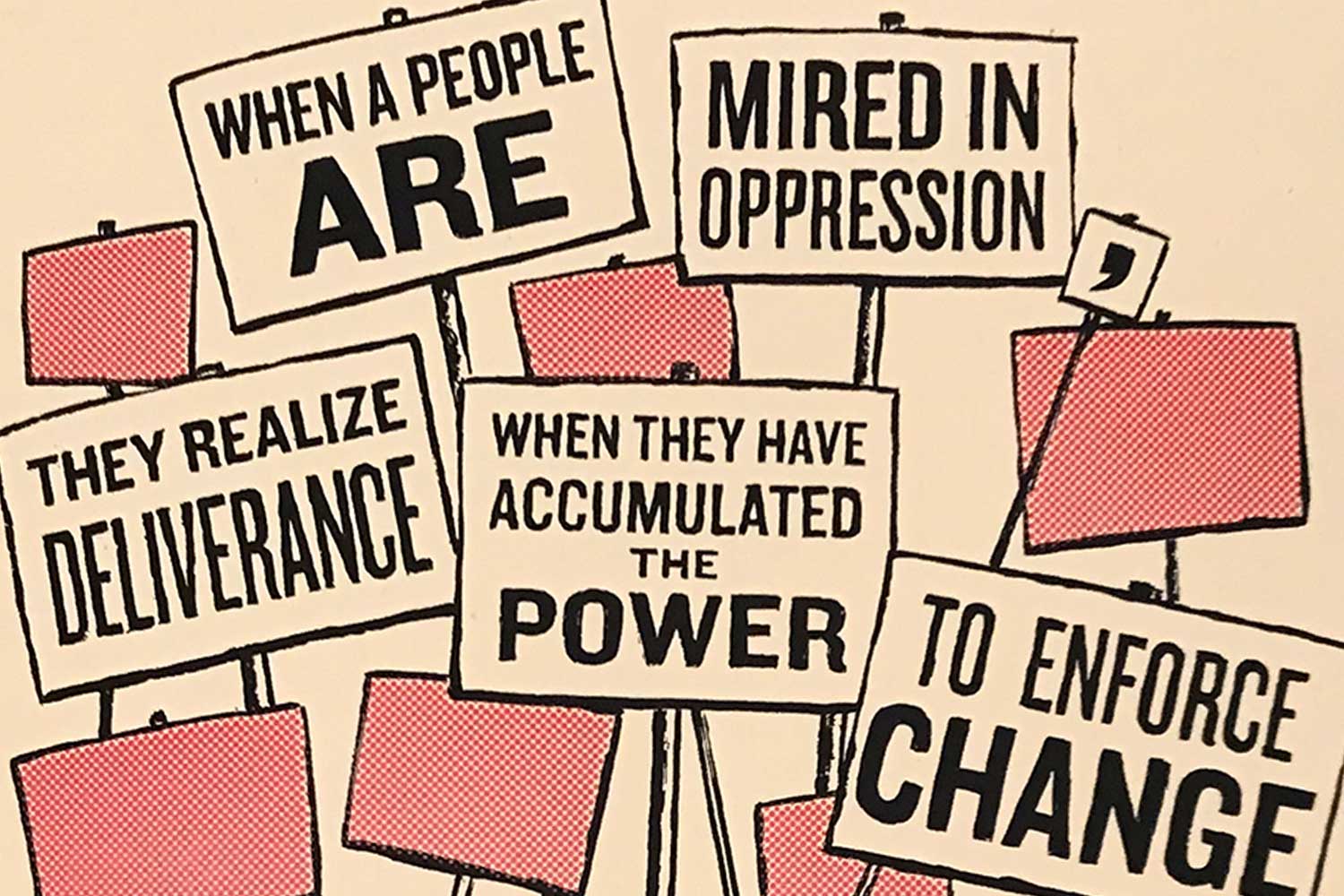 On December 4, 1967, Rev. Dr. Martin Luther King Jr. announced plans for a Poor People's Campaign and called for the nation to take dramatic steps to end poverty. In the wake of his assassination the campaign went forward but fell short of its vision. Fifty years later, a new Poor People's Campaign has emerged from over a decade of work by grassroots movements fighting to end poverty, racism, militarism, and environmental destruction. The new Poor People's Campaign: A National Call for Moral Revival is building a broad and deep national movement—rooted in leadership of poor people—to unite from the bottom up in a campaign for justice.
Last spring, on the 50th anniversary of MLK's Beyond Vietnam speech, organizers from the Poor People's Campaign reached out to artists across the country with a general call for artwork addressing the themes central to the campaign. Justseeds responded to the call by setting out to make a popular education portfolio for campaign activists and organizers to use during regional and local teach-ins. Specifically, we sought to make a portfolio that could help people understand the guiding vision of the campaign, communicate the principles of the campaign, and help imagine the world we all want.
After a series of initial discussions last fall, campaign cultural arts organizer Charon Hribar began working with Paul Kjelland, Jesse Purcell, and myself to partner with the Kairos Center and the Popular Education Project make the portfolio a reality. We reached out to artists in our community to join in the effort, eventually building a roster of twenty-four artists including: Art Hazelwood, Ashley Hufnagel, Colin Matthes, Eli Wright, Eric J. Garcia, Erik Ruin, Jane Norling, Jesse Purcell, Joanna Ruckman, Josh MacPhee, Kevin Caplicki, Mary Patten, Mary Tremonte, Nicolas Lampert, Paul Kjelland, Pete Railand, Roger Peet, Sam Companatico, Sarah Farahat, Shaun Slifer, Thea Gahr, Yvette M. Pino, and myself.
Artists then provided two color designs based on campaign subjects provided by Charon. As the designs came in, Paul and Jesse began to prepare the images for printing at Repetitive Press, Jesse's studio in Toronto. Each color needed to get laid out just right and printed on film. In mid-December, Paul and I made a trip up to Toronto to work with Jesse at his studio. Once we settled in and set up the first few designs we started burning screens and making prints. After cranking away on Jesse's automatic screen print press for over a week of 14 hour print sessions, we still only had about half the portfolio done. We just had too many prints to make. So we planned a second trip and in mid-January Paul came back to help Jesse finish the 250 portfolios, consisting of over 6,500 prints.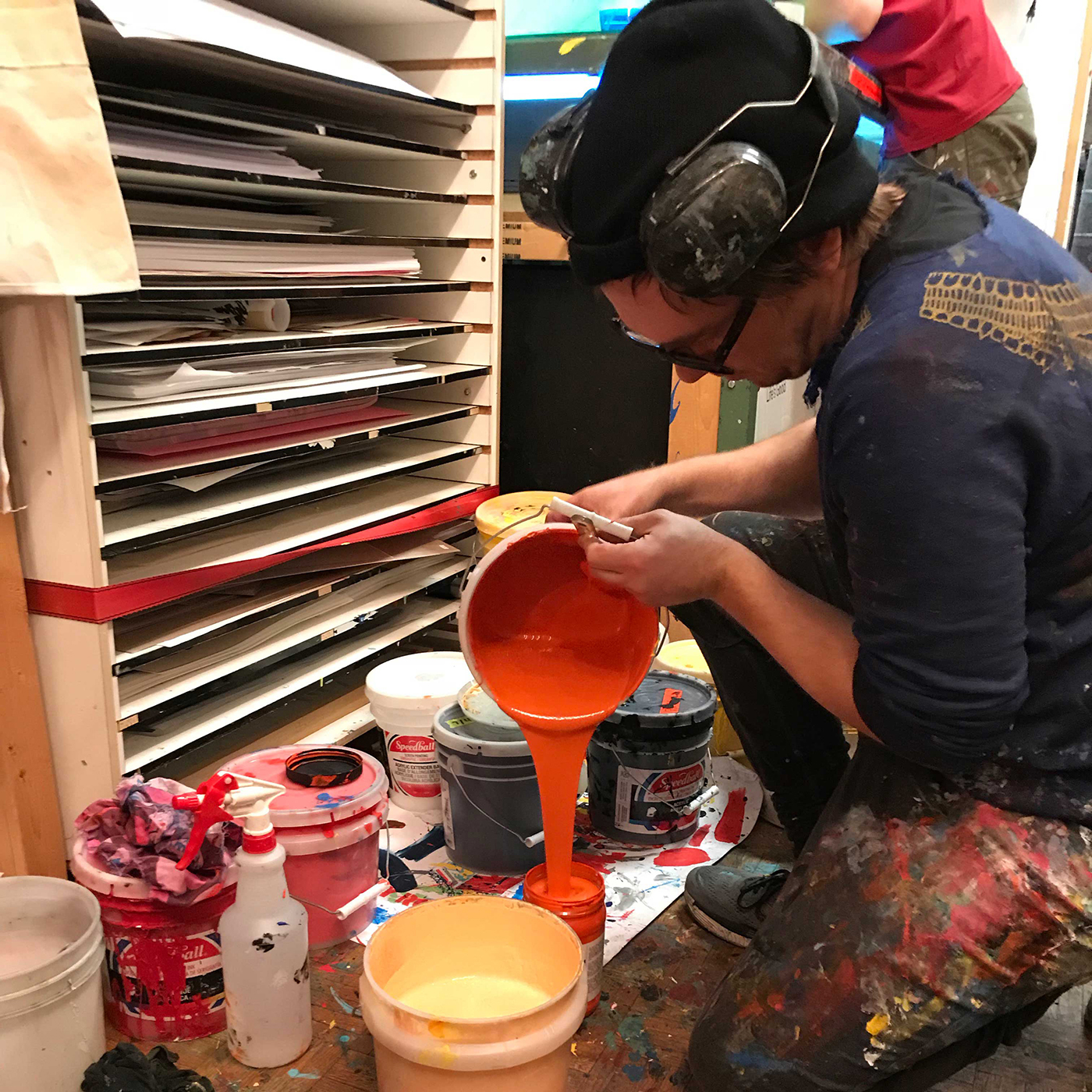 Jesse Purcell mixing ink at Repetitive Press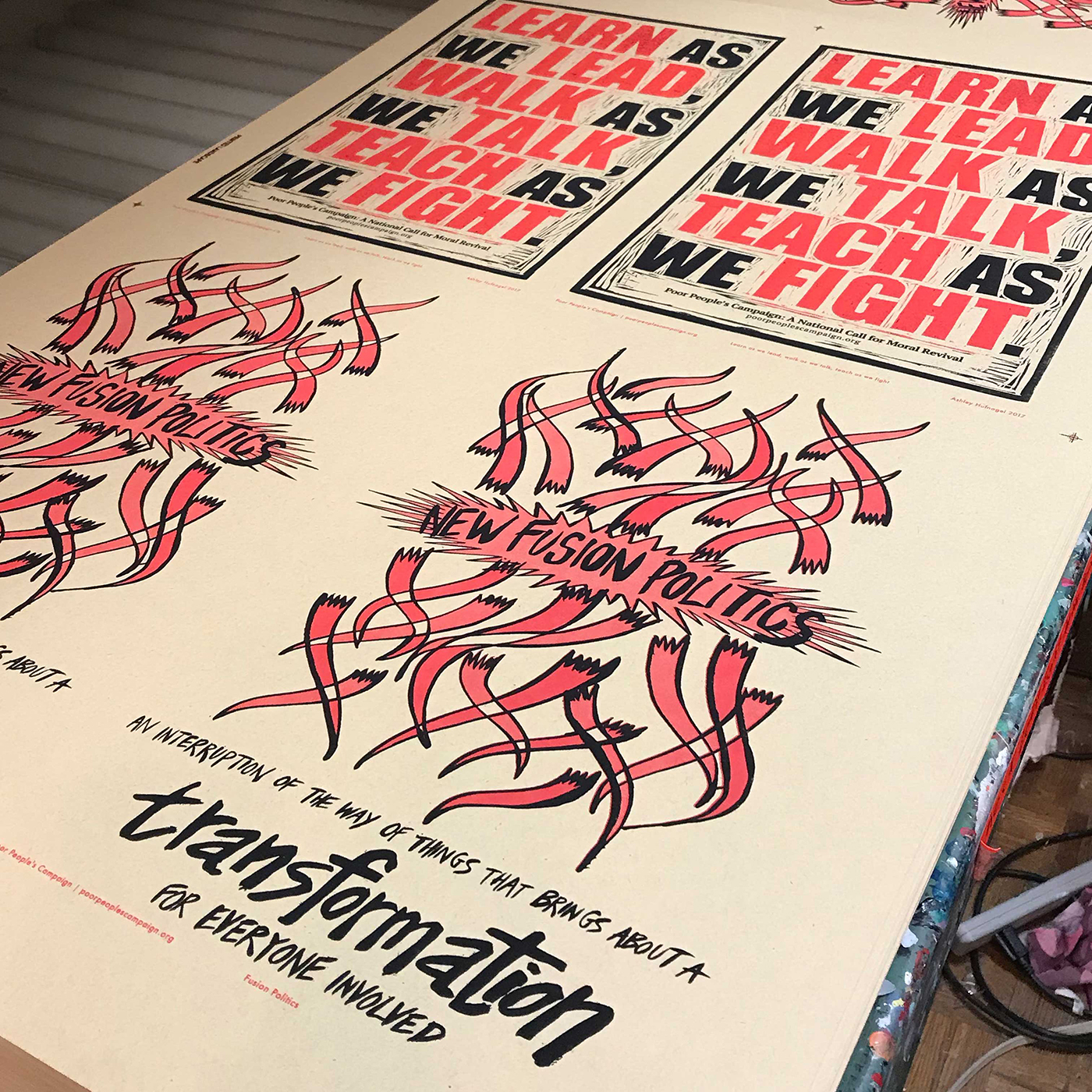 Learn as we lead, walk as we talk, teach as we fight by Ashley Hufnagel and Fusion Politics byMary Tremonte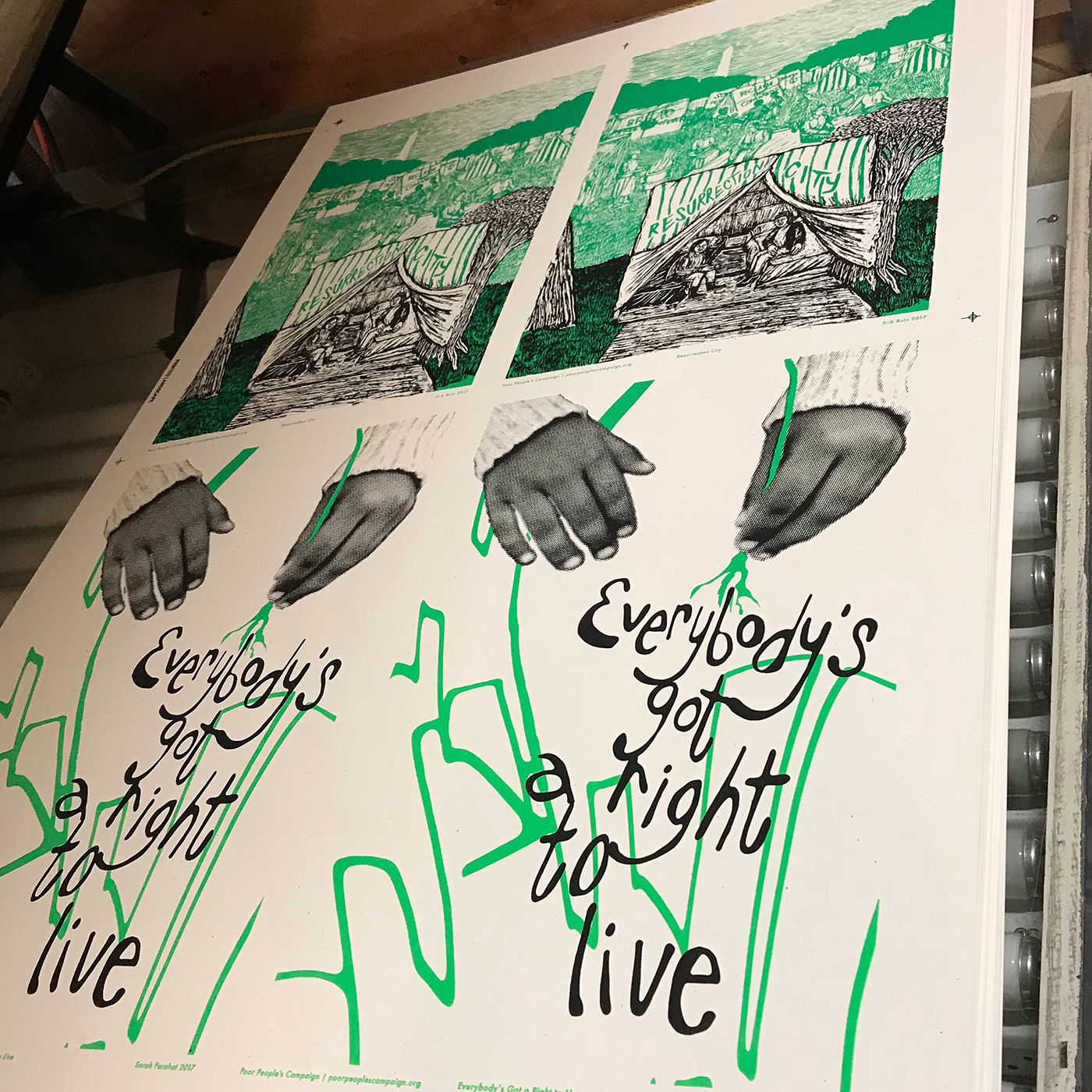 Resurrection City by Erik Ruin and Everybody's Got a Right to Live by Sarah Farahat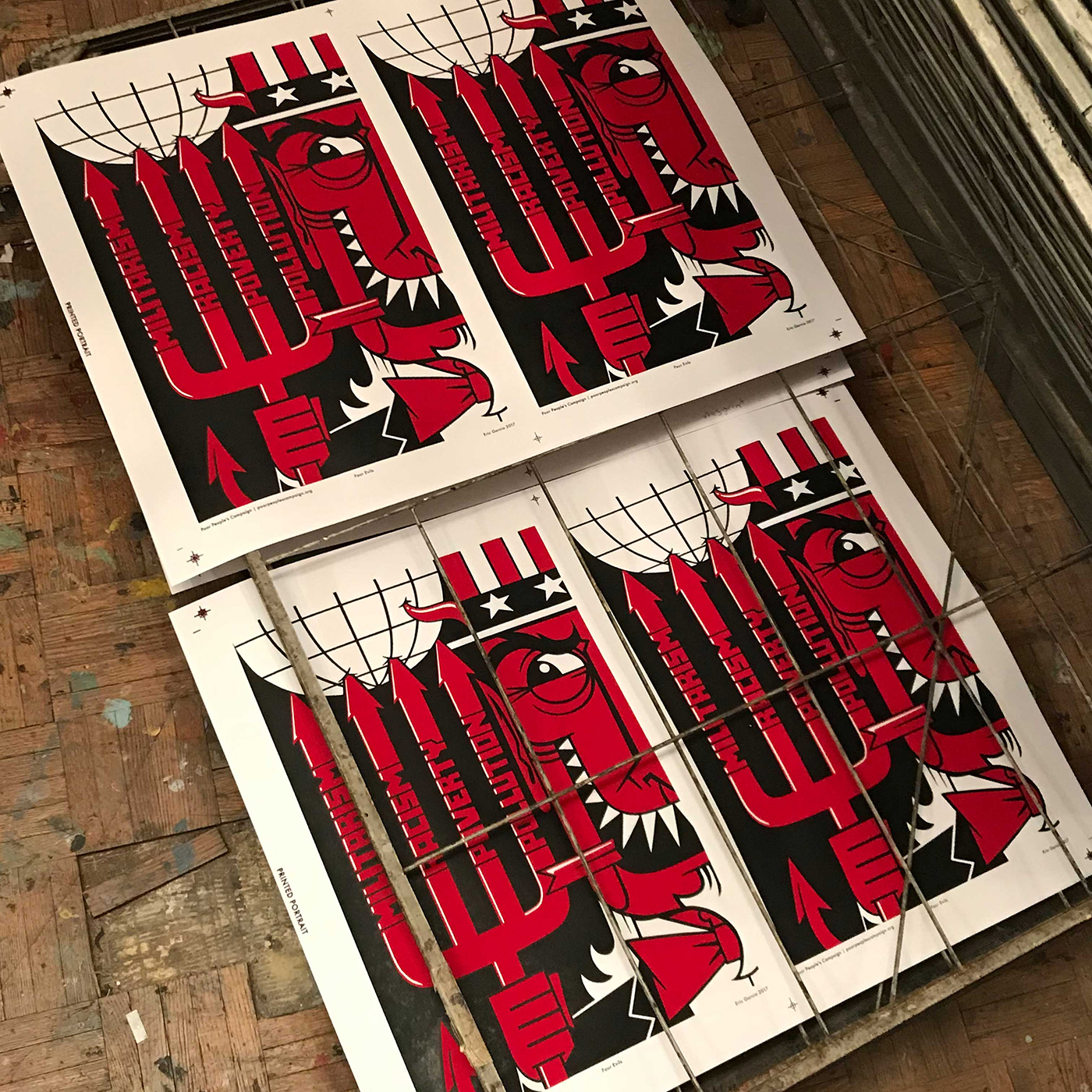 Four Evils by Eric J. Garcia
These portfolios were then collated, packaged up, and shipped out to he first National Theomusicology and Movement Arts Convening of the Poor People's Campaign: A National Call for Moral Revival this past weekend in North Carolina where the portfolios were passed out to arts and culture organizers from thirty-three states and Washington, D.C..
The campaign is now working on organizing a portfolio launch at the The Union Theological Seminary in New York City this March before the rest of the portfolios are sent out to regional gatherings and artists. Paul and I are working to prepare a webpage for the portfolio with downloadable graphics.
More soon.
Here are some sweet Instagram videos of the portfolio and production process!