Between April 2nd – April 10th, artists, activist and groups  organizing the #DefundClimateChaos Week of Arts Action. We anticipate that this will be the largest coordinated street art action ever (that we know of!). Can you help?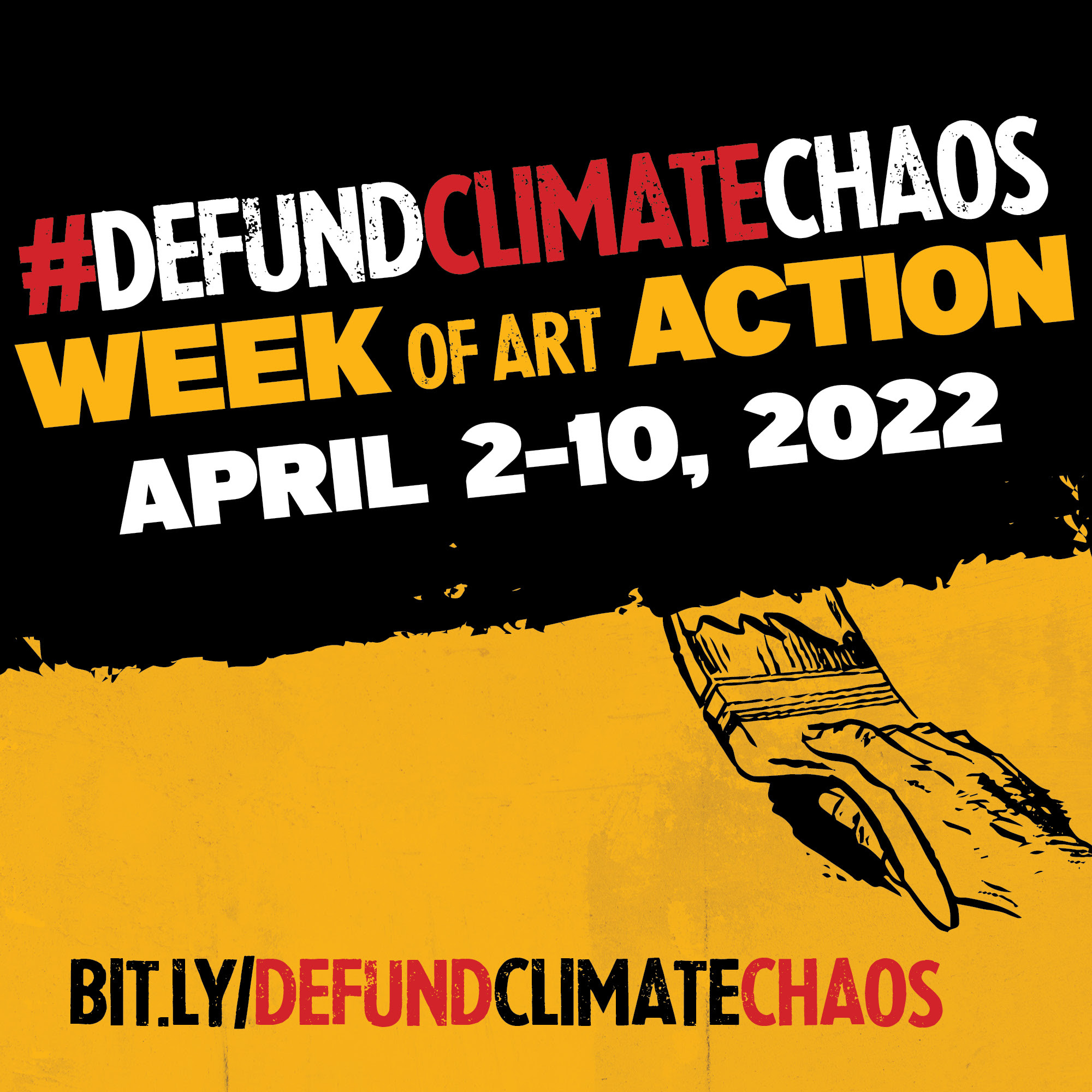 Here's the deal:
We are printing 30,000 giant street art posters ― each one 5 1/2 feet tall x 3 1/2 feet wide. There are six different designs, each created by movement artists.  The posters are printed as newspapers that fold out and easily assemble and glue into big posters. Here's the six designs:
We want to get these works of art into the hands of thousands of activists across the country who will get them up in their communities.
This is where you come in.
Will you sign up to get a couple of sets of the street art designs and commit to getting your climate action group, friends, family, or neighbors together to get this powerful climate movement art up in your community?
It can take up to two weeks or longer for the art to arrive, so please don't hesitate to sign up. Once you sign up, we will send you a batch of artwork from six different artists from across the climate movement. We will also provide you with a resource guide and manual that has everything you need to know to make sure you're using the art in the most powerful way possible.
On Tuesday, March 29th at 5PT/8ET we will host a Virtual Arts Training with long-time movement artists and activists, David Solnit, Jetsonorama (aka Chip Thomas), and others. In the training, we will walk you through step-by-step tips for pasting the posters up, using the art in actions, and setting up a pop-up art show.
Sign up to join the Virtual Arts Training here.
Back and front cover design of one of the six newspaper-that-fold-out-and-assemb-inot-giant-street-art-posters.
Why are we doing this?
Wall Street banks are funding the fossil fuel industry and the climate crisis. Since the Paris Agreement, six US banks have loaned $1.2 trillion to the fossil fuel industry. But they would rather nobody knew that. The fossil fuel industry is also
So they greenwash their business and tell us lies to make us think they're taking the climate crisis seriously.
Our public and online spaces are inundated with millions of dollars of advertising by the finance industry, fossil fuel and corporations that try to impose their narrative and manipulate us. Street art is a kind of pushback; this project a widespread visual and direct action intervention to disrupt the institutions that are funding and profiting from fossil fuels and climate chaos. This week of art action will see massive reclaiming of public space (and online space) to lift up our narratives, make our movements visible and inspire others to join.
Art, culture and creative action are at the heart of successful movements. Minneapolis-based artist-organizer Ricardo Levins Morales says, "Humans are story-driven. We make choices according to how we understand the world to be. Art speaks directly to those deep inner spaces where the stories are stored."
Sign up to join the #DefundClimateChaos Week of Arts Action today.
And please spread the word.
(Text from the Stop the Money Pipeline crew and David Solnit.)