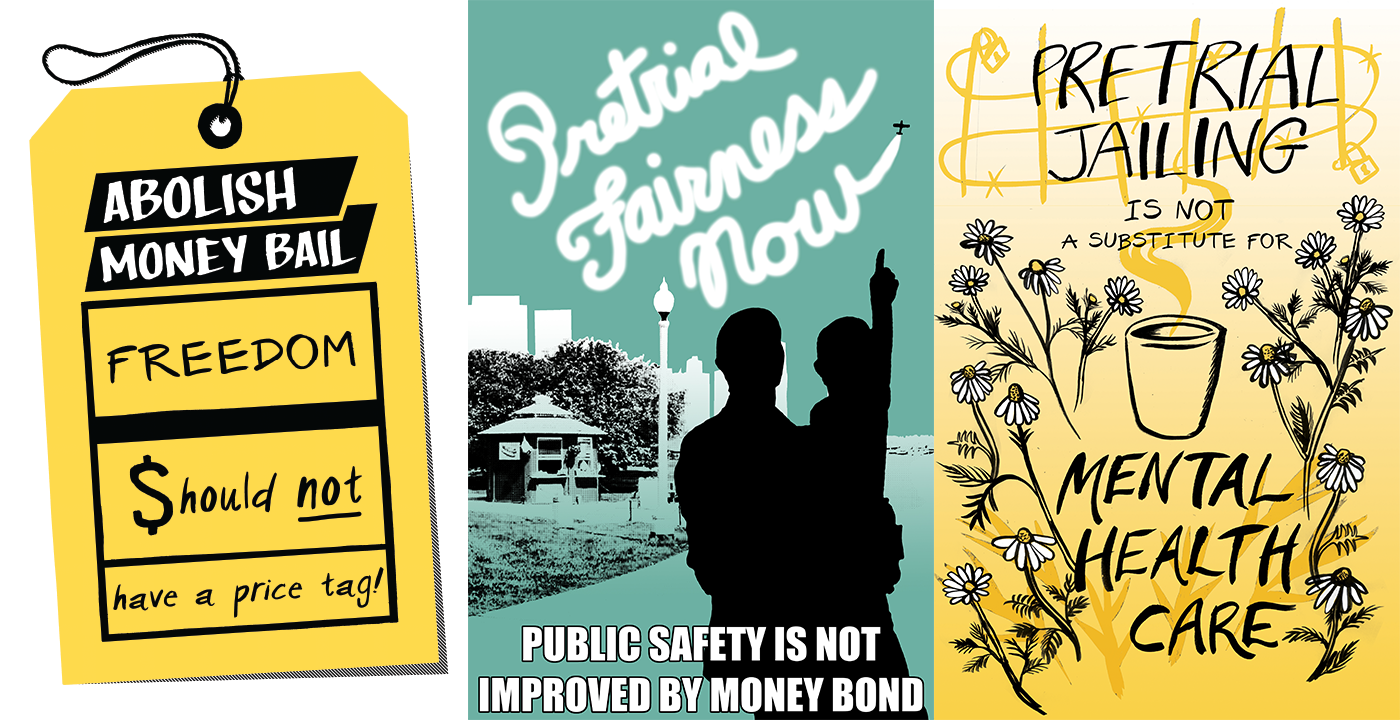 This is Part 3 of a 4-part blog and poster series in support of the Pretrial Fairness Act in Illinois. In case you missed the others, here's Part 1 , Part 2, and Part 4.
With the Pretrial Fairness Act delayed in the Illinois Supreme Court due to a lawsuit filed from State Attorneys across the state, and several men initiating a hunger strike at Champaign County Jail for violation of the Eighth Amendment, the fight to end wealth-based jailing remains a critical, life-saving effort in the state of Illinois. Today we're sharing three new posters from Justseeds artists Mary Tremonte, Kevin Caplicki, and Paul Kjelland in support of the Pretrial Fairness Act. You can download them, including other posters in this series, at the bottom of this blog post. We encourage you to share them on social media to boost the campaign outside of our networks, and be sure to tag @justseeds and @endmoneybond.
I also chatted with Cori Nakamura Lin, a Chicago-based artist and community organizer who has been supporting the Campaign to End Money Bond through art and cultural strategy. I asked Cori a few questions about how she got involved with the campaign and the critical role of art in shaping new visions for real justice and safety.
Monica Trinidad: Hi Cori! What inspired you as an individual artist to get involved with the campaign for pretrial fairness?
Cori Lin: I became involved in the Coalition to End Money Bond because of my commitment to decarceral work in Chicago. I am a part of the Japanese-American community in Chicago, and while the mass incarceration experienced by my community during World War II is not the same as the institutionalized incarceration of Black and brown people today, the multi-generational effects of incarceration trauma that my family experienced roots me in the work to end all forms of incarceration. I know that there is power in planting many different idea seeds in peoples' minds, and I hope that by [people] seeing many different messages, some of those new ideas will eventually take root. Also I am proud of my brain, but it has so many limitations! A lot of the aspects of our money bond system feel incomprehensible to me: the amount of money, the quantity of folks being harmed. When I make work about the Pretrial Fairness Act I'm often trying to make tools for visual learners like me!
MT: How do you see the role of art and art builds fitting into the campaign?
CL: I've felt like the visuals and creative work that many folks have brought to the campaign get at the "heart work" needed to move folks on the issue, in addition to the fact-based "mind work." We're trying to shift the mainstream idea of what safety looks like and re-build pathways in people's minds; it's really really hard to have faith in something you've never seen or imagined before! The creative artists I'm working with have created visions of that safer, more caring future that we can rally around and move towards. I also see huge community value in building and making art together, especially creative work connected to our shared liberation. Making art with others helps remind my body of the joy of creating something that didn't exist before, of what it feels like to create something I couldn't do alone, and how to trust the whole. Creating art together is practicing the muscles that we will need to co-create a safer and more just society.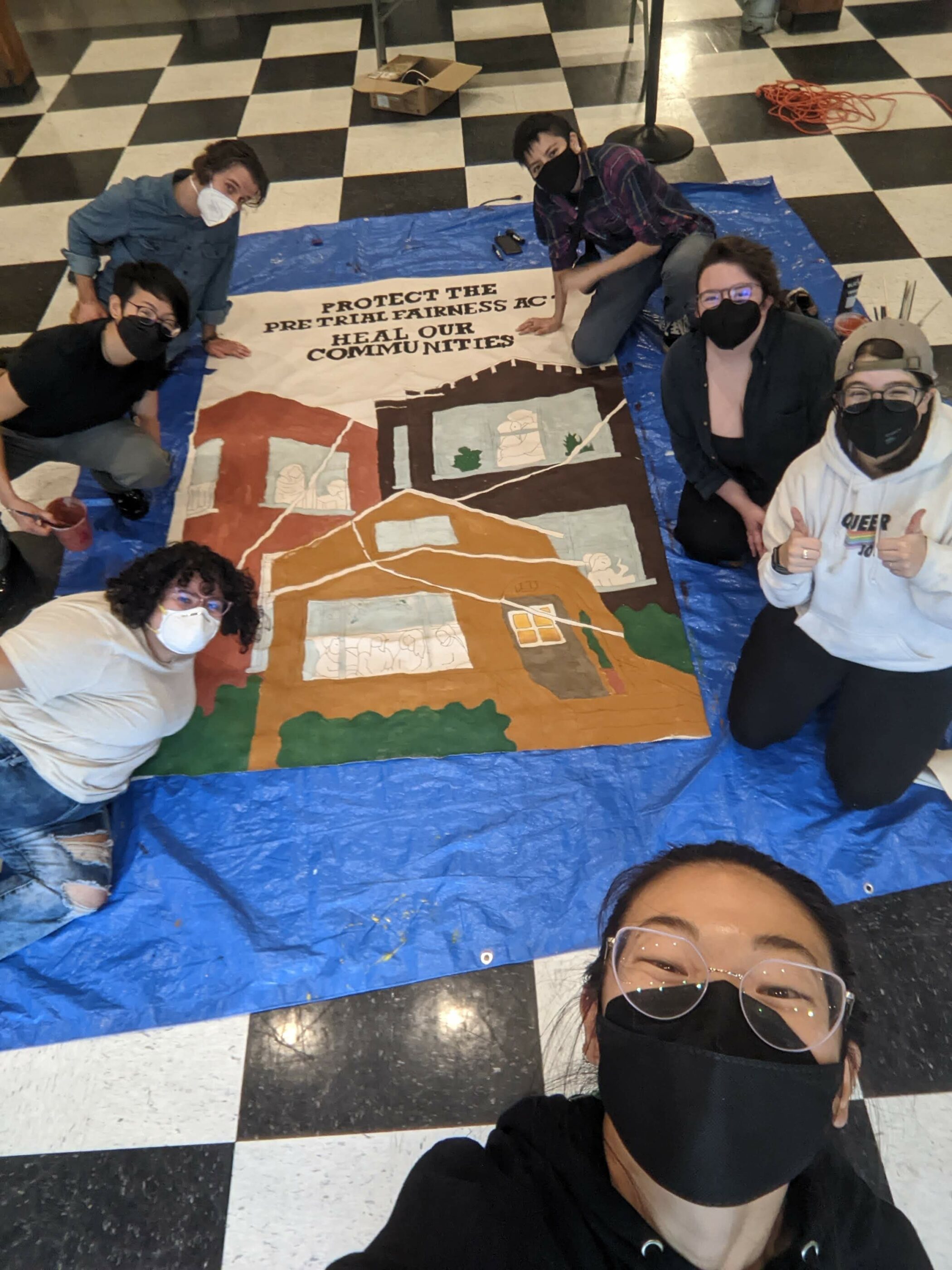 MT: There's a lot of misinformation about money bond and pretrial fairness that gets amplified in mainstream media. What was your narrative strategy in working with artists?
CL: I brought on eight other artists and creators to make a variety of pieces that would speak to many aspects of the campaign! Shoutout to Adam Saldana, Asha Edwards, Julie Merrell, Kara Rodriguez, Olivia Love, Río Beltran, TJ Gordon Jr., and Finn Holtz. We wanted to share about the apparatus of how money bond works, make calls to immediate action, bring culture and joy to events, and address underlying contradictions in the carceral system. There are so many people across IL who would benefit from the Pretrial Fairness Act but have either been lied to directly about the legislature, or are just straight up afraid. The hope was that by bringing in creatives from many different cultural and geographical communities, we could speak in different voices that may resonate with different folks.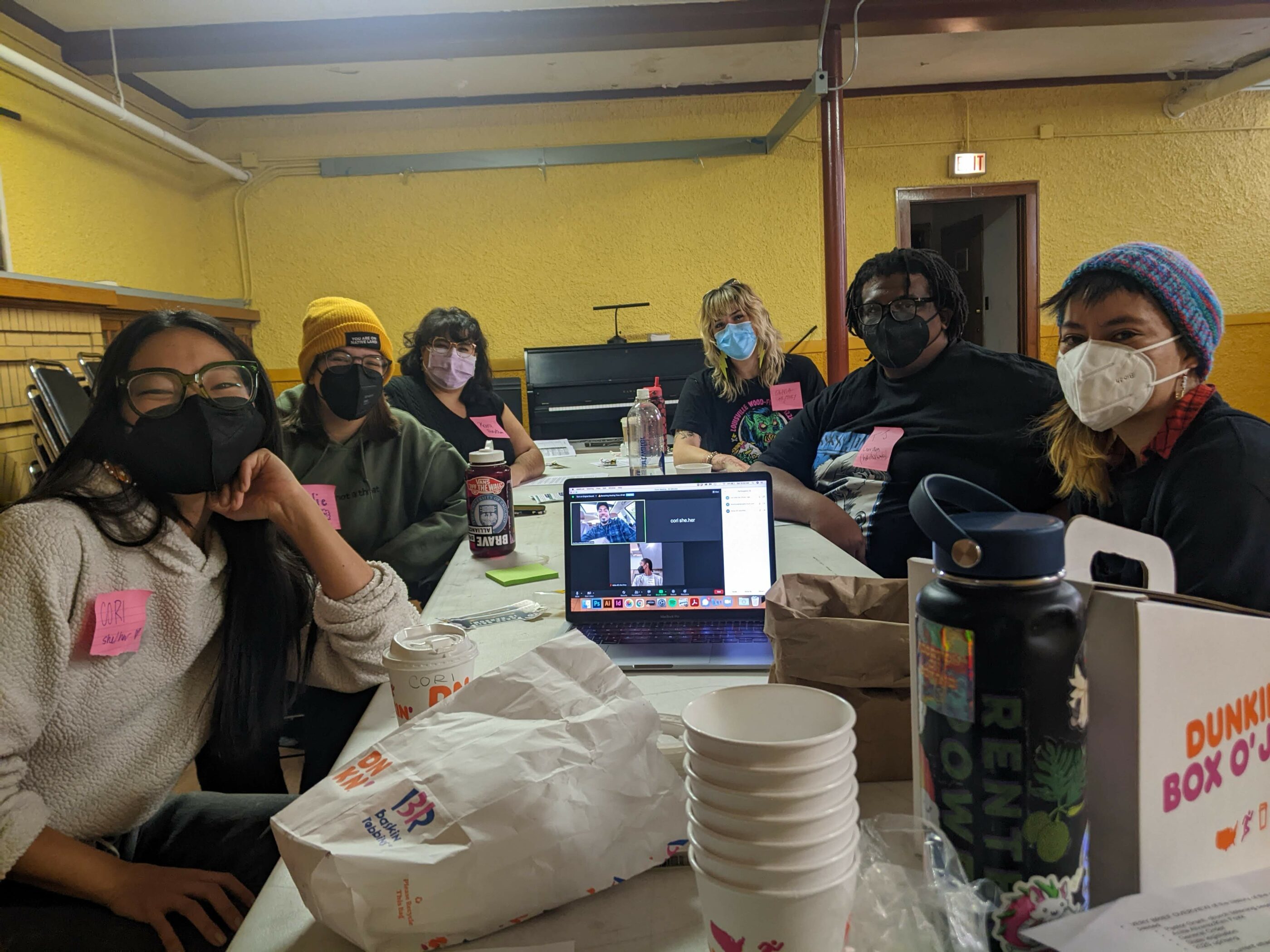 MT: Do you have a favorite art piece that came out of the art builds?
CL: There is so much good work coming out of the campaign, and much work that has yet to be shared! I do particularly love the CASH BAIL IS RANSOM banner I designed in 2020 in collaboration with A Just Chi and Nikkei Uprising members. We wanted to create a big banner that would resonate with our Asian American communities, and decided to use an image of No Face breaking open a jail and pouring the money into schools. It feels really powerful for me to invoke cultural symbols and spirits who have in the past been apolitical, and call upon these spirits to protect and defend the people of Illinois.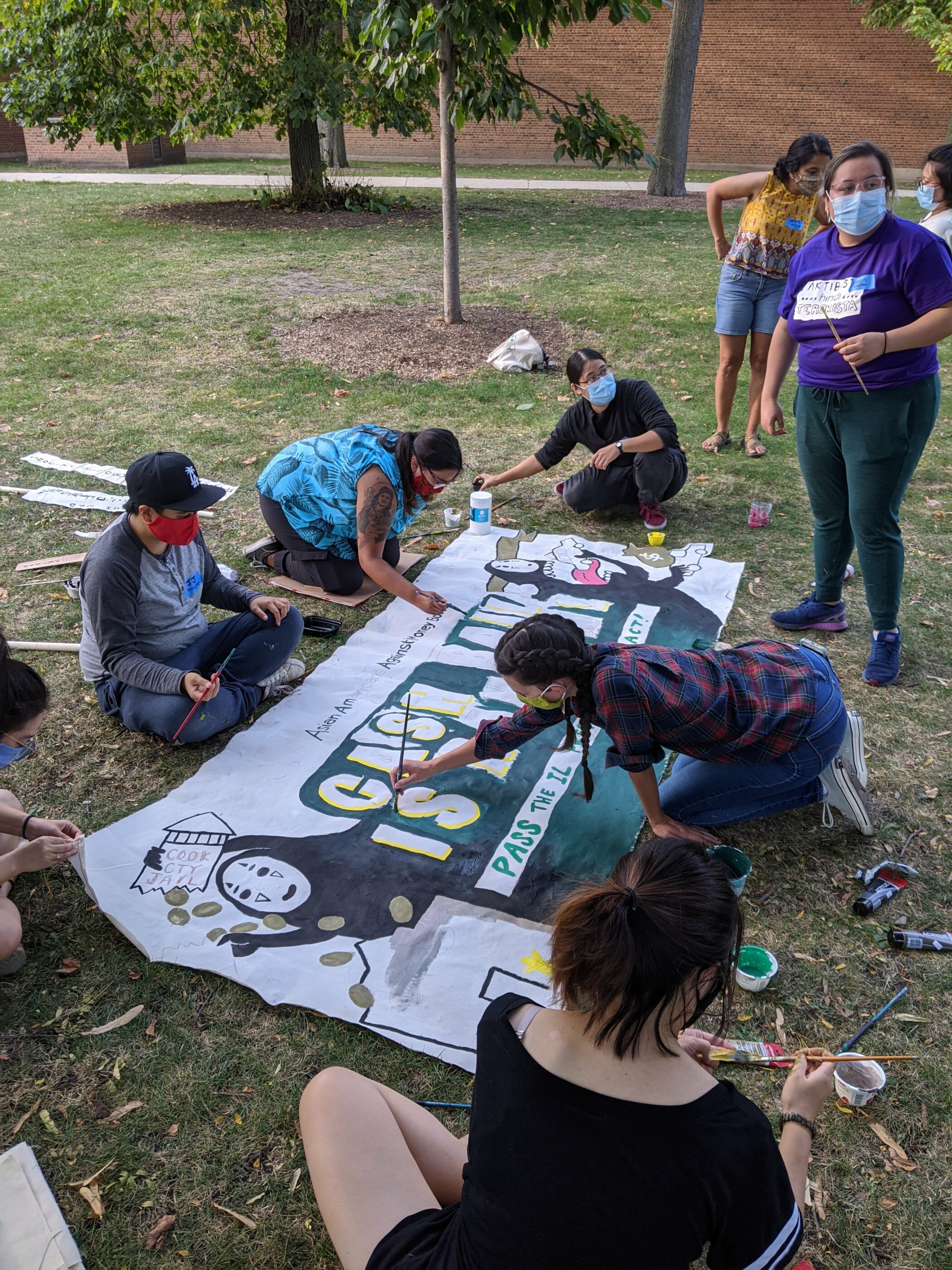 ---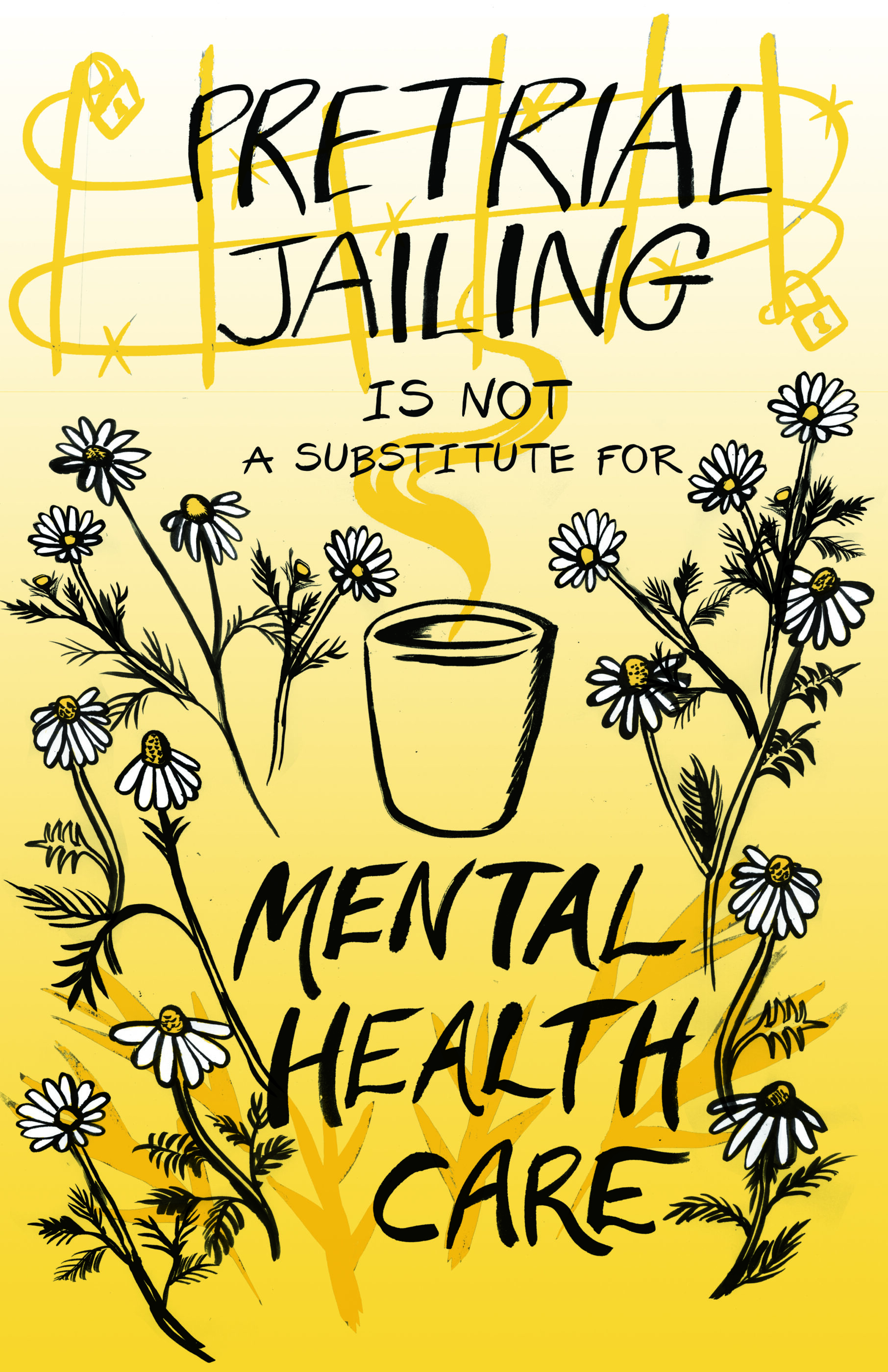 Artwork above by Mary Tremonte. A poster that says "Pretrial Jailing is not a substitute for mental health care" is written in black text over a yellow background with bars behind the words pretrial jailing. There are white flowers with black stems framing the text on both sides, with a cup of a hot drink in the center with steam coming out.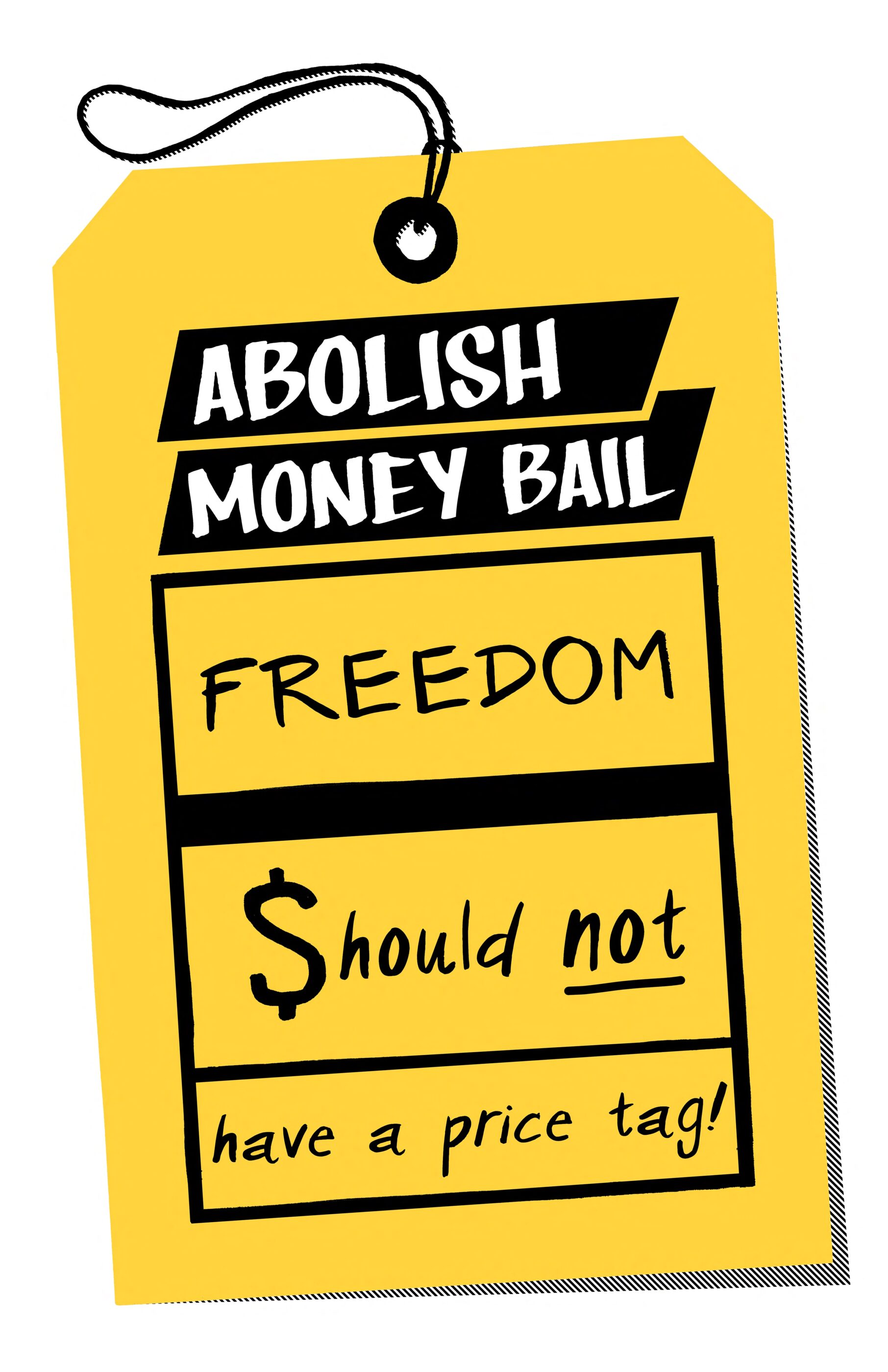 Artwork above by Kevin Caplicki. A graphic of a yellow tag with a black hole and loop at the top resembling a price tag. In white text on a black background says "Abolish money bail." Below in boxes, it says "Freedom should not have a price tag".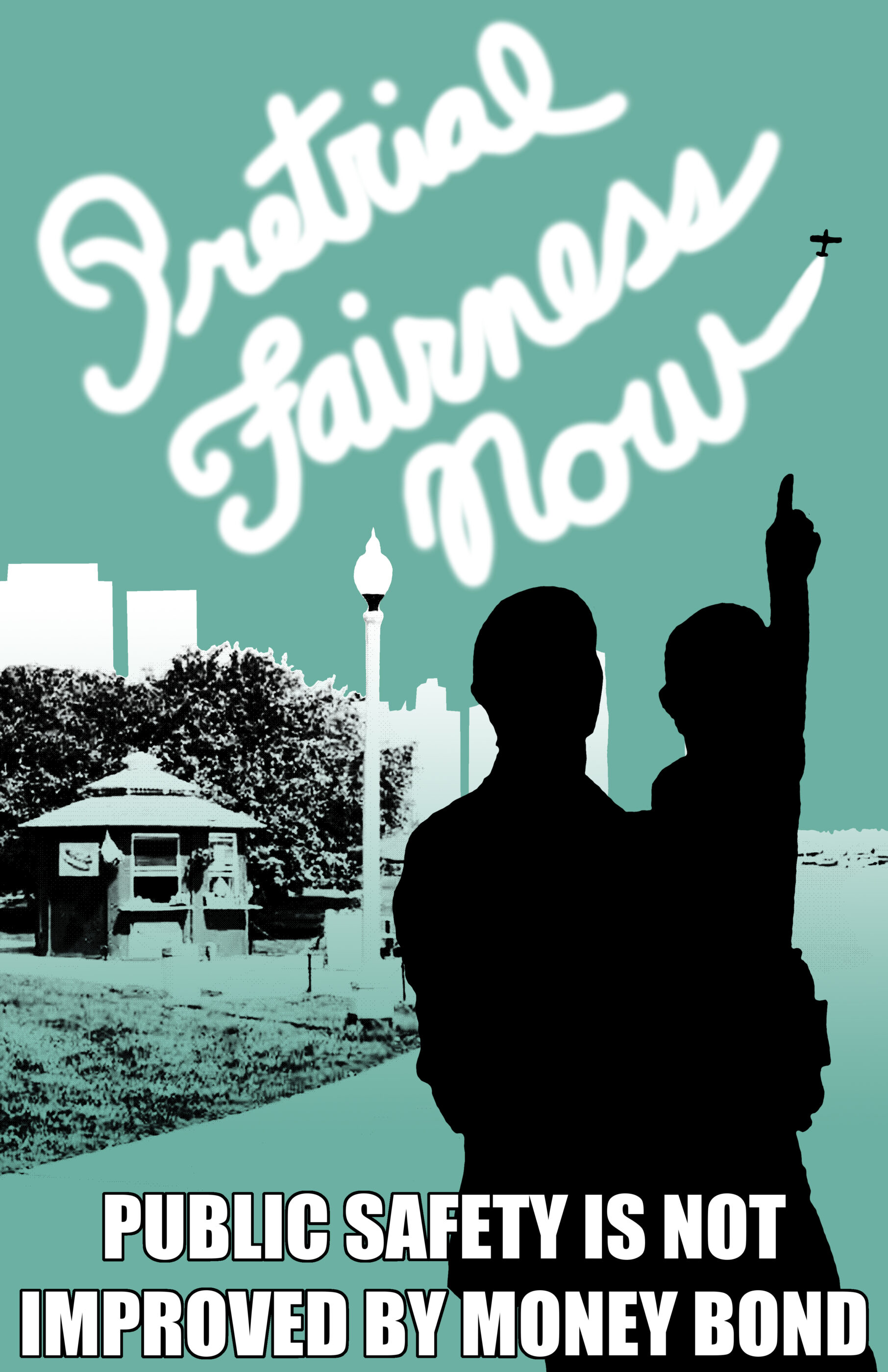 Artwork above by Paul Kjelland. A teal background with a black silhouette of a person holding a kid who is pointing up to the sky towards words resembling white skywriting coming from a plane above the Chicago lakefront. The skywriting says "Pretrial Fairness Now". The text at the bottom of the poster says "Public safety is not improved by money bond."
Download, print, and share these free posters everywhere! If you want to share them on Instagram with a proper-sized fit, you can download them all here.