This is Part 4 of a 4-part blog & poster series in support of the Pretrial Fairness Act in Illinois. In case you missed the others: Part 1, Part 2, and Part 3. 
On January 1, 2023, Illinois was to become the first state in the country to prioritize public safety over wealth by ensuring that being low-income is not the sole factor in whether someone is jailed while awaiting trial. Instead, the act has been stalled by law enforcement and State's Attorneys who want to preserve their power to jail people simply because they're poor.
In the latest update from the Coalition to End Money Bond, they said "Communities across Illinois anxiously await a decision from the Supreme Court on the future of money bond in our state. For decades, this practice has caused people to lose their jobs, housing and even custody of their children. Instead of making our communities safer, wealth-based jailing has further endangered the communities most impacted by crime by destabilizing the lives of the accused and their families as well as extracting millions of dollars from our state's poorest residents so that they could free their loved one's from custody."
We know that the safest communities will always be the ones with the most resources. This stall in court to fully execute the Pretrial Fairness Act is not surprising—ending money bond in Illinois would set a precedent for states across the country to follow suit, creating ripple effects of radical possibilities for reimagining public safety throughout the most impacted communities.
As we continue to wait, you can still purchase a "Protect Pretrial Fairness, Heal Our Communities" t-shirt or sweatshirt designed by Grae Rosa to demonstrate your public support! All proceeds will benefit people being freed from Cook County Jail by the Pretrial Fairness Act.
Today we're sharing the final four artworks in this series of posters supporting the Pretrial Fairness Act—shoutout to artists Tesh Silver, Molly Costello, Cori Lin, and justseeds member Sarah Farahat for closing out our series!
Feel free to download the posters (right click to save) and share these free posters everywhere! If you want to share them on Instagram with a proper-sized square fit, you can download them all here.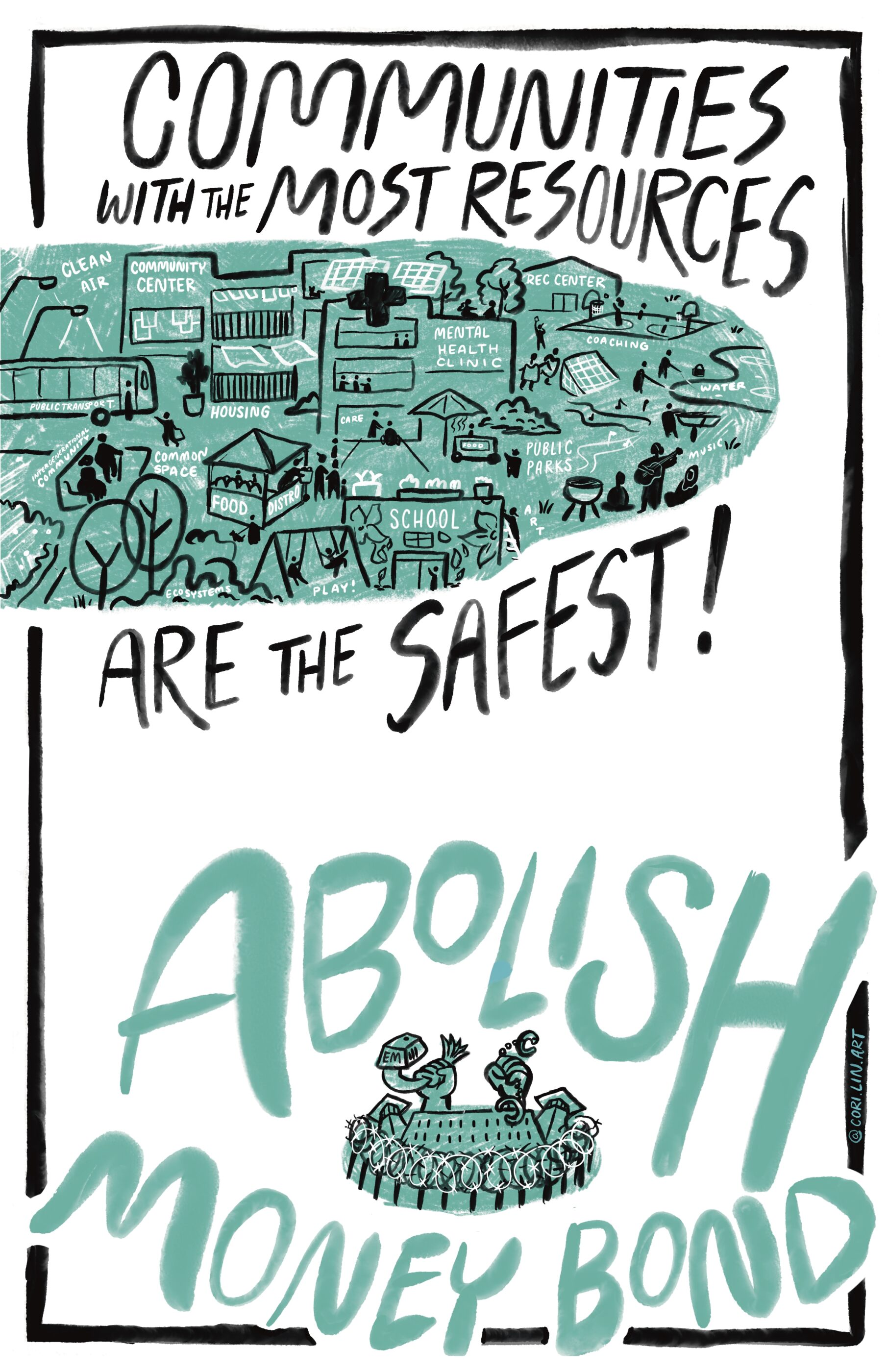 Artwork above by Cori Lin. The illustration is on a white background with black and teal lettering that reads "Communities with the most resources are the safest!" at the top, surrounding a teal, white and black line illustration of a dense community of mental health clinics, public schools and park, and more. At the bottom is the text "Abolish money bond" with a line illustration of two hands breaking chains coming out of a prison surrounded by barbed wire.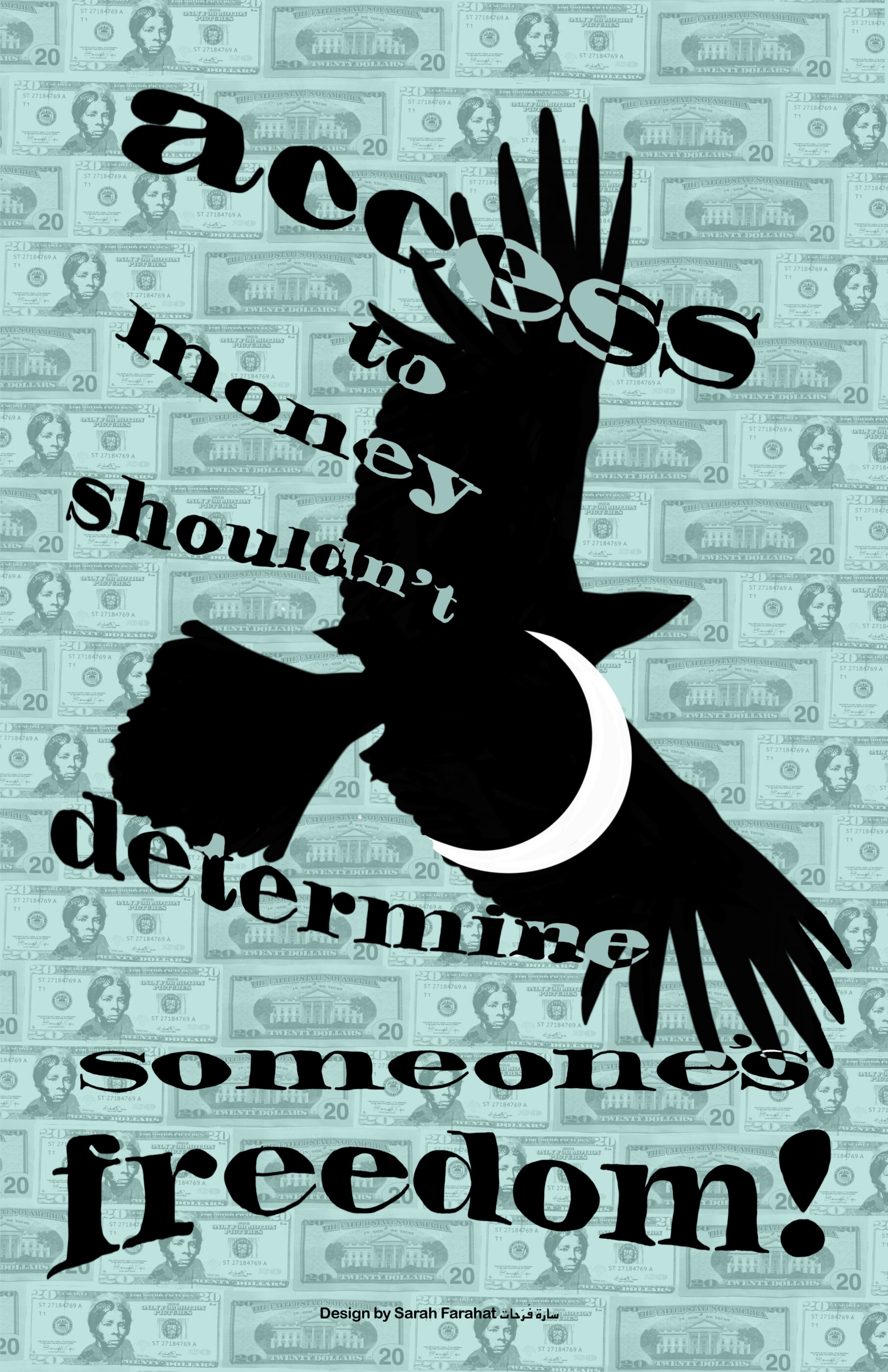 Artwork above by Sarah Farahat. A teal-colored image of Harriet Tubman $20 dollar bills creating a collaged background; a black image in the foreground is of a bird with its wings spread and a white moon with the words "Access to money shouldn't determine someone's freedom!" across the image.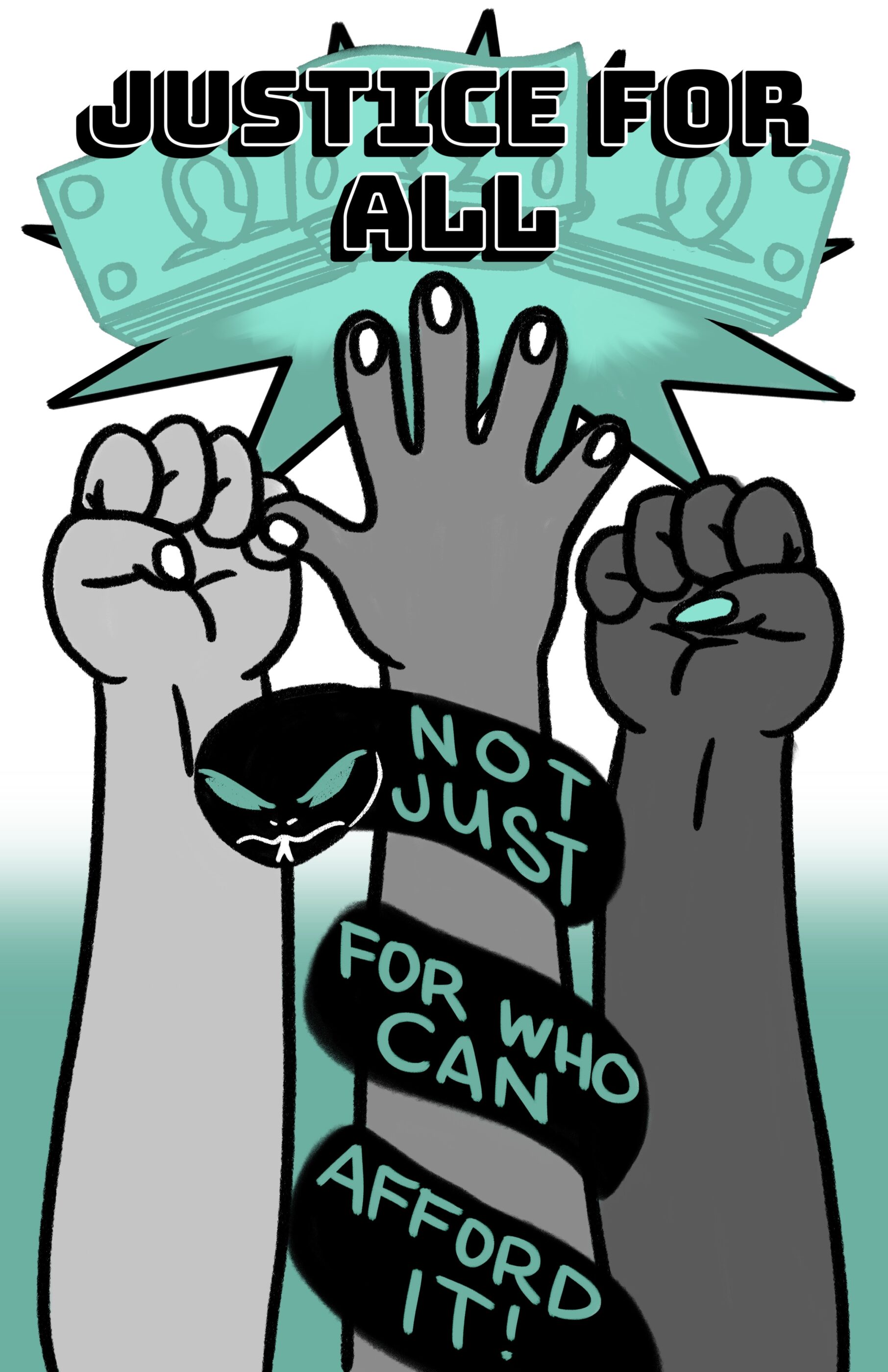 Artwork above by Tesh Silver. A black, gray and teal illustration of three hands dominating the image; two on each side are making fists and one in the middle has the hand extended and the arm being wrapped by a black snake. At the top of the image is money being emphasized with the text "Justice for all" over it. On the snake are the words "Not just for who can afford it!"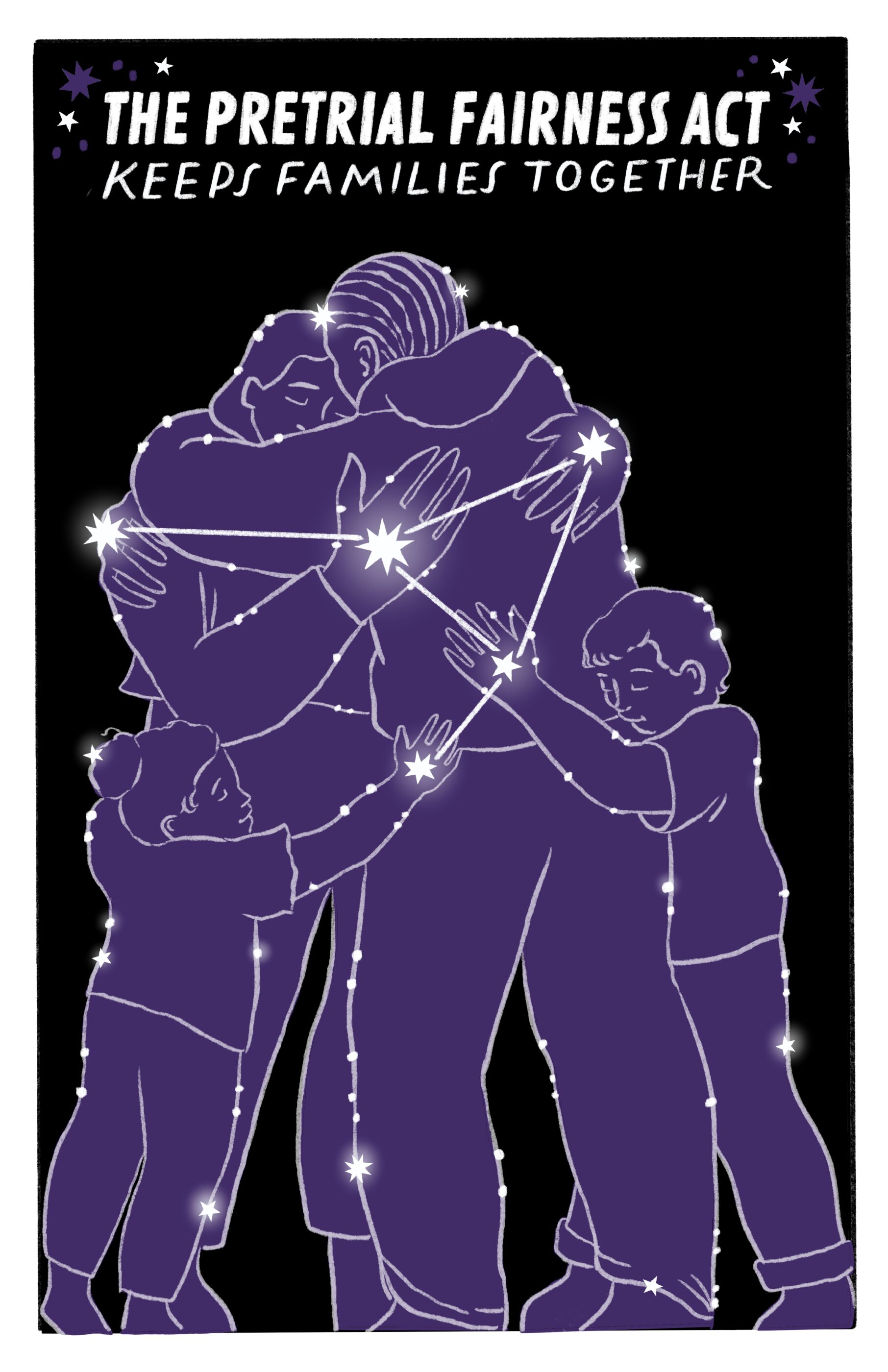 Artwork above by Molly Costello. A purple illustration outlined in white on a black background; the illustration is of two adults and two children huddling and hugging each other, engulfed by star constellations. The text at the top reads in white "The pretrial fairness act keeps families together."