This is Part 2 of a 4-part blog & poster series in support of the Pretrial Fairness Act in Illinois. In case you missed the others: Part 1, Part 3, and Part 4.
The Pretrial Fairness Act takes effect in just a few days! The Illinois Network for Pretrial Justice is working with Chicago Community Jail Support to welcome the influx of people home who've been jailed simply for not being able to afford their bond. Support is now needed to help them get supplies for people being released in these cold winter months. If you have the means, you can donate any amount at bit.ly/BringingOurPeopleHome. If you want some rad apparel to signal your solidarity, you can purchase a "Protect Pretrial Fairness, Heal Our Communities" t-shirt or sweatshirt designed by Grae Rosa! All proceeds benefit people being freed from Cook County Jail by the Pretrial Fairness Act.
As we share our second drop of artwork in support of the Pretrial Fairness Act, featuring work by Justseeds' artists Andrea Narno, Josh MacPhee, Roger Peet, and Erik Ruin, we're also sharing the most recent right-wing attacks on this effort.
Just yesterday, a Kankakee County judge sided with 58 State's Attorneys and sheriffs suing Illinois over the SAFE-T Act, which includes the Pretrial Fairness Act. While the Pretrial Fairness Act will still become law in Illinois on January 1, 2023, it could delay action in many counties if the Illinois Supreme Court doesn't swiftly correct it.
As the Illinois Network for Pretrial Justice recently shared in a statement, "In the nearly two years since the Pretrial Fairness Act was passed into law as part of the SAFE-T Act, some members of law enforcement have been trying to undermine it. Their efforts have not been about justice or public safety; they are simply about preserving the power to jail people because they're poor. While many counties have diligently worked to prepare for the end of money bond, the State's Attorneys behind these lawsuits have been working to preserve one of the greatest racial and economic injustices in our legal system."
As artists, we will continue to heed the call to visualize what real justice looks like for our people, which will never include prisons, and certainly not freedom with a price tag. Feel free to download, print, and share these free posters everywhere! If you want to share them on Instagram with a proper-sized fit, you can download them all here.
Stay tuned mid-January for our next artwork release, including interviews with movement artists involved in the effort for pretrial fairness and bringing our people home.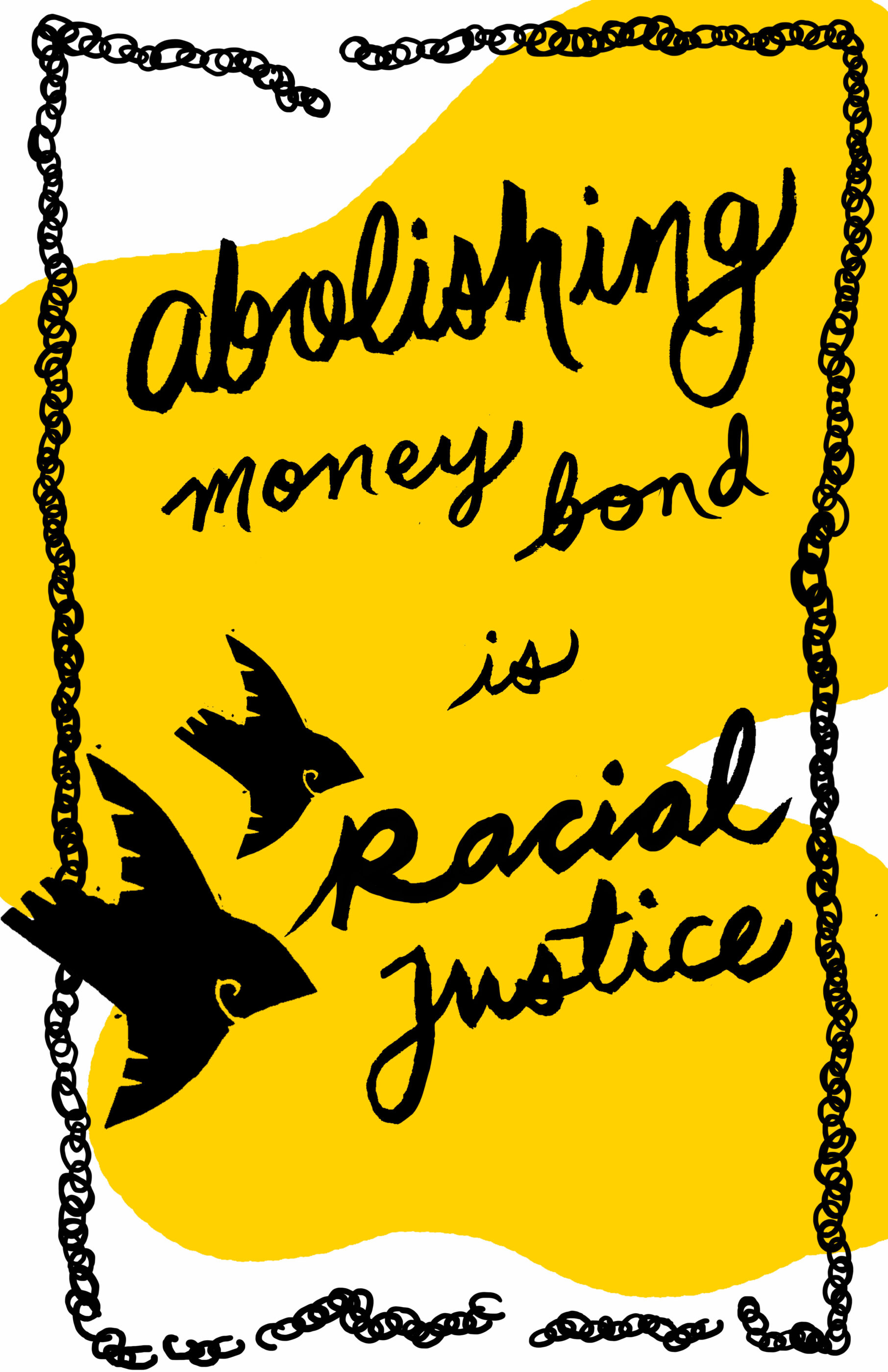 Artwork above by Andrea Narno.
Image Description: An illustration of two black birds flying across a border of broken chain links next to the words "Abolishing money bond is racial justice" over a splash of yellow in the background.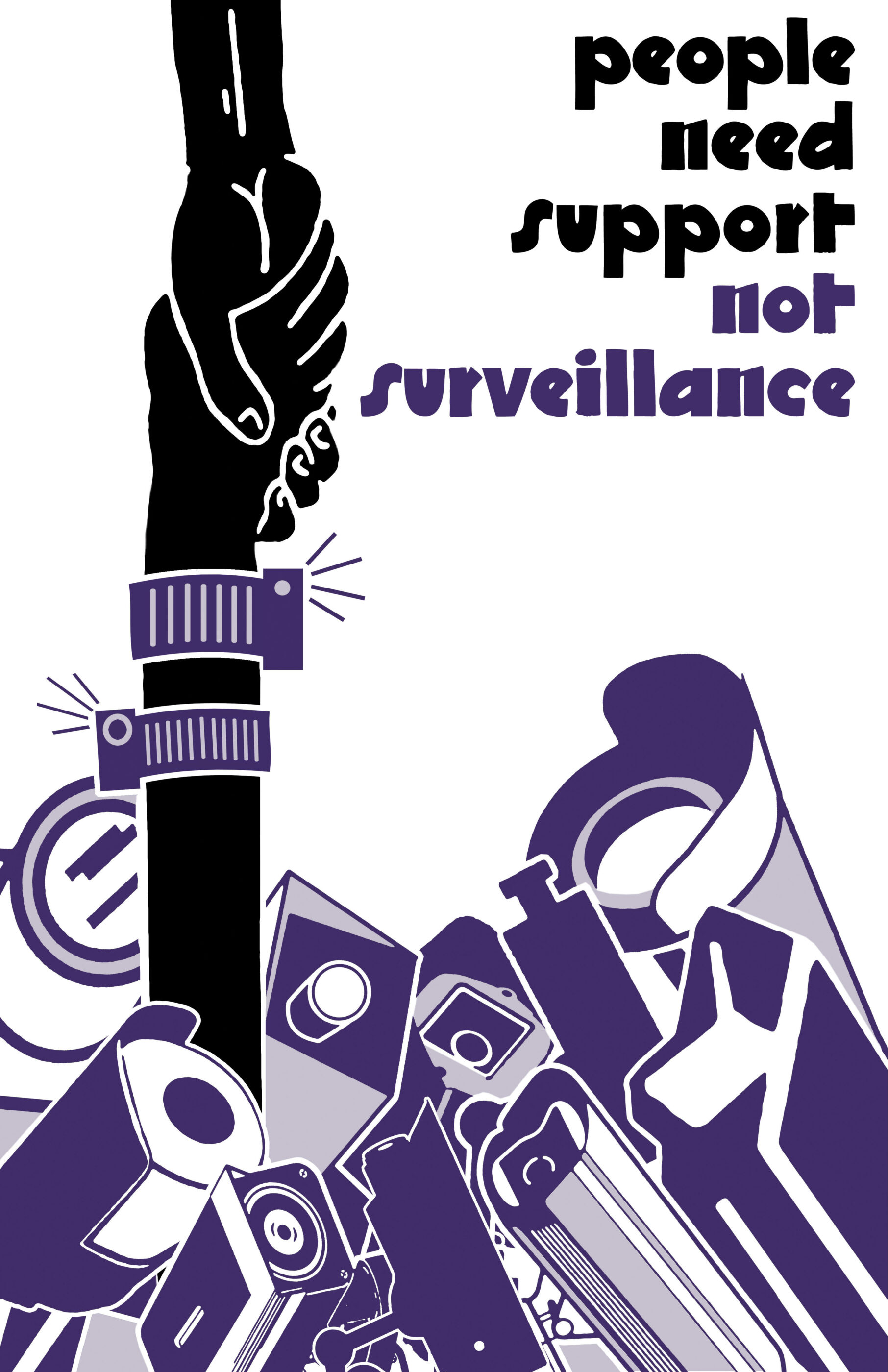 Artwork above by Josh MacPhee.
Image Description: A hand reaching down to grab another person's hand who has an electronic monitor on their wrist and surrounded by cameras and other forms of electronic monitoring equipment in purple and black. Words are at the top right of the image and read "People need support, not surveillance."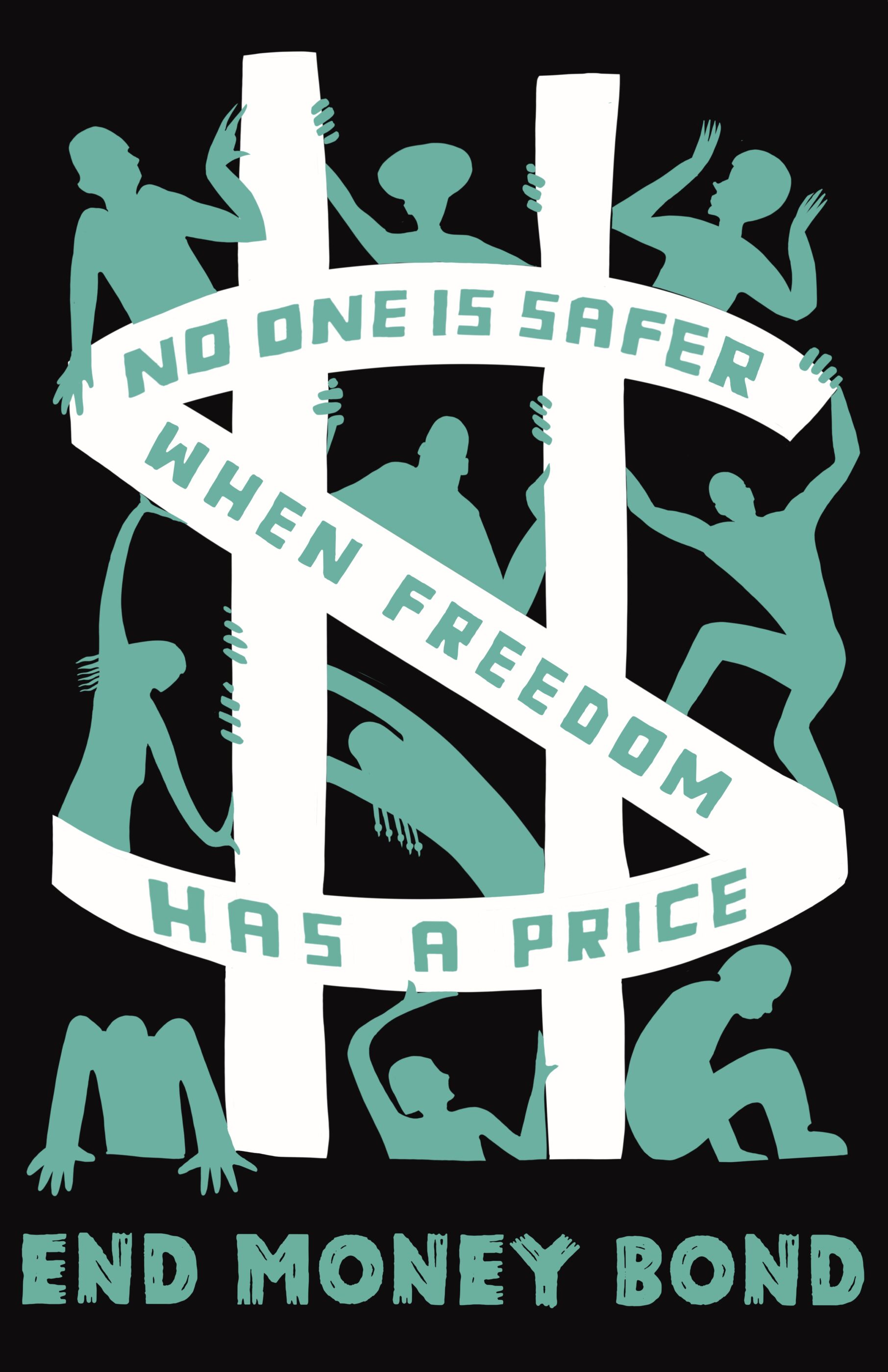 Artwork above by Roger Peet.
Image Description: An illustration of a white dollar sign symbolizing prison bars with teal silhouettes of people pushing and pulling at the bars on a black background. There are words in the money sign that read "No one is safer when freedom has a price" and at the bottom of the image that reads "end money bond."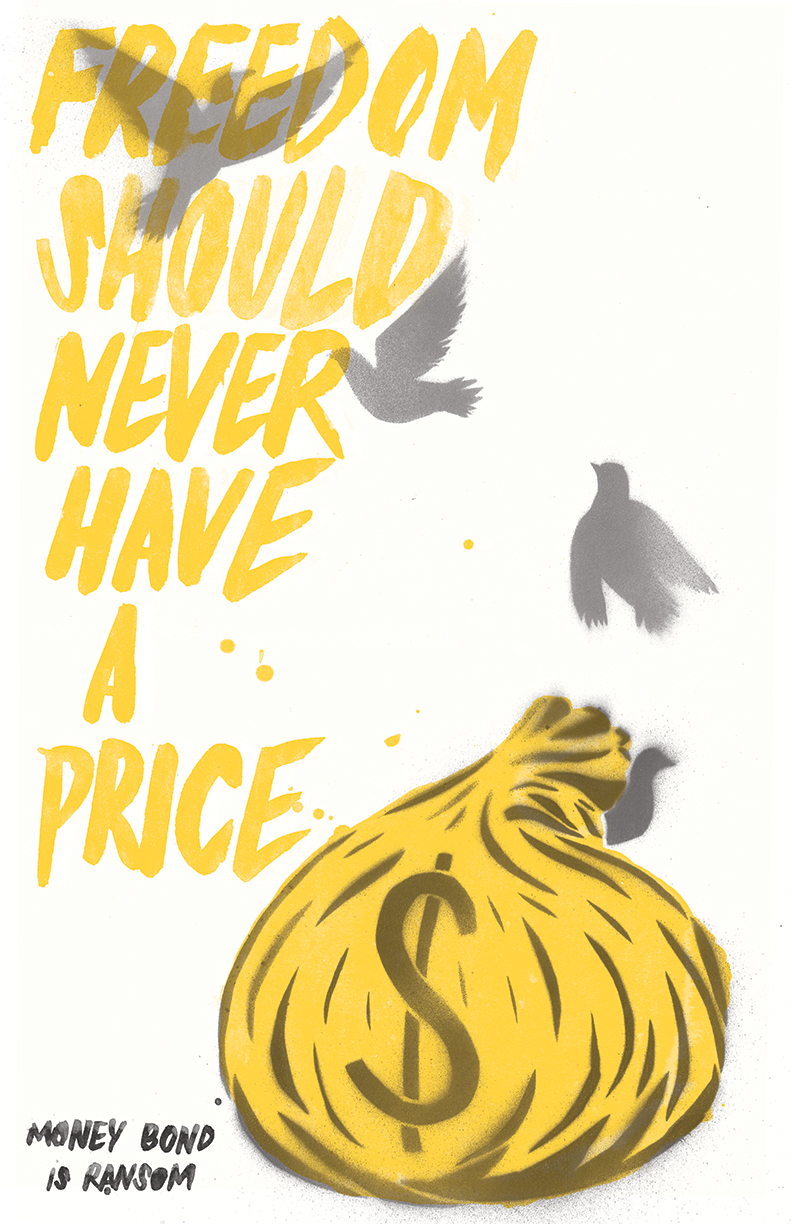 Artwork above by Erik Ruin.
Image is of a yellow bag with a money sign on it, with black birds flying out of it towards the top of the image. Words are in yellow to the left of the image and reads "Freedom should never have a price; money bond is ransom."