"Taking the last dime from someone to free their loved one is violence."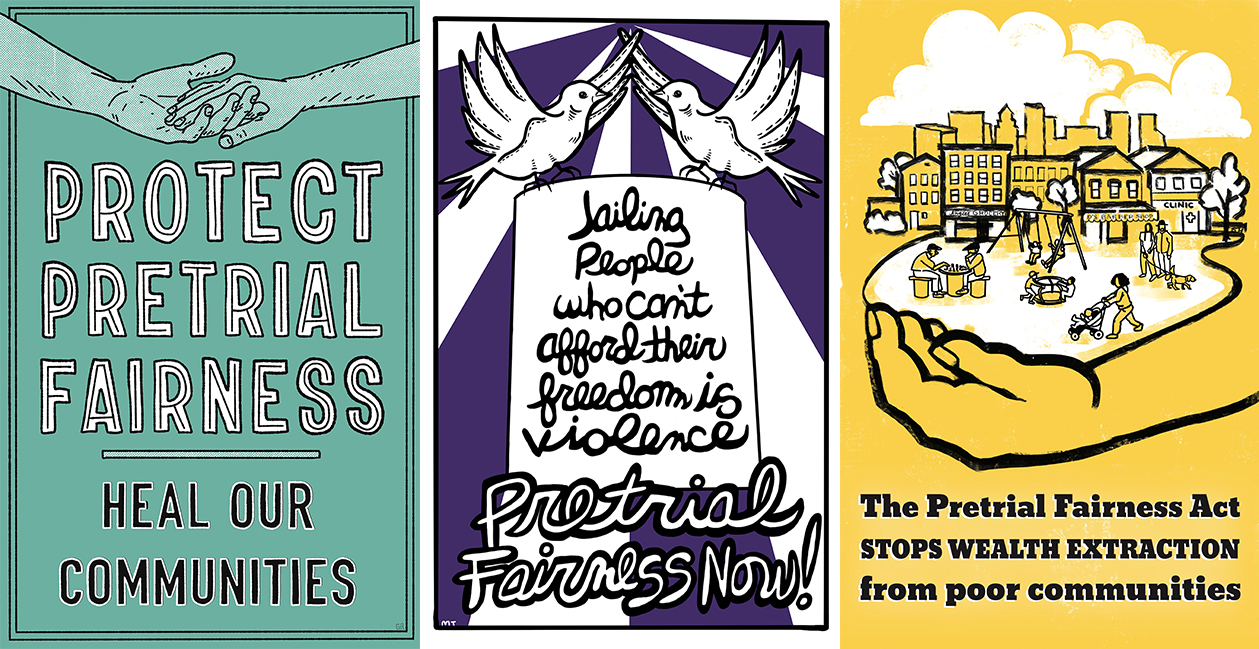 This is Part 1 of a 4-part blog & poster series in support of the Pretrial Fairness Act in Illinois. To read the others, visit: Part 2, Part 3, and Part 4.
These words, said on a panel recently by Sharone Mitchell Jr, who leads the Cook County Public Defender's Office, reverberated in the back of my mind as I co-crafted a visual and messaging strategy with a couple of key organizers for a new poster series defending the Pretrial Fairness Act in Illinois.
If you're unfamiliar with this effort, last year, a coalition led by the Illinois Network for Pretrial Justice and the Coalition to End Money Bond secured a huge win in Illinois legislature by passing the Pretrial Fairness Act, an act that ensures that no one is jailed while awaiting trial simply because they can't afford bond, or in other words, because they can't afford to purchase their freedom. Not only will this abolish money bond in Illinois, but it will also significantly reduce the number of people incarcerated in jails across the state. Starting January 1, 2023, Illinois will become the first state in the country to prioritize public safety over wealth by ensuring that being low-income is not the sole factor in whether someone is jailed while awaiting trial.
But as you can probably already guess, this win is at risk. Challengers include right-wing billionaires, police, prosecutors, and all of their allies investing millions of dollars into generating fake newspapers and social media campaigns disseminating misinformation about the Pretrial Fairness Act. Their attempts at watering down the Pretrial Fairness Act are being met with a groundswell of supporters writing op-eds, hosting art builds, signing open letters and caravanning down to the capital to speak directly with legislators, urging them to resist rollbacks and protect the Pretrial Fairness Act as it was originally written.
Over the next few months, we'll be releasing artwork from over 15 justseeds artists and friends of justseeds, strengthening the positive narrative of pretrial freedom and ending money bond, and ensuring the public is properly informed of the changes to the law. Our first three being shared today are from myself (Monica Trinidad), artist Grae Rosa, and justseeds artist Sanya Hyland. Feel free to share everywhere! If you want to share them on Instagram with a proper-sized fit, you can download them here.
Stay tuned for the next art drop in this series mid-December featuring work by several more justseeds artists, including Josh MacPhee, Erik Ruin, Andrea Narno, and more. I'll also be talking to a few Chicago-based movement artists who have been hosting art builds in support of pretrial fairness and will include some of their words on the power of movement art in this effort in the next blog post as well.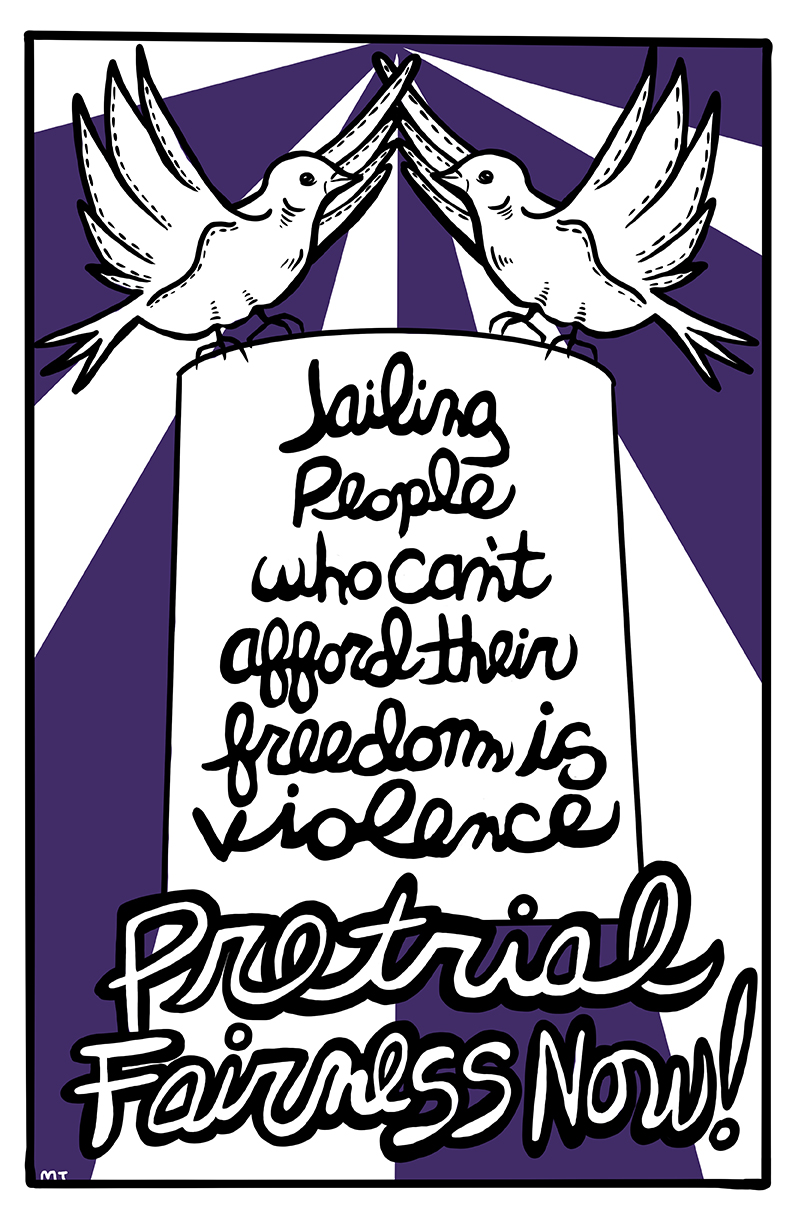 Artwork above by Monica Trinidad.
Image Description: "Jailing people who can't afford their freedom is violence. Pretrial Fairness Now!" is the text written within a sign with a white background being held up by two birds. There are purple and white rays illustrated behind the message.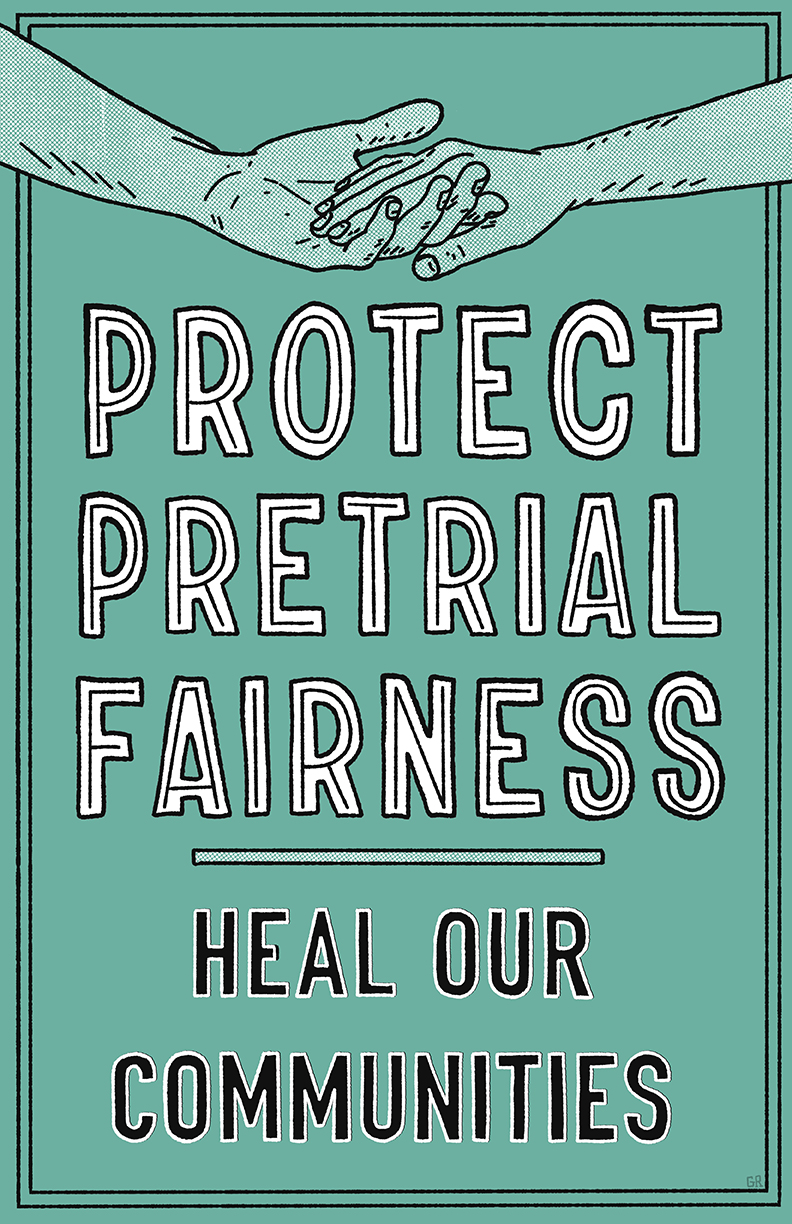 Artwork above by Grae Rosa.
Image Description: "Protect Pretrial Fairness, Heal Our Communities" is the main text written on a blue teal background. There are two hands across the top of the poster, one holding the other.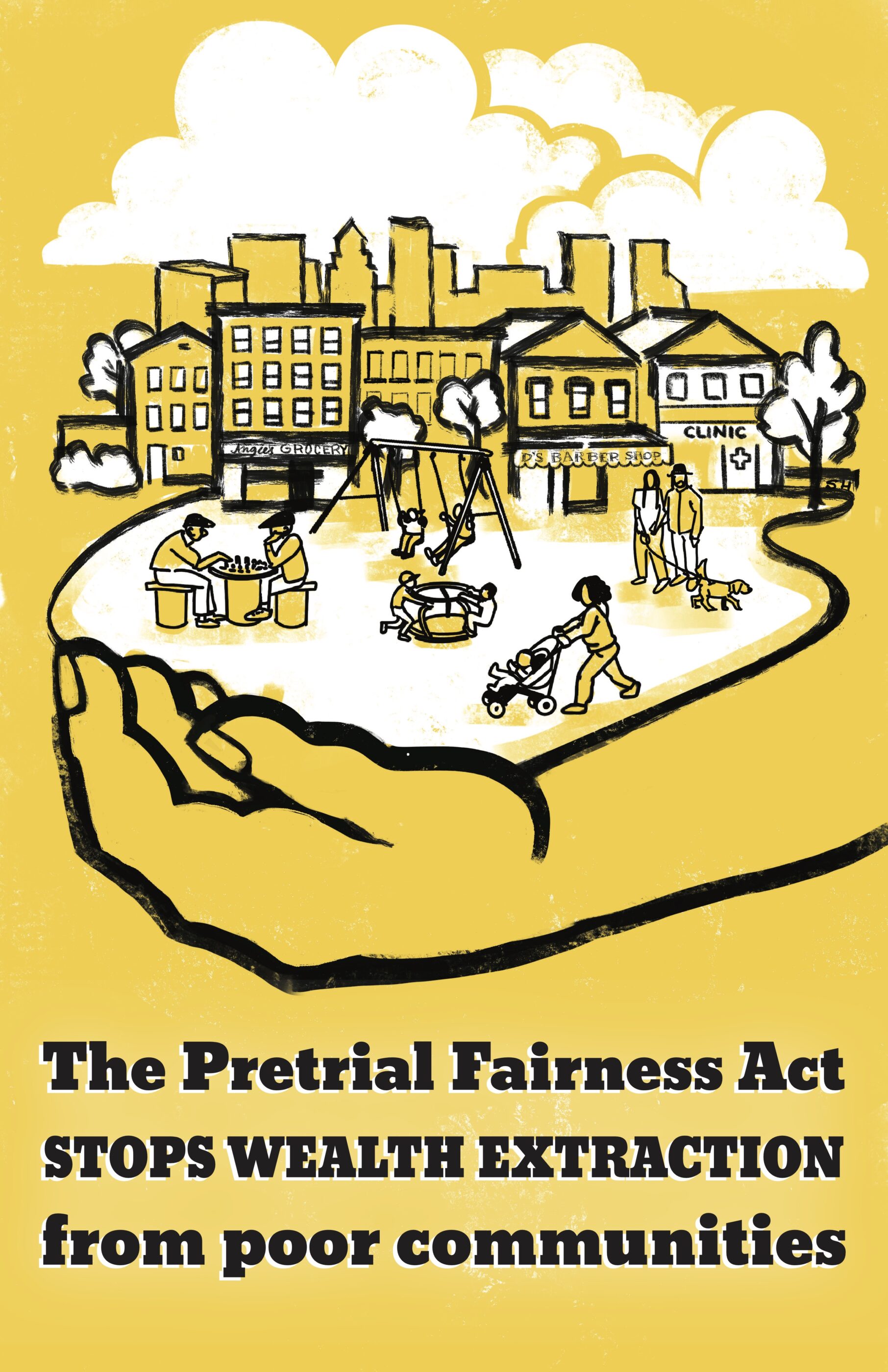 Artwork above by Sanya Hyland.
Image Description: "The Pretrial Fairness Act Stops Wealth Extraction from poor communities" is the main text on a bright yellow background. The illustration above the text is a community setting of storefronts, homes, a playground, people playing and walking their dog, signifying community and safety. There is a hand encompassing the community.