This just in via the email pipeline: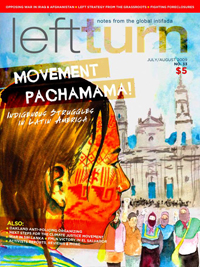 Left Turn, a national publication and network of activists engaged in exposing and fighting the consequences of global capitalism and imperialism, is currently seeking artists and photographers to submit their work for the upcoming issue. We are interested in promoting artists whose work is rooted in a variety of social movements and are working to build resistance and alternatives to corporate power and empire.
Issue #34 of Left Turn includes the following themes:
– Emerging economies of Asia
– Migrant labor in Asia
– Iran
– United Auto Workers
– Gentrification and the economy
– Gaza
If you are interested in submitting artwork or photography to the magazine, please contact Vasudha.
To view previous covers of the magazine, look here.
If you like to share your work but it does not address these themes, write to us anyways!
Left Turn is an all-volunteer project. Unfortunately, we are not able to pay artists (or ourselves). However, we do offer wide exposure in an exciting publication that is read throughout the U.S. For more information on Left Turn, please visit our website.