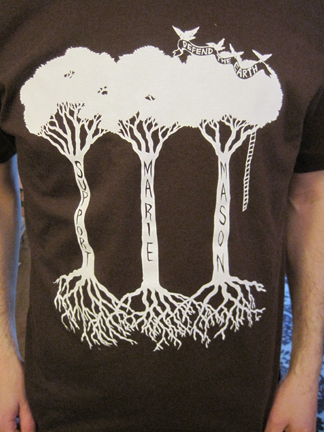 I created this image a while back for my old friend
Marie Mason
, who's currently serving out a 22-year prison sentence for charges related to two acts of property destruction that occurred in 1999 and 2000. Noone was injured in either attack -against a facility researching/developing GMO crops- but Marie got swept up in the
Green Scare
hysteria- and is now serving a disproportionately long sentence as a result.
The good folks at Support Marie Mason recently printed up these t-shirts as a benefit and if i do say so myself, they look pretty sharp and are darn comfortable to boot. You can buy them directly from their site
here
– and i highly recommend you do.

I first met Marie years ago, as an idealistic young teen in the Detroit area, and I was immediately inspired & impressed by her commitment and fervor. At the time, she was holding down the fort as an integral part of Detroit's Anarchist Black Cross, Food Not Bombs and various other environmental and social justice movements. Though i haven't always agreed with her take on things, I've always had the highest esteem for her passion & dedication, and strongly urge you to support her in these trying times.