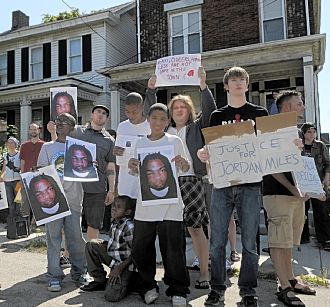 On the one-year anniversary of the
Jordan Miles case
, in which undercover police brutally beat up a violin major from CAPA (the arts high school where I often do rad print projects with students), someone posing as the Fraternal Order of the Police sent out
this Yes Men-esque press release,
reversing the FOP's previous stance on the Jordan Miles case.
The press release states:
Following a special Officers Meeting of the Pittsburgh F.O.P. called over the last weekend, we are urgently releasing a statement to coincide with the first anniversary of the Jordan Miles case. At the special weekend meeting, called the week before by majority phone vote of the Lodge's Officers, a kite vote (privately-marked squares of paper, folded and placed into a hat) resulted in an unanimous decision to amend our previously unconditional support for officers Richard Ewing, Michael Saldutte and David Sisak, as they face federal civil rights assault charges, likely in the coming week.

Pittsburgh F.O.P., established in 1915, was the founding chapter of a national body which now boasts that its membership comprises of over 325,000 members, organized in 2,100 local chapters. While our overriding, governing purpose of "Fairness, Justice, Equality" will remain unchanged and continue to guide all we do for
serving police officers, as the original expression of a now national body, we must unequivocally state:
It is undeniable, simply from looking at photographs of Jordan Miles taken on January 13th, 2010, not only that Miles' injuries cannot be considered to be a byproduct of legitimate, professional police work, but that a crime was committed against a young man innocent of anything to deserve his treatment.
Going forth from this point, the Pittsburgh F.O.P. acknowledges that its public actions to support the officers have hampered public confidence in the force by associating it with indefensible actions at direct cost to the public.
The F.O.P. continues to support officer Ewing, Saldutte and Sisak's right to a fair trial, but welcomes the Justice Department's coming Notice of Indictment against the three officers, the logical conclusion from visual evidence of Jordan Miles, that common sense tells us transformed our city into a population of 300,000 eyewitnesses.
In a strange twist, police tracked it down to Crazy Mocha/Dreaming Ant, our friendly neighborhood coffee shop/dvd rental spot and seized computer equipment, temporarily closing down the business.
The FOP has publicly supported all three officers, and the heads of the union stated on Monday that they continue to support the men. Many FOP members who marched in the city's St. Patrick's Day parade last year wore green shirts with "We Support Our Three Brothers" written on the back and "Support Your Police" on the front.
Miles' case has galvanized teens and adults alike in Pittsburgh in rallying for an end to racial profiling and police brutality. Students at CAPA left class one day last year and marched to the City-County Building demanding "Justice For Jordan."
Image: A group protesting near the site of the confrontation in September 2010