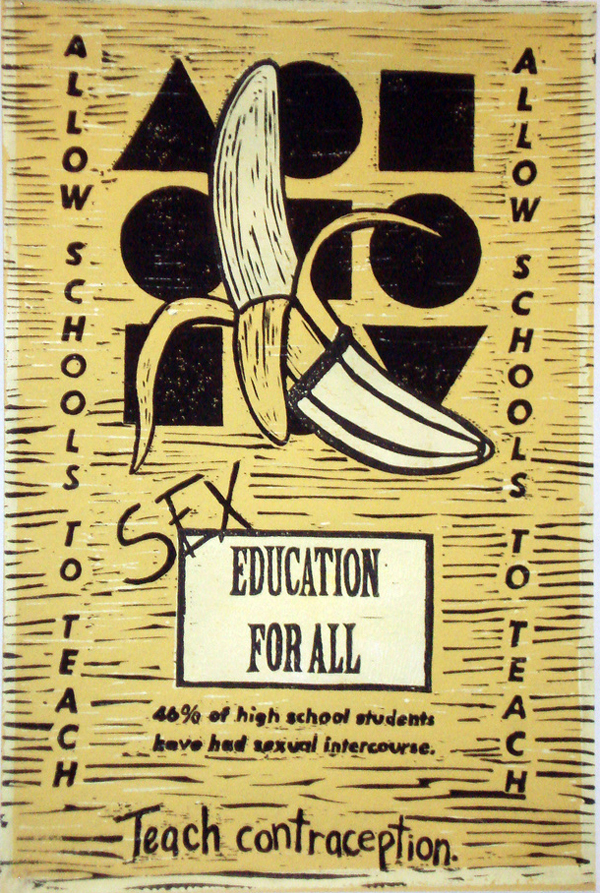 Sex Education for All by Shira Rascoe
More radical teen printmaking totally!
Pittsburgh's CAPA (Creative and Performing Arts) High School students in Shannon Pultz's printmaking class visited the
Signs of Change exhibition at the Miller Gallery
in February. Students designed images inspired by the show on issues they are personally passionate about (sound familiar?) and learned relief printing to create these posters.
Some of them were particularly timely, as Shira Rascoe says of her print:
"When I was creating my poster, many people in Pittsburgh were in the process of convincing the Pittsburgh Public Schools to adopt a comprehensive sex education curriculum, meaning not just abstinence. I feel that it is crucial for the safety of my peers to teach teenagers about contraception. The peeled banana with the condom on the bottom symbolizes exposure versus protection. Luckily, the PPS has now adopted an Abstinence Plus policy."
Here are a few more examples.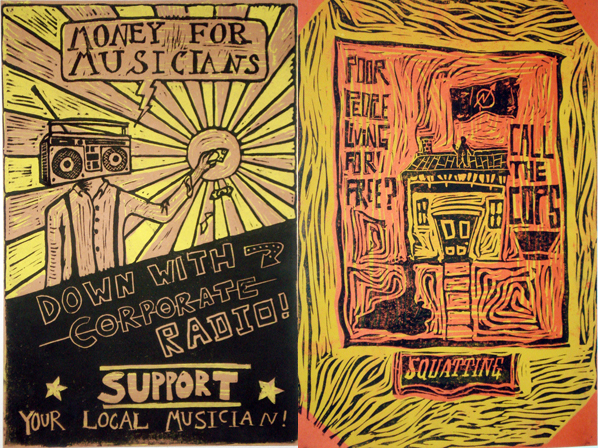 Money for Musicians by George Cessna, Squatting by Matthew Vituccio
Stay tuned for more Pittsburgh Radical Teens when we kick into RUST (Radical Urban Silkscreen Team) again this Summer!