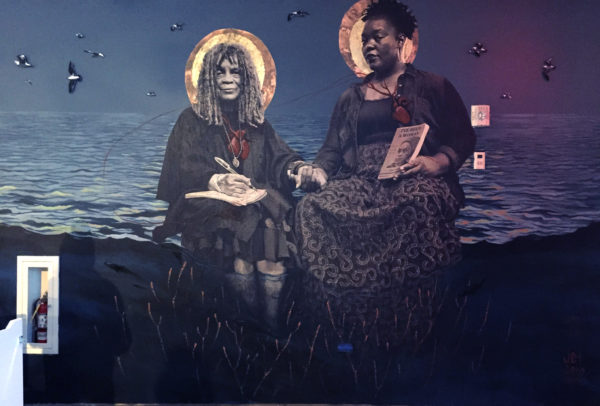 We Be Darker Then Blue, a mural by Chip Thomas (Jetsonorama) and Jess X. Chen
This mural, installed at the BRIC art space in NYC, portrays a poetic sisterhood spanning two generations of Black woman poets: NYC-based poet, activist and slam host Mahogany Browne, and Sonia Sanchez, a pioneer of the black arts movement. Connected by the heart, they rest on top of the Atlantic Ocean, amidst a bed of vein-like coral, surrounded by seabirds that took the same journey as their ancestors. The mural is inspired by The Two Fridas, Frida Kahlo's double self-portrait where the figures are connected by both hands and heart. Like self-portraiture for Kahlo, poetry for Sanchez and Browne has become a way for these two Black woman writers to assert the power of the feminine, the magic of their artistic dreams, and the color of their resilient histories. The title of the mural, We Be Darker Than Blue comes from from the Sanchez poem, To Anita where the speaker addresses a Black girl to celebrate the many shades of soul and color of her people.
The mural is based on the Frida Kahlo painting "The Two Fridas." However, this interpretation of that painting speaks to the migratory, trans-Atlantic movement of the oral tradition + spoken word and it's intergenerational manifestation as poetry. Mahogany + Sonia are presented as exemplars of the tradition.
Before doing the photo shoot with Sonia and Mahogany in January, Chip watched a documentary called "BadDDD Sonia Sanchez" and was moved upon seeing Sonia's old notebooks in which she wrote and edited poems. She flipped through pages remembering and sharing the stories that inspired the poems and discussed her process for creating poetry. These images of her hands engaging tangible memories appear on the front counter.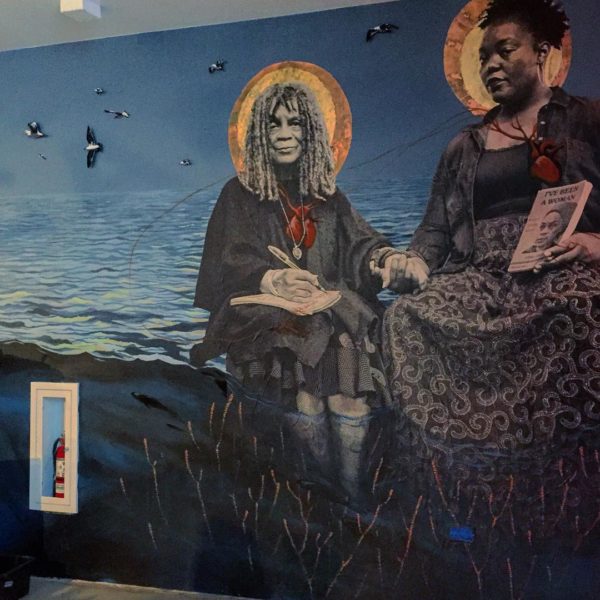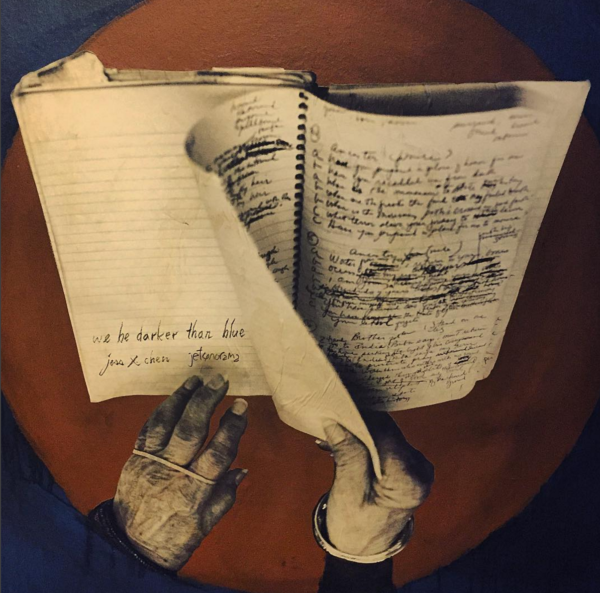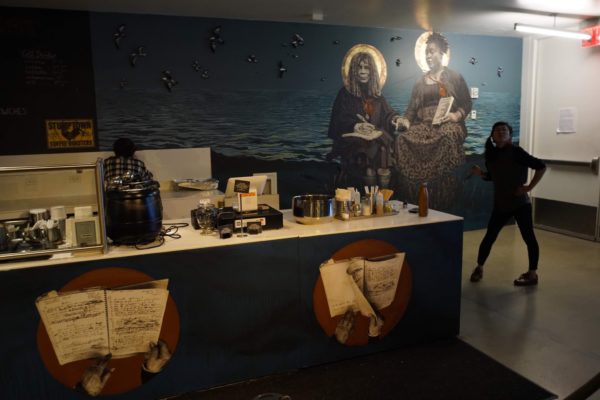 Chip Thomas and Jess X. Chen would like to thank everyone who helped make this project manifest – Mahogany L. Browne, Ursula Rucker, Sonia Sanchez, Jennifer Gerow and the staff at Bric, Icy + Sot, Clara Darrason, Andrew Erdos + Ian Cozzens. I want to give a special shout out to Alexandria Johnson who reminded us all that good spirits are amongst us. Y'all made magic happen!