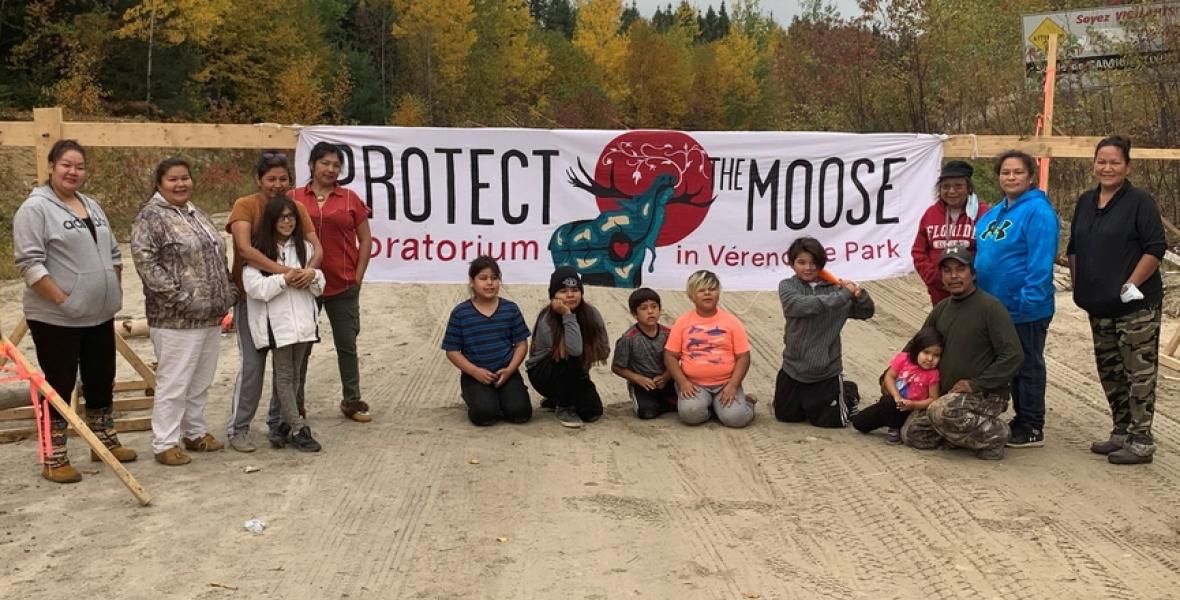 The Anishinabe Nation has rallied around the important issue of dwindling moose population in La Vérendrye wildlife reserve, a huge park 4h drive north of Montréal. Four First Nation communities live inside or in the vicinity of the park: Barriere Lake, Kitcisakik, Kitigan-Zibi and Lac-Simon. They say the moose needs a 5 year moratorium on sports hunting to regain numbers. The ministry refused to listen, waiting for their own survey to confirm what Indigenous peoples that live on the land already know too well. Last year, people from K-Z and BL set up checkpoints at the entrance of forestry roads along the main highway crossing through La Vérendrye, asking hunters to support their effort. This year, they are blocking the access roads completely.
Here is an exert from a video transcript of Mitchikanibikok (Barriere Lake First Nation) messenger Shannon Chief calling allies for support:
For us, we eat the moose, we take care of all the parts of the moose. We use the hide for art and crafts, we teach our kids to tan and then all the meat is separated. And you know even with the head we don't put the head on our car showing off what we kill. We're out here for a lot of different things. For example, this morning I had a conversation with a grandmother regarding the decision of why they decided to block the road completely and go out to the land and kick out the hunters, saying it's enough. When we look at how the animals eat on the land, you think about deforestation, all the mining projects and also the big pipeline project thats coming in our territory. That's another big struggle for us here. Unity is so hard in our nation, because politics has been dividing our people for so many years, so it's kinda hard to have our community together. But there's something that we all have in common and it's the food that we eat.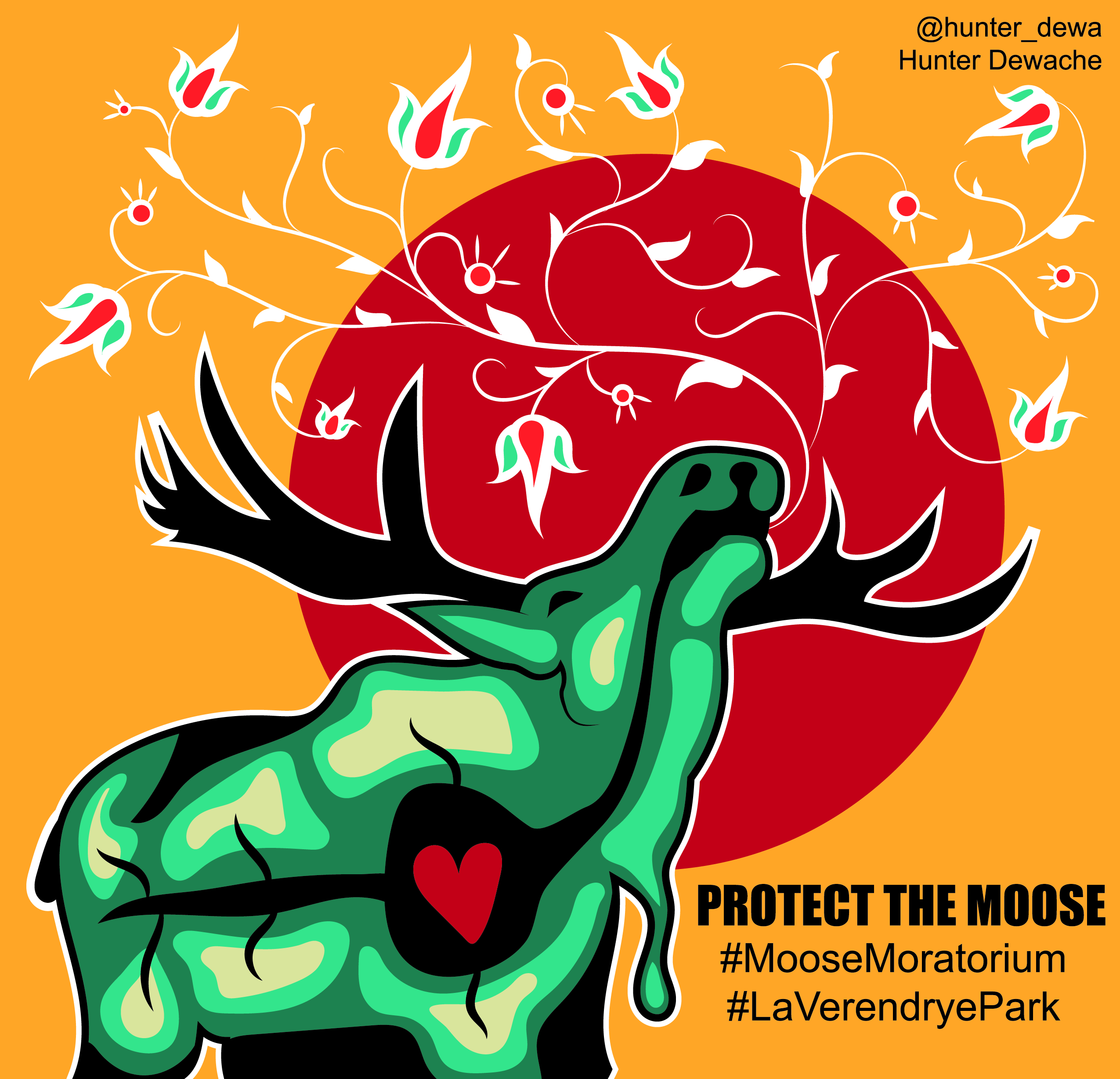 Youth Two-Spirit artist Hunter Dewache from Zitigan Zibi created this stunning piece that gave a visual identity to the campaign. It was printed on hoodies, shared on social media, etc etc. Hunter speaks on his artwork:
When people stumble upon my illustration, I want them to see that the moose is a living being, that they have a spirit. The moose moratorium is beyond just protecting the moose. It includes protecting the land they walk upon. The land provides everything needed for their survival, and for ours. I am helping give the moose a voice in which they cannot use for themselves. We need to act now and make sure that their lives continue long after ours. The Algonquin Nation is demanding to be heard as this situation effects our survival and well-being.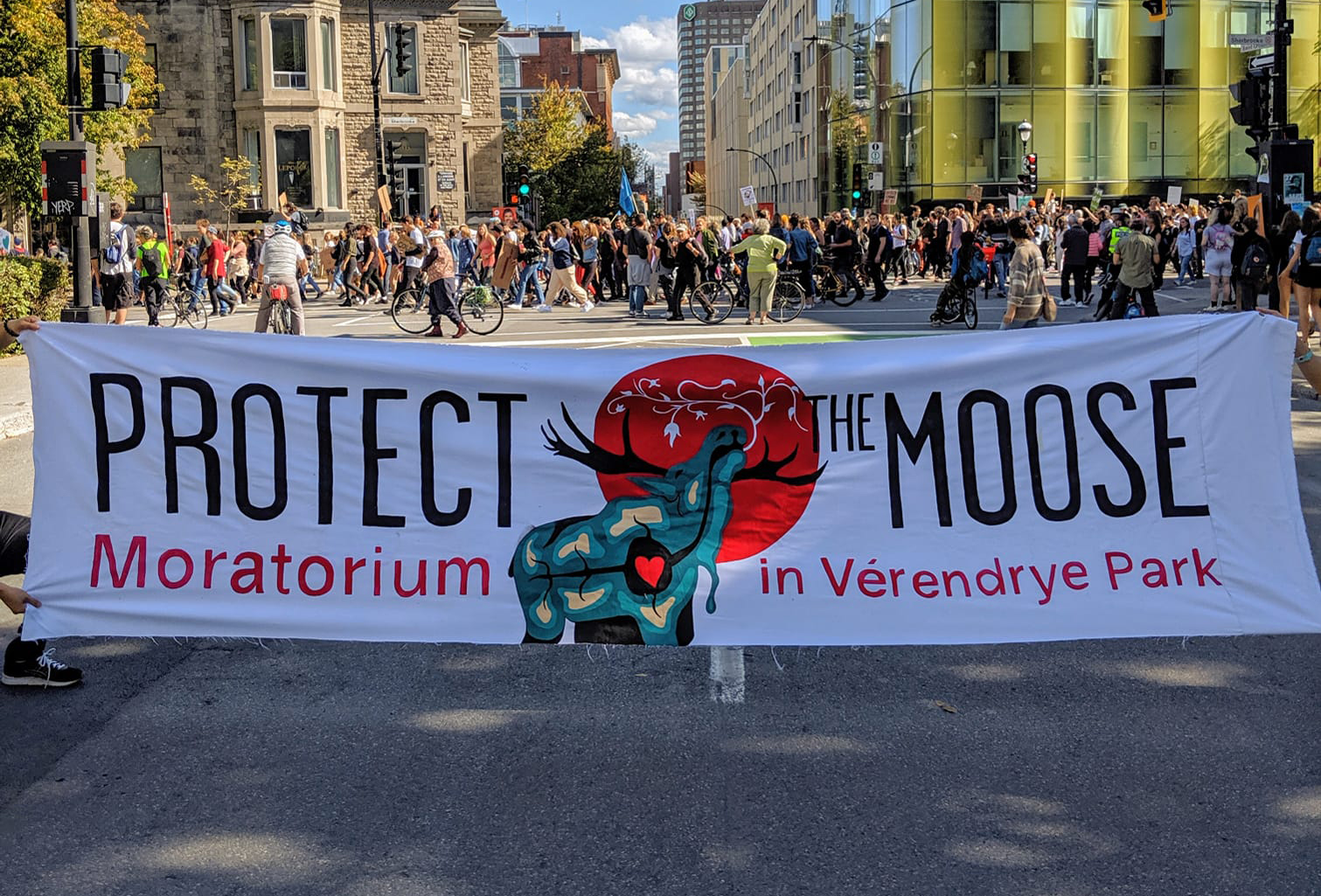 80% of Biodiversity is protected by Indigenous peoples defending their territories from further extraction and industrialization. Climate change and the biomass are interconnected issues. Natural resource management needs to be completely decolonized. We have to listen to and follow the leadership of the first peoples of this land if we want to see our planet make it. What a sad world we would live in if there were no moose in in.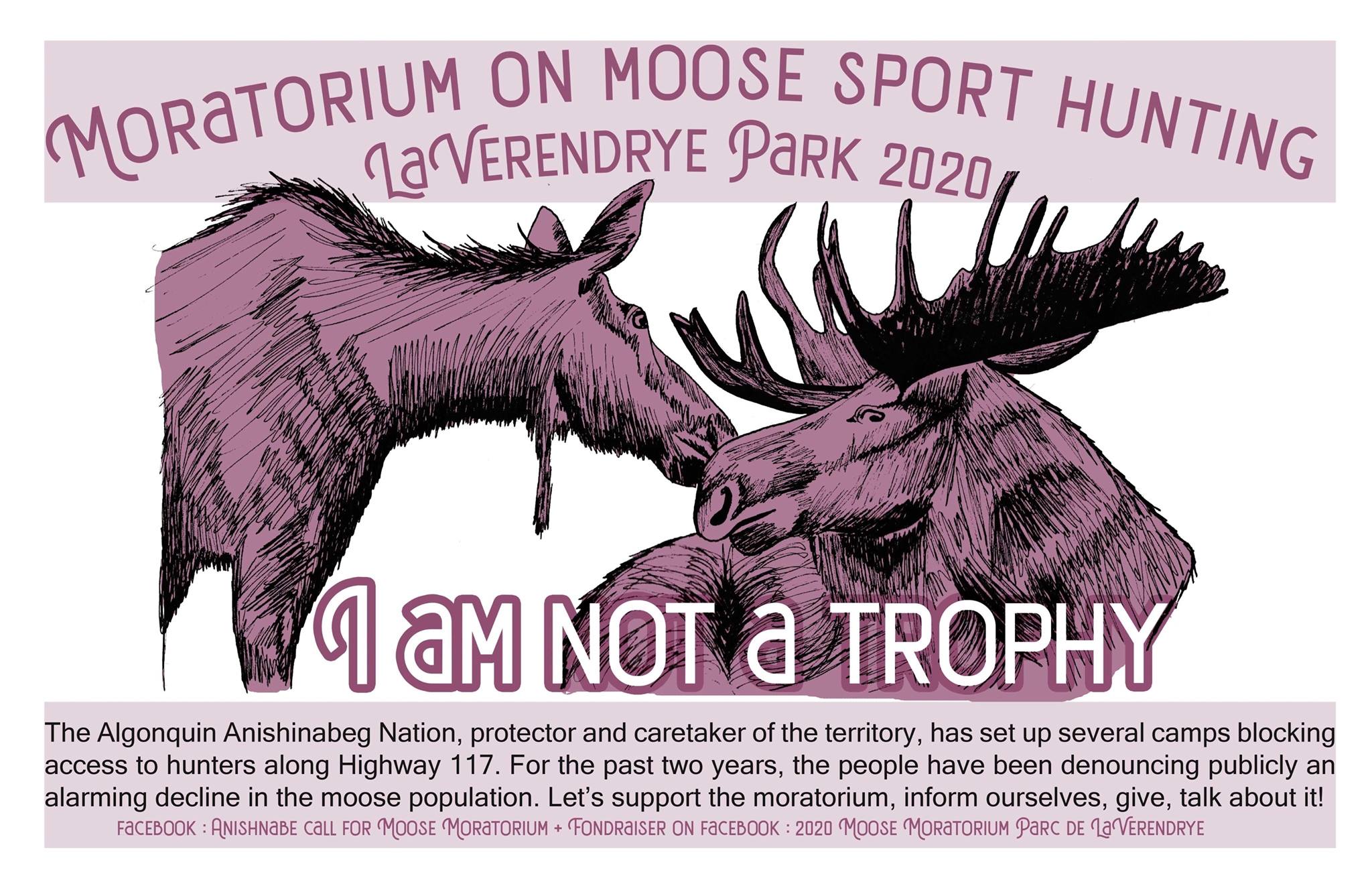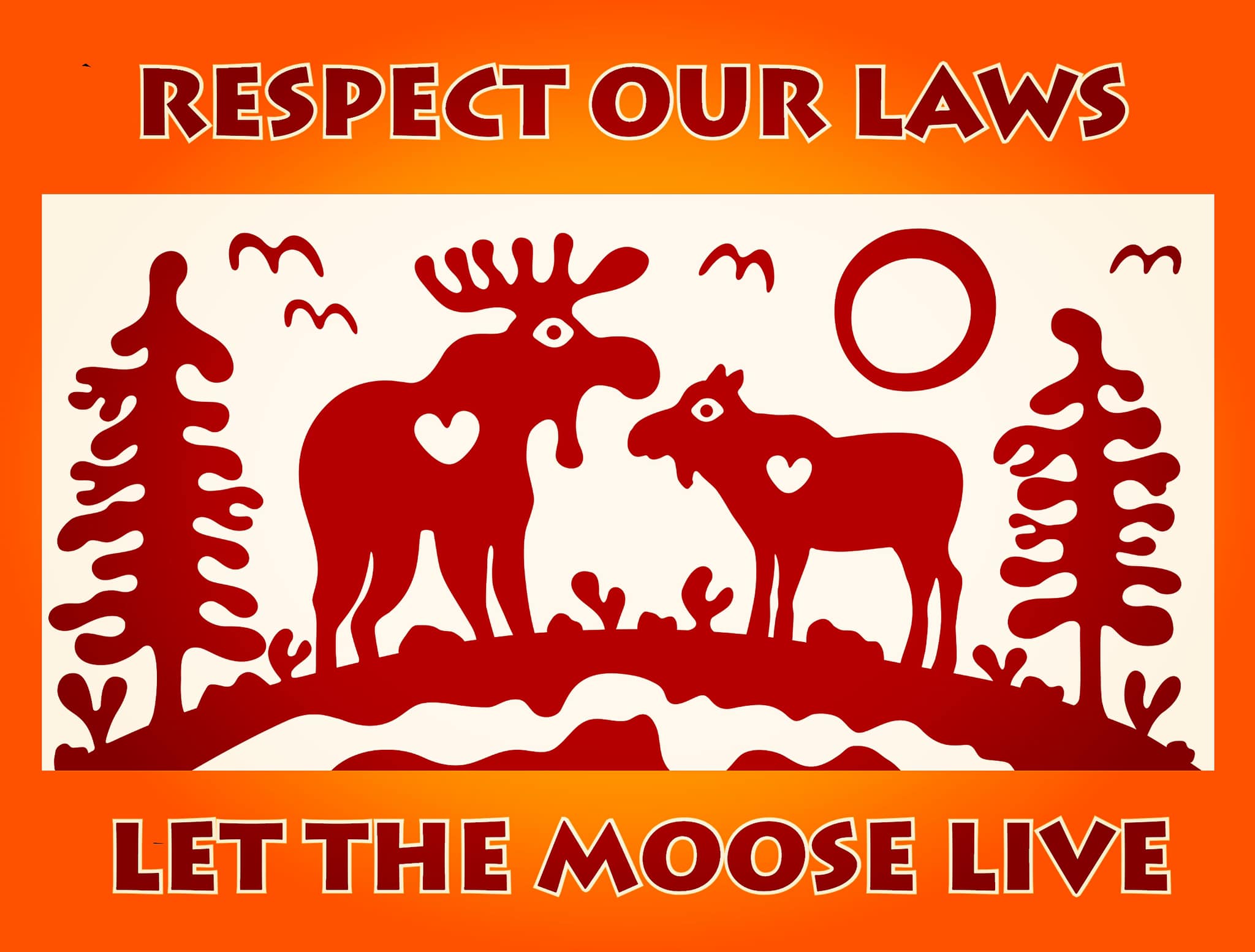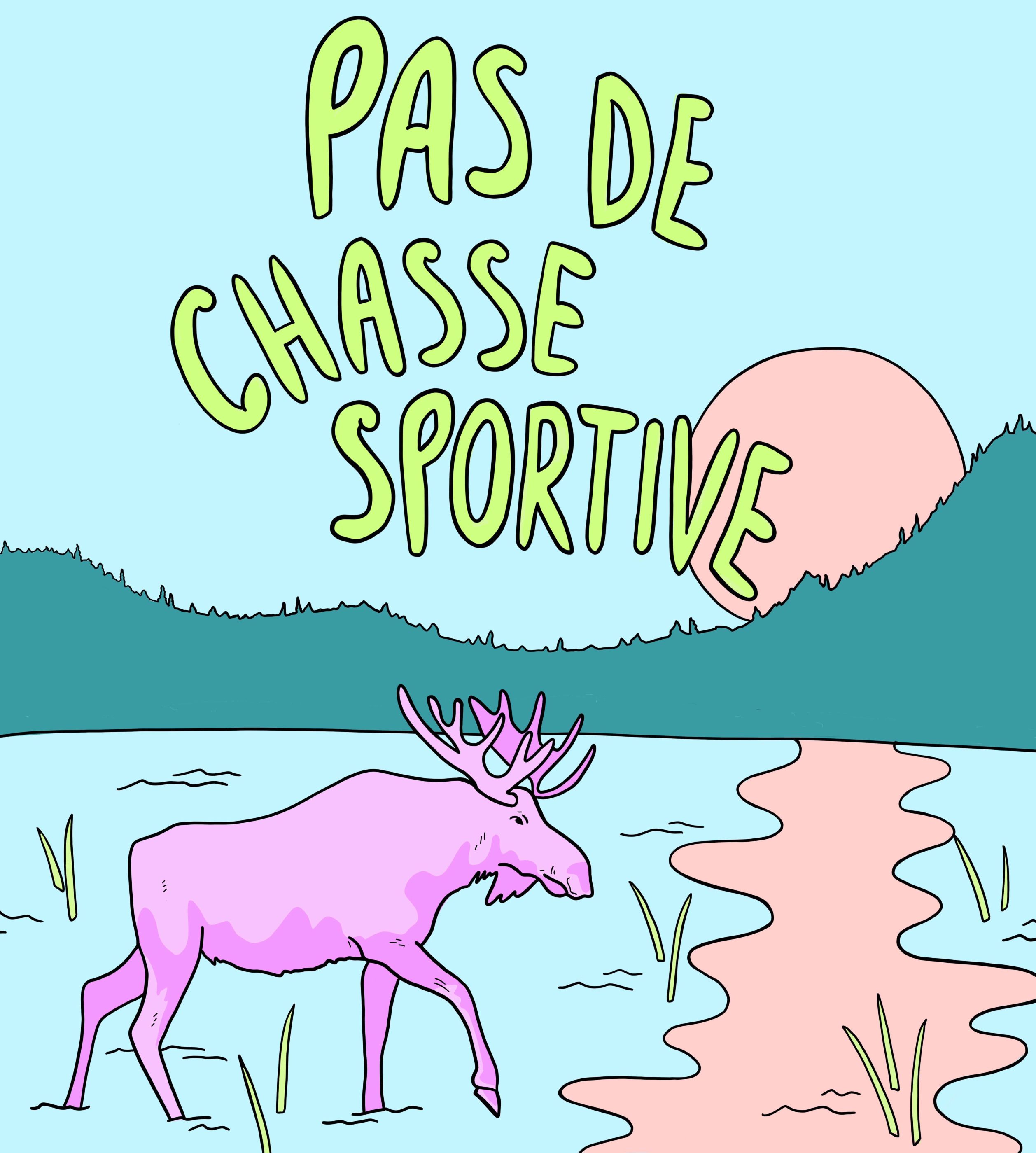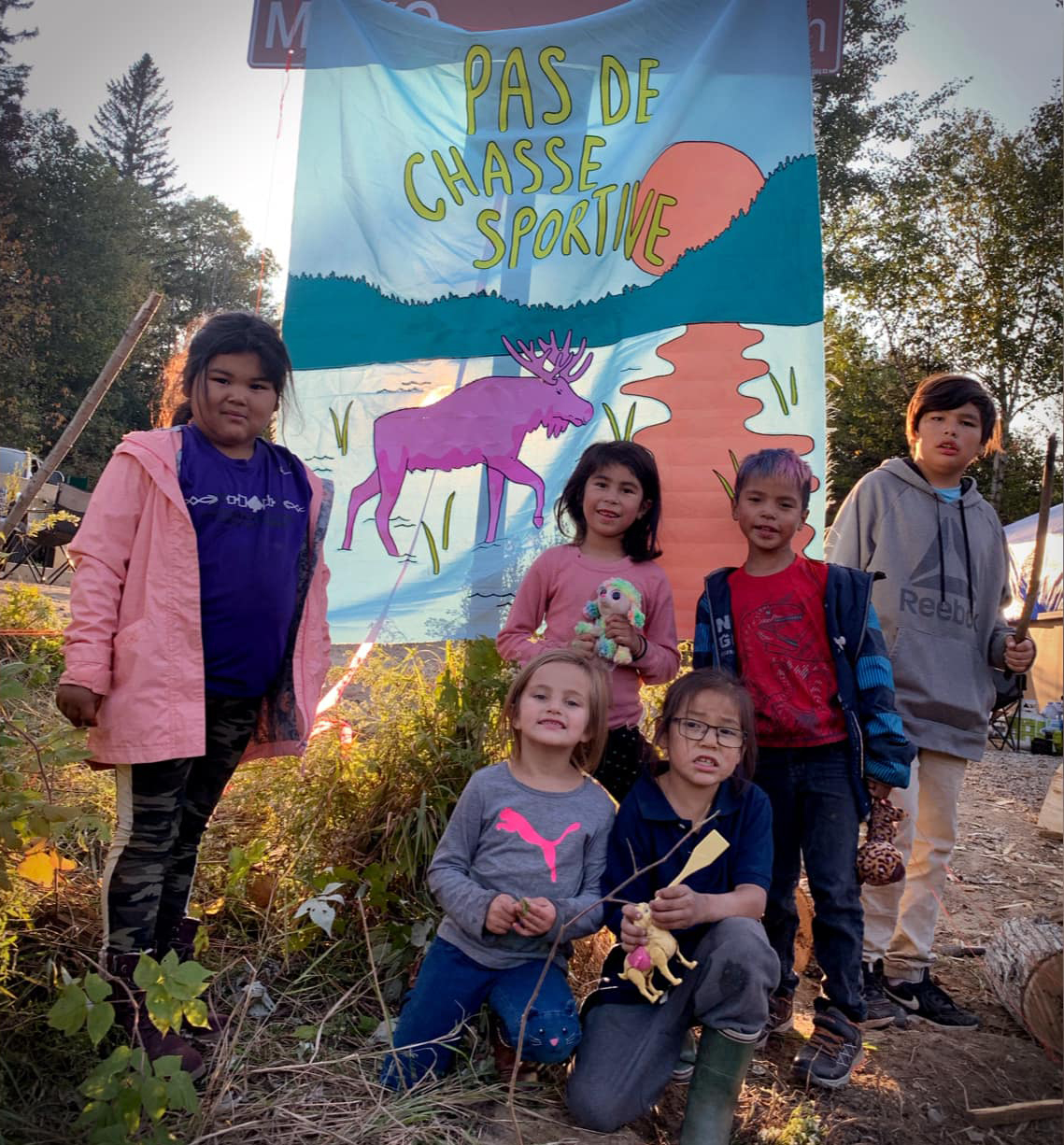 You can support the campaign by liking this page, sharing articles and donating. A youth group that consists of members from Kitigan-Zibi and Barrier Lake have taken on the initiative to raise funds that can be distributed for all communities involved.
The email is: moosemoratorium@gmail.com
We ask that the password for the e-transfer be: mooseknuckle