Interview with the street art collective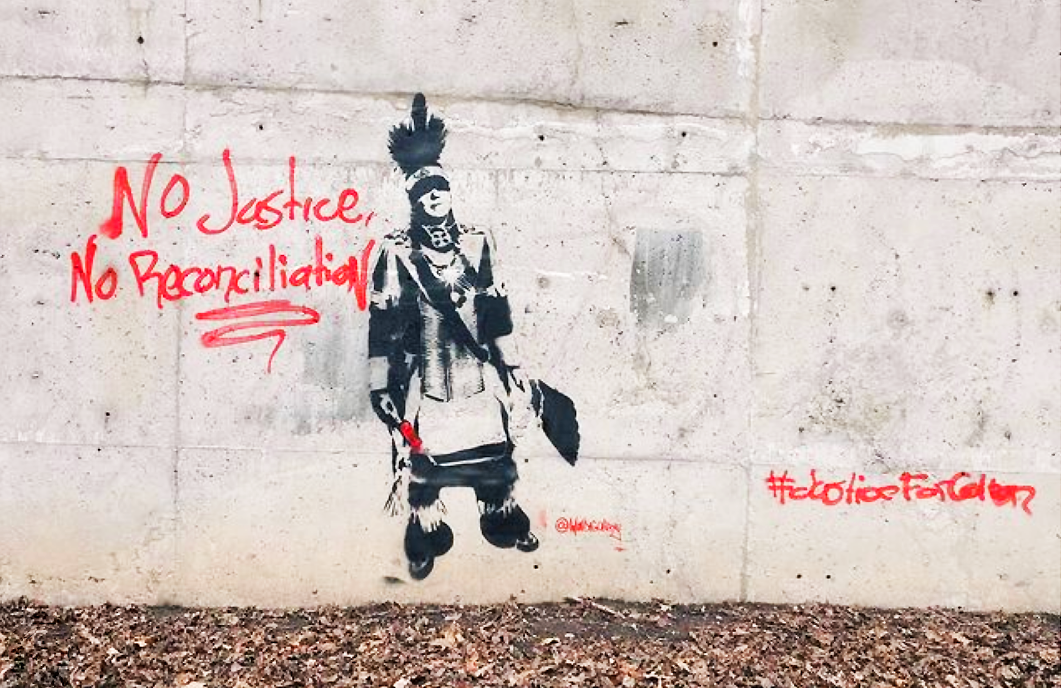 Windigo Army is based out of the larger southern part of so-called Ontario, unceded territories of the Haudenosaunee, the Mississaugas of the Credit, the Anishnabeg, the Chippewa and the Wendat peoples. Their street work can be seen in Tkaronto (Toronto), and their spray painted banners and signs have graced the #landback reclamation site of 1492 Land Back Lane, nearby Six Nations First Nation.
Can you introduce yourselves and what is Windigo Army?
Windigo Army is a small collective of loosely organized indigenous artists and indigenous/allied helping hands. Notable artists include (but are not limited to) WIND/Windigo & Mukwa, helping hands include Concept, Buffer, Souc,  plink, Nish, @_resonator_, Kesa, Big Mams, Pickle, and many more who would prefer to go unnamed or whose tags are unwritable in text.
What made you interested in street art at first and how did you start doing it?
WIND, who spent time living off reserve in larger cities, was inspired by the large amounts of graffiti which seemingly dominated the walls. They also took deep inspiration from a member of the group of seven, Arthur Shilling, who was a member of the same tribe as WIND. With that, the first Windigo Army piece was made while WIND was visiting the city of Orillia. A four panel wooden tribute portrait, paying homage to Arthur Shilling, was glued to a wall parallel to the Orillia Museum of Art and History. From that, several local newspapers took interest in the mysterious indigenous "guerilla art". We decided since people were listening that we needed to take the opportunity to spread awareness of indigenous issues in Canada.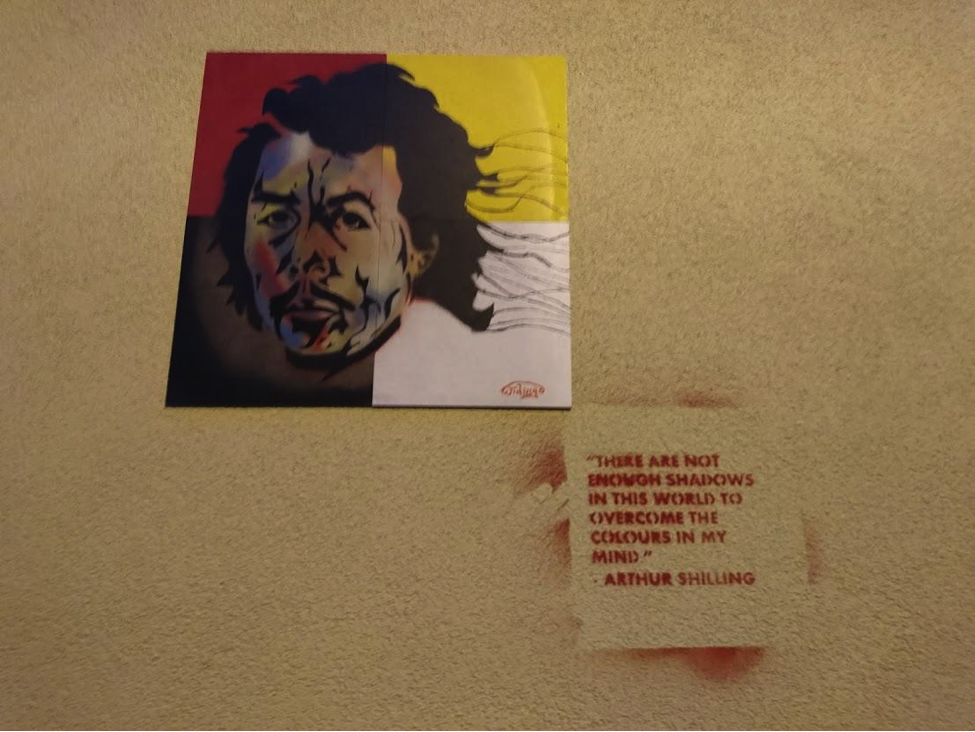 Do you create art or crafts by other mediums? If so, do you see a connection between those?
Yes we try to repurpose/scavenge many things into different art works, such as empty spray can sculptures, dream catchers and basically anything we can think of. One of my personal favorite pieces is a completely metal dream catcher made of scavenged barbed wire and used stencil knife razor blades. At least two of our younger associates also produce (currently unreleased) music that is supported by Windigo Army.
There is absolutely a connection between all of our forms of expression because as indigenous people in Canada our voices have been historically silenced especially in regards to our past. It was illegal until recently for our people to produce anything personally cultural. ANYTHING we can do to contribute to the wider culture is important as there were generations of our people who were denied that opportunity.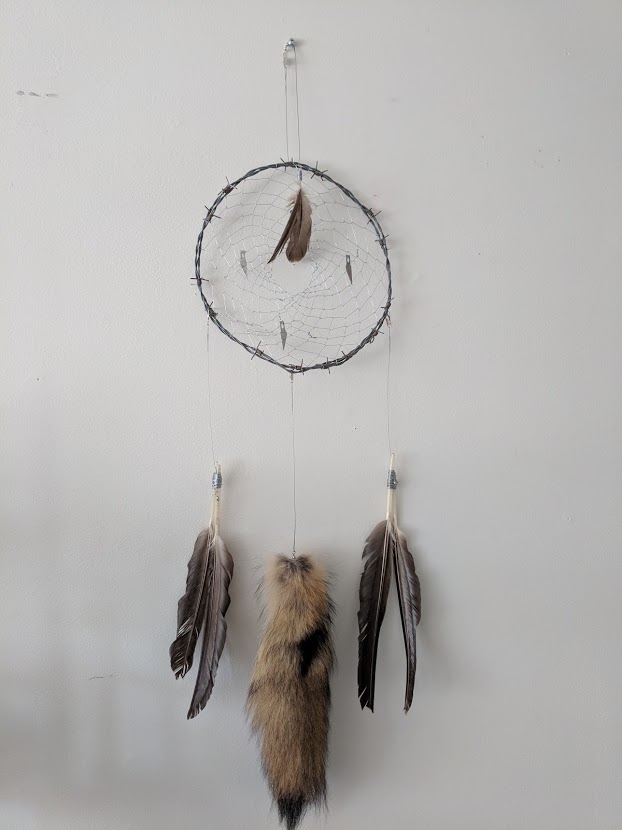 Why do you think art and street art can be a good vector to gain attention on Indigenous issues?
Images are powerful, it's one thing to hear the story, it's another to see the faces staring at you on your way home from work. Besides, our people have been painting and carving walls/rocks/wood to convey information to one another for thousands of years, so it seems appropriate.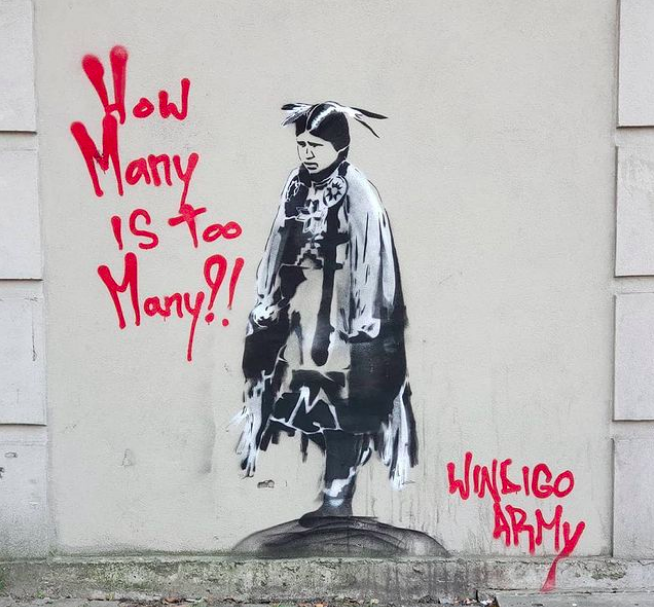 Tell us the creative process that makes you come up with your pieces, is it a political subject you want to talk about that comes first or a visual idea or style you want to emanate? Are there recurring things that inspire you?
It's kind of both, there's definitely times that a certain political subject will lead the creative process of an entire piece, but more often than not visuals are chosen based on their beauty and the different emotions they convey to the viewer, then are paired with an appropriate message.
The main recurring thing that inspires us is our grandparents, and their parents. Many of our elders suffered through residential schools and forced foster placement, and tell stories of horrible physical and mental abuse. They survived through all odds and entrusted their stories with us. We now have the freedom to move and conduct ourselves in ways they did not, so we owe it to them to do something to give back and make it easier for the next generation.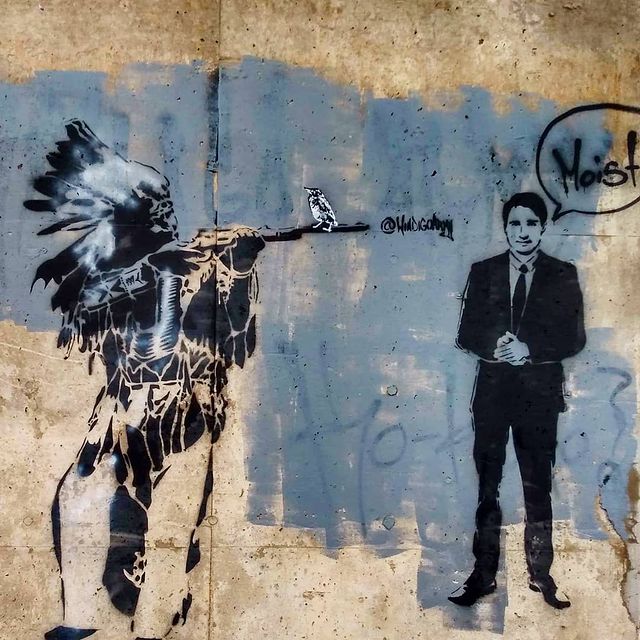 Do you see your art as part of a wider movement?
Sure I guess I do see the art as part of a wider movement of young Indigenous people who are beginning to stand up and find their voice. Slowly breaking the silence that the cycle of intergenerational trauma has ingrained into us, I'm seeing it a lot more in recent years.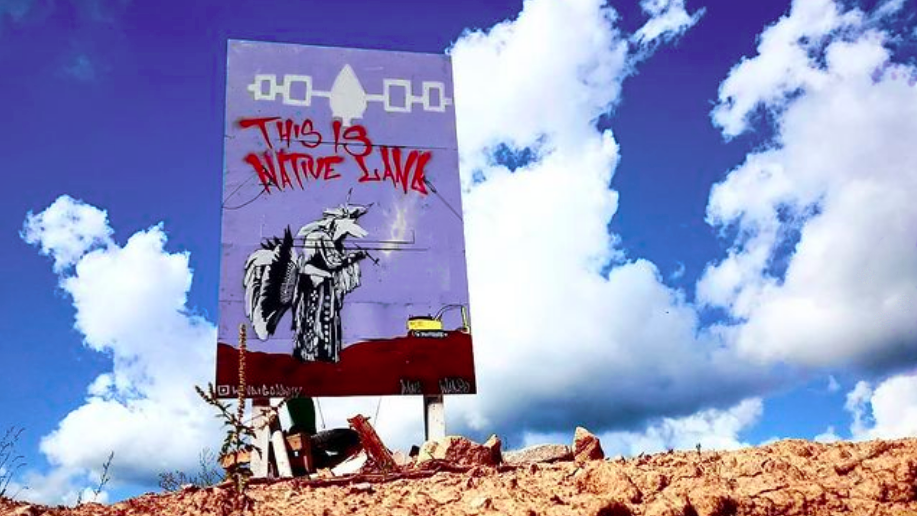 What is the most important thing you would want people from across Turtle Island to know about 1492 LandBack Lane (LBL) ?
ANY INDIGENOUS COMMUNITY CAN TAKE THEIR LAND BACK. Stand up for yourselves! indigenous communities across Turtle Island are uniting together. Unite your communities, and/or stand with indigenous communities!
What is an important takeaway from your art practice with LBL this past year?
There was definitely a plethora of artistic energy at any given time at LBL. I saw several hand held water drums carved and decorated by the fire, as well as lots of beading in all sorts of styles, moccasin making, custom silk screens for t-shirts, other painters, tattoos, henna, landscapers, you name it.
Art in hostile environments is incredibly versatile, it can be used as a space to promote healing and well being, and just as easily be used as a device to provoke fear and intimidation.