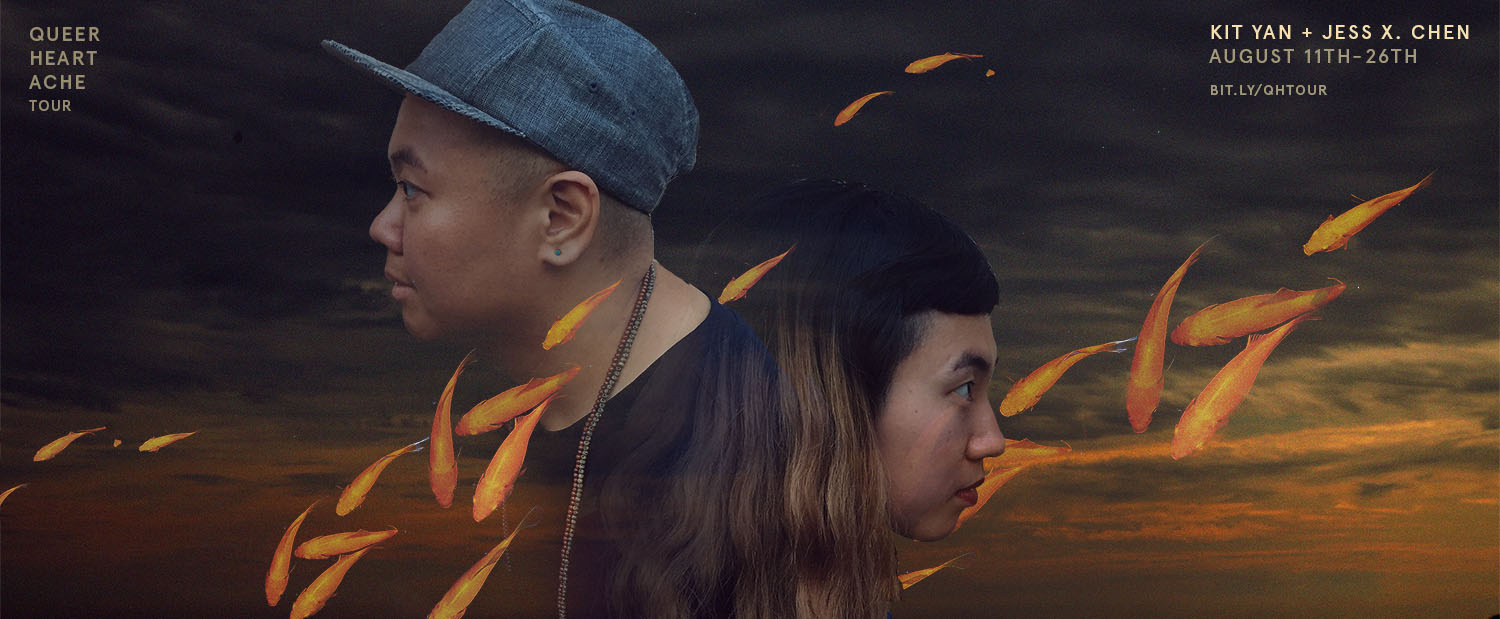 TOUR
Join award-winning queer Asian-American poets, Kit Yan and Jess X. Chen (justseeds artist) on the Queer Heartache Summer Tour. Combining oceanic laughter, the violence of heartbreak, and the sorrow lost in translation between generations of diaspora, their collective shows inspires a capacity for both vulnerability and radical joy that is large enough for all of us. Their work shows us that if heartbreak can wound crevasses larger than the systems that create them, then we also have the infinite resilience to dream of their healing. Queer Heartache shows that queer survival is deserving of an evening-length show filled with a rainbow of colors beyond the borders of imagination. Together, they turn the blank page, the empty stage, the queer body into a portal to the heaven this world never gave them.
Visit our website for more information. The tour dates are listed below but will be updated with Facebook events and times. We will be carrying queer justseeds merch along the way, as well as releasing some new tote bags and patches of queer commiseration and healing.
The Queer Heartache Summer Tour performance will be 45 minutes long, with Jess X. Chen, reading from Sing Me a Time Machine (unreleased), opening for Kit Yan, reading from Queer Heartache (Trans Genre Press). The poets will tour the whole east coast, starting from New Orleans and ending back in NYC. Accessibility will vary by venue, but will always be specified by the artists in show announcements.
BIOGRAPHIES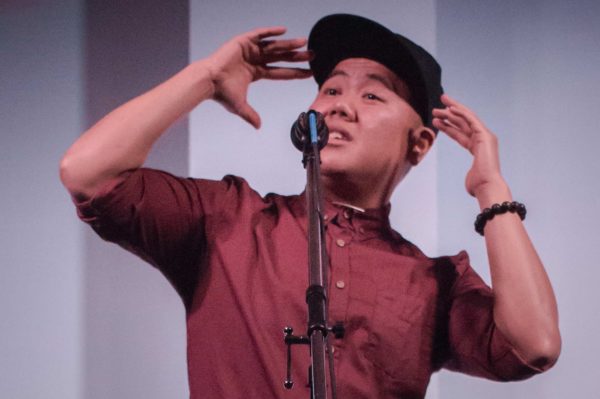 Kit Yan (@kityanpoet) is a transgender, queer, Asian American from Hawaii and an award-winning slam poet and performer. His work has been featured in Flicker and Spark and Troubling the Line, as well as Vetch, Original Plumbing, and elsewhere. His first full-length solo slam poetry show, Queer Heartache, has toured around the country and was featured in last year's Chicago Fringe Festival, where it was awarded the spirit of fringe award, artists' pick award, and audience choice award at the 2015 Chicago Fringe Festival. This spring, Queer Heartache was published as a poetry collection through Trans-Genre Press, and this summer, the show will come to the NYC Trans Poetry Festival and San Francisco Fringe. (www.kityanpoet.org)
Watch Kit performing "Speaking English" here.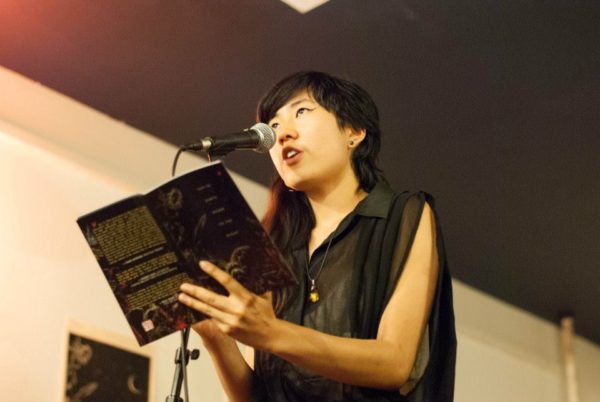 Jess X. Chen (@jessxsnow) is a queer Asian American artist/activist, filmmaker and nationally-touring poet and performer. Her work exposes narratives of diasporic time travel, intimacy and collective protest by connecting the traumas between the queer and colored body and the body of the Earth. Her artwork has appeared in the The LA Times, The Huffington Post, The UN Human Rights Council and on indoor and outdoor walls throughout the US. She has performed her poetry on stages, TEDx conferences, backyards and rooftops nationwide. Through film, mural-making, youth education, she is working toward a future where migrant and indigenous youth of color see themselves whole and heroic, on the big screen and the city walls & then grow up to create their own. (www.jessxchen.com)
Watch Jess' performance at TEDxCUNY here.
MERCH
Because queer heartache and healing deserves to be glamorous and beautiful we will be selling golden and wearable queer heartache merch along the way.
You can buy a copy of Kit Yan's book, Queer Heartache in the Justseeds store here.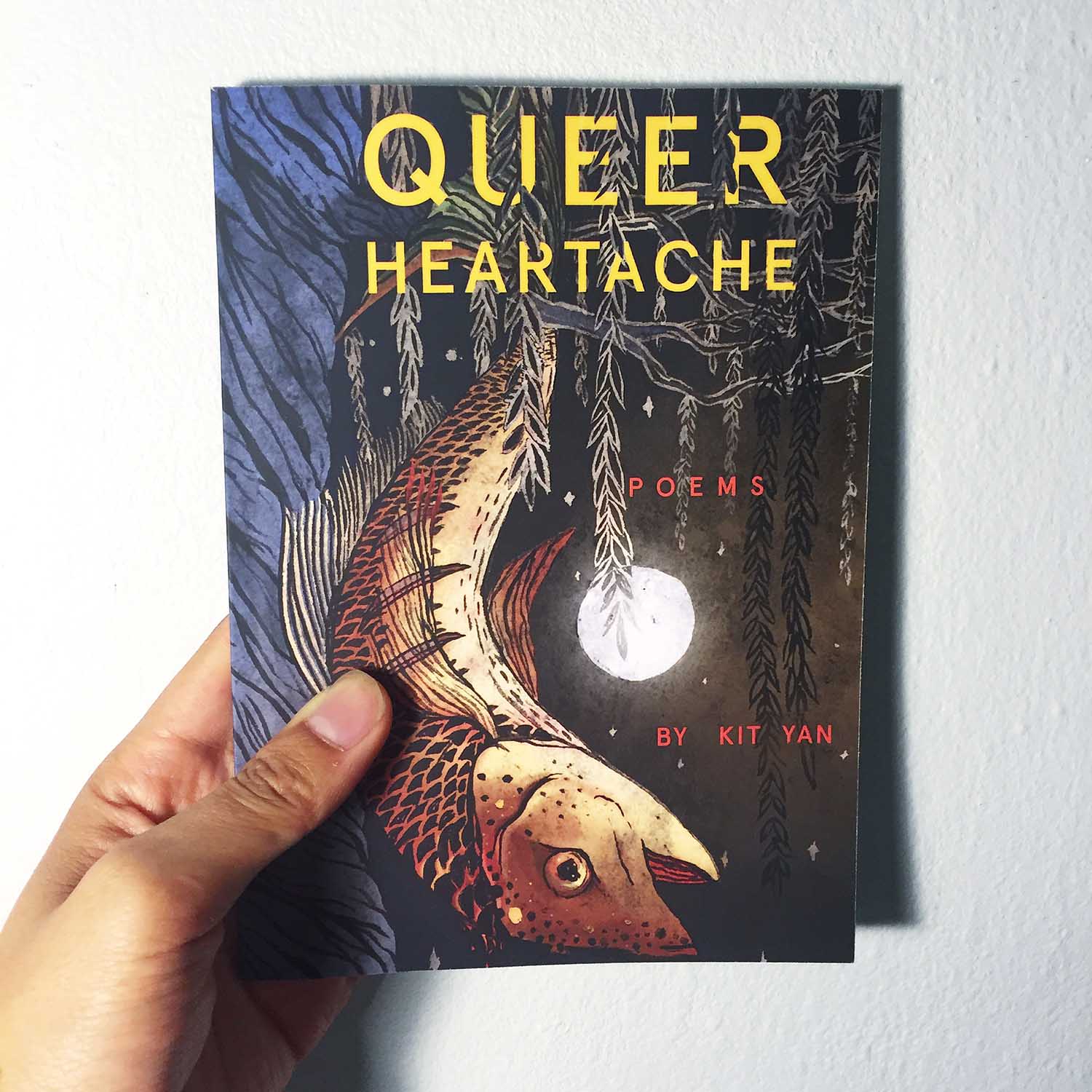 TOUR DATES
Times and Addresses to be announced within the next few days. If you want to book us for a future date at your university, organization or book store contact kit@kityanpoet.org
August 12 2016
11pm, Mudlark Public Theater, 1200 Port Street, New Orleans, LA
sponsored by the National Queer Asian Pacific Islander Alliance Conference
August 15, 2016
Tallahasee, FL
August 16, 2016
TBA, Gainesville, FL
August 18, 2016
Charis Books, 1189 Euclid Ave, NE Atlanta, GA
August 19, 2016
Malaprop Books, 55 Haywood St, Asheville, NC
August 20, 2016
The Pinhook, 117 W Main St, Durham, NC
sponsored by Trans-Genre Press
August 21, 2016
House Show, Baltimore, MD
August 22, 2016
TBA Washington DC
August 26th, 2016
TBA New York City featuring QWAVE Open Mic