Justseeds Open Type Project
The Justseeds Open Type Project is a project to create open-access fonts for activists, organizers, and movement designers. Most of the fonts are designed by members of the Justseeds Artists Cooperative, though some have been repurposed and expanded from historical posters and artifacts.
Type choices can drastically change how a political design project is read and understood. What makes a font right for a particular project? Can a letterform express a political standpoint? Legibility and display are important factors, but fonts also carry cultural and political signifiers. The left has a rich history of hand drawn and display fonts, and this legacy is very much tied into the history of sign, picket, and banner making as well as the history of accessible and low-cost printing technologies.
Please send us examples or pictures of how you've used these fonts, we love to see how this work gets out into the world!
Justseeds fonts are available for anyone to use in a non-commercial venture. All available fonts are licensed as Creative Commons Attribution-NonCommercial-ShareAlike 3.0 Unported (CC BY-NC-SA 3.0). This Creative Commons license means that they can be used, shared, and adapted non-commercially. Attribute them when appropriate and any adaptations must fall under the same license. Most designers do not want their work used for purely commercial purposes without express written consent. If you have questions about using a font please contact us at graphics@justseeds.org. Feel free to contact us or the artist directly if you want to use a graphic in any other way, or are unsure about appropriate use.
Libertario–adapted from a 1932 Italian pamphlet of writings by Élisée Reclus
Busted Knuckles–a marker script (in 3 versions) drawn by Chris Stain
Persons Unknown–a modular font by Alec Dunn
Left Dings–a dingbat font of symbols of the left compiled by Josh MacPhee and Alec Dunn
Le Combat Syndicaliste–adapted from the 1980s-era header of the CNT newspaper from Paris of the same name (2 versions)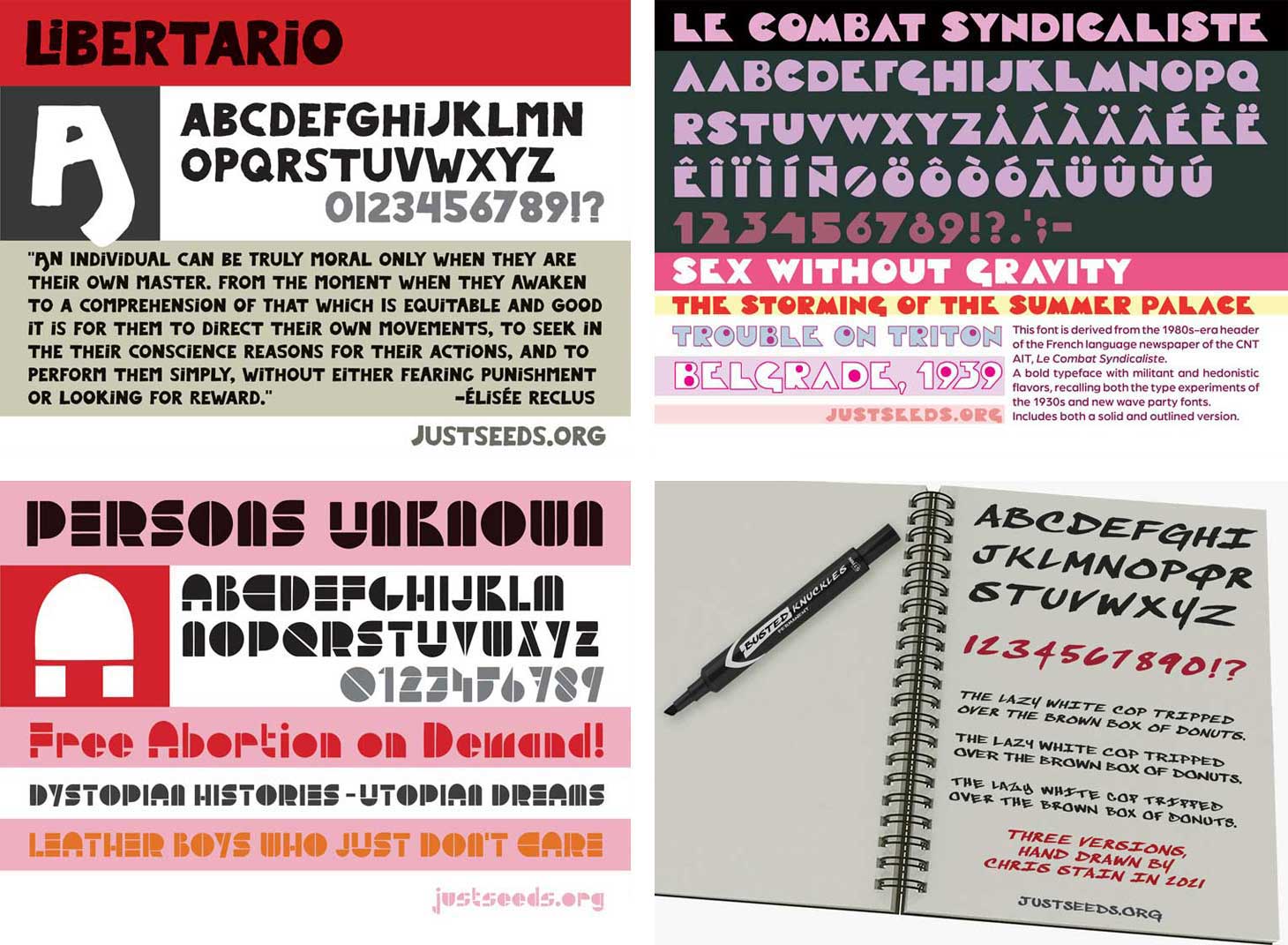 Fly Legs–a hand drawn typeface by Meredith Stern inspired by the legs of the common house fly
The Anarchist Encyclopedia–a font designed by Josh MacPhee for a book of the same name, written by Sébastien Faure in 1934 (and re-published with Josh's font by AK Press in 2019). (2 versions)
Manifesto–a sans-serif font derived from the masthead of the 1980s edition of El Machete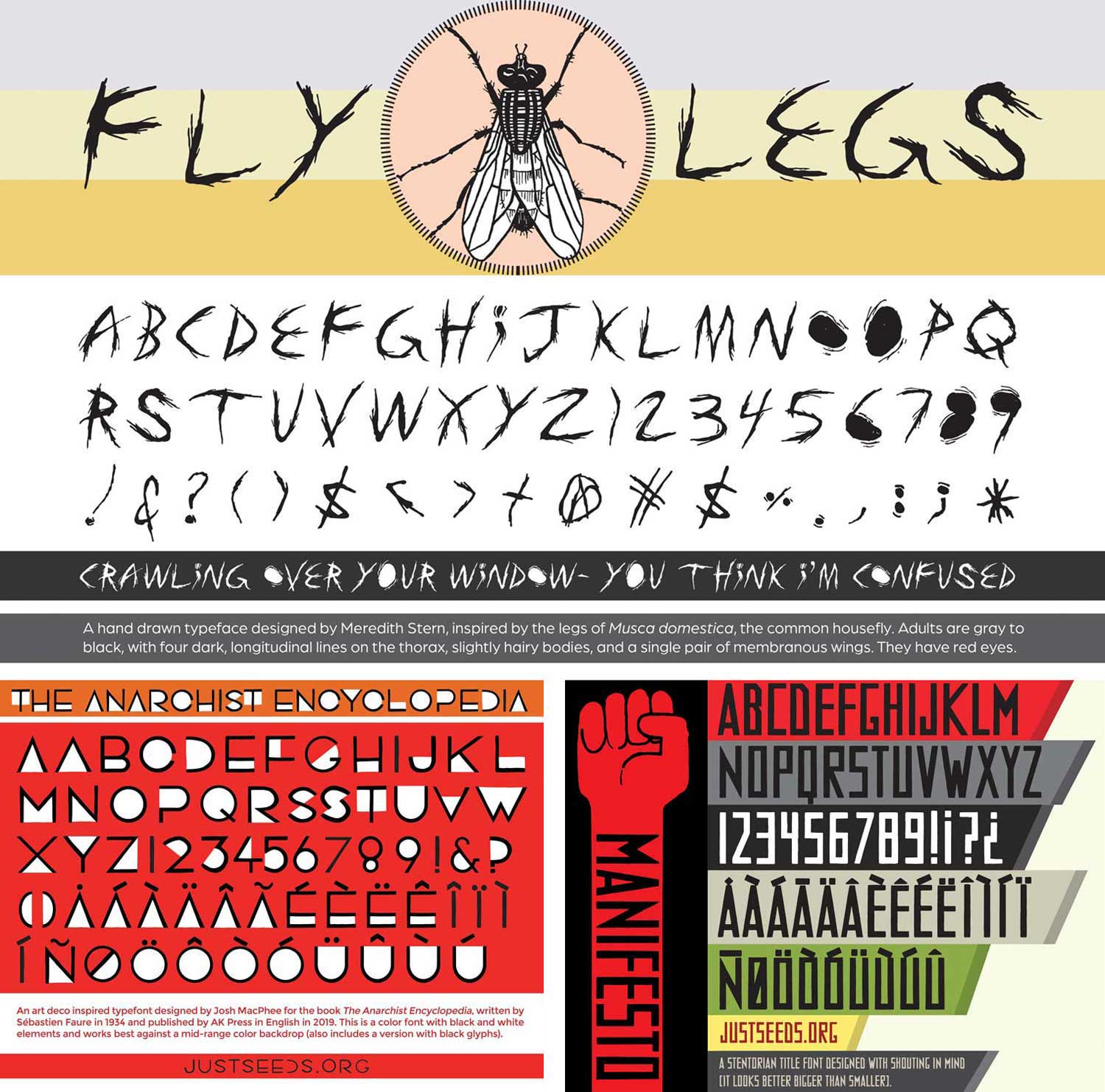 Medicine–an expressive decorative font from Kill Joy 
Interkosmos–a science fictional font by Alec Dunn that was derived by the '70s-era decorative work of Brutalist architect Klaus Franz
Rise Up–a hand drawn font by Josh MacPhee that was originally made for the book Why Don't the Poor Rise Up? Organizing the Twenty-First Century Resistance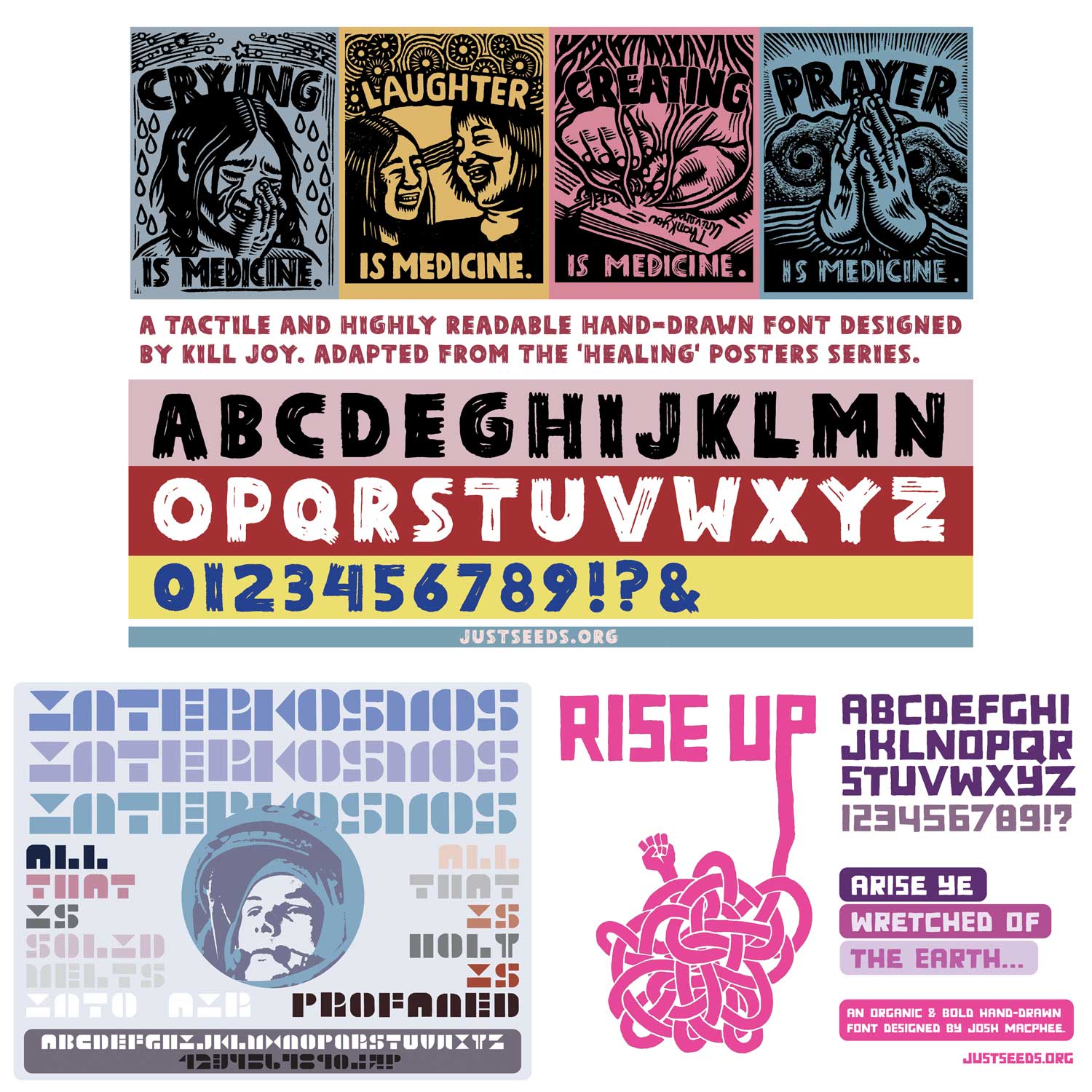 Upright Citizen–a hand drawn typeface by Chris Stain
Committee–a typeface by Alec Dunn based on relief cut letterforms (3 versions)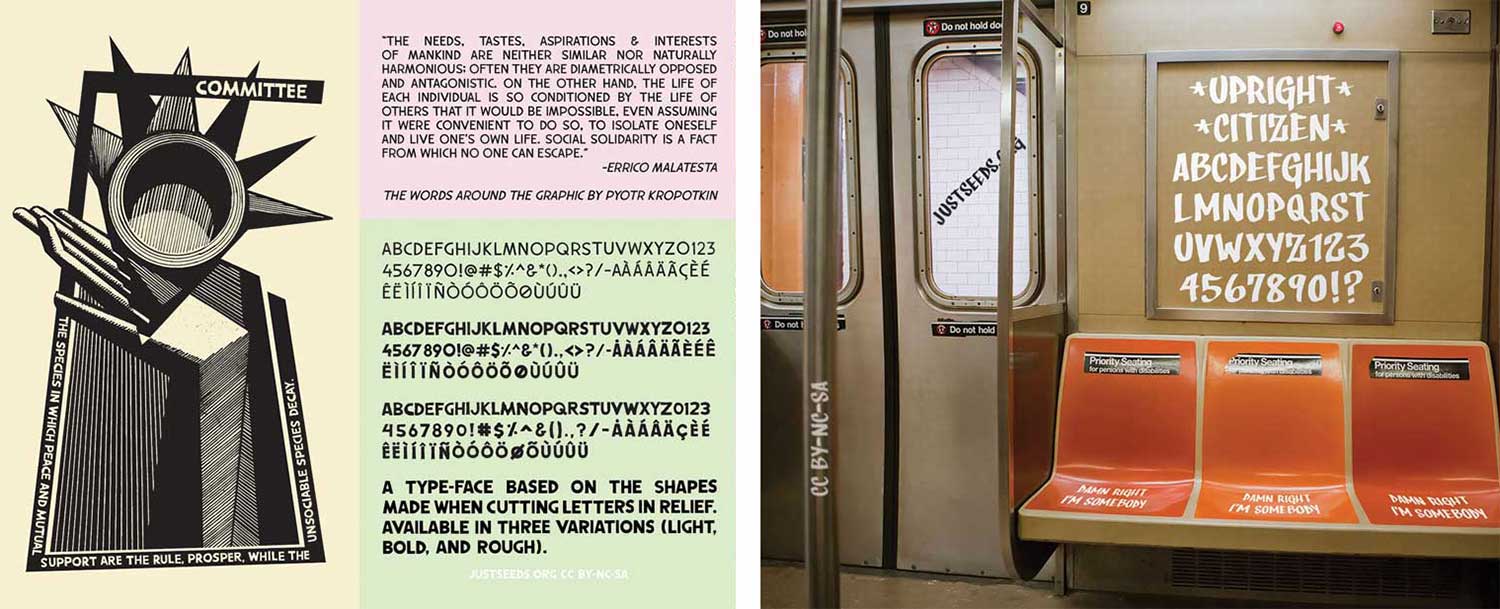 Justseeds Font Pack 5
by Mary Tremonte
by Kill Joy (3 versions)

Associated Artists
Justseeds Collaboration