Voices From Outside: Critical Resistance
Out of Stock
ORGANIZERS: Alec Dunn, Pete Railand, Nicolas Lampert, and Bettina Escauriza (Critical Resistance).
EDITION: 100
YEAR: 2008
PRINTING INFO: Twenty one prints in a wrap-around cover. Cover printed by Jenna Golden and Alec Dunn at Printed Matter Screen Printing. The portfolio included a CDROM of high-res prison abolition graphics.
EXHIBITIONS (2009-2020):
Paul Robeson Galleries, Rutgers University-Newark, Newark, NJ
Alteregos Cafe, Halifax, Nova Scotia
Project Lodge, Madison, WI
Stanley A. Milner Library, Edmonton, Albert
Exile Infoshop, Ottawa, Ontario
Arts For Art: Evolving Festival, NYC
Montreal Anarchist Bookfair, Montreal, Quebec
Toronto Free Gallery, Toronto, ON
Mess Hall, Chicago, IL
Whippersnapper Gallery, Toronto, ON
Pain Sugar Gallery, Riverside, CA
Certain Days Collective, Ste-Emilie SkillShare, Montreal, Quebec
Carleton University, Ottawa, Ontario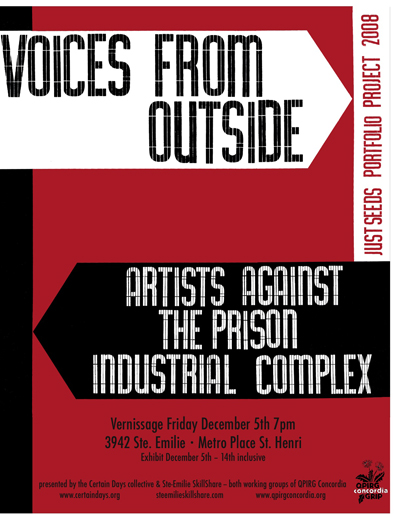 During the summer of 2008, Justseeds completed our first collective portfolio
Voices From Outside
in association with
Critical Resistance
's ten year anniversary conference in Oakland, California, which took place on September, 2008. Critical Resistance Ten was a gathering of activists, educators, and allies of prisoners who came together to promote organizing efforts to abolish the US prison system.
The portfolio included twenty-one prints from artists and artist collectives active in the US, Canada, and Mexico. Each print critiqued or addressed alternatives to, the prison-industrial complex. Each artist was responsible for their own printing and then mailed them to Justseeds where the portfolio was assembled and then distributed.
Justseeds archived two portfolios and sold 20 to recover costs. Each artist received one copy. The remaining portfolios were then donated to Critical Resistance and 23 other groups organizing against the prison-industrial complex.
---
We offer exhibition copies of all of our portfolios for loan to schools, galleries, libraries, community spaces, and other institutions and organizations that want to temporarily exhibit our work! Check out this page for more details and to get started!
---
Associated Artists
Alec Dunn
,
Bec Young
,
Erik Ruin
,
Favianna Rodriguez
,
Jesse Purcell
,
Jesus Barraza
,
Josh MacPhee
,
Kevin Caplicki
,
Mary Tremonte
,
Mazatl
,
Melanie Cervantes
,
Meredith Stern
,
Nicolas Lampert
, &
Pete Railand
Other Artists
Amor y Resistencia Collective, Andalusia Knoll, Brandon Bauer, Claude Moller, Etta Cetera, Lydia Crumbley.