Celebrate People's History: Iraq Veterans Against the War
Out of Stock
ORGANIZERS: Aaron Hughes, Josh MacPhee, Jesse Purcell, Siri Margerin (Civilian-Soldier Alliance), Kevin Basl (Iraq Veterans Against the War), and Marshall Weber (Booklyn)
EDITION: 116, including 20 limited edition sponsorship portfolios
YEAR: 2014
PRINTING INFO: Sixty-seven screenprint, offset, and letterpress prints. Silkscreening done at Repetitive Press. Housed in a die-cut screenprinted box that also included a tabloid sized toolkit and an IVAW reader.
SPONSORS: Booklyn Artists Alliance, Civilian-Soldier Alliance, Justseeds Artist' Cooperative, Iraq Veterans Against the War (IVAW), and Repetitive Press
EXHIBITIONS (2014 – 2018)
Denver Art Society, Denver, CO
Art In These Times, Chicago, IL
Veterans of Foreign Wars Hall, Denver, CO
Ash Street Projects, Portland, OR
Coffee Strong, Lakewood, WA
Olympia-Rafah Solidarity Mural Project, Olympia, WA
Memorial Union, University of Kansas, Lawrence, KS
Peace and Justice Center of Sonoma, Amsteel, Oakland, CA
Paul Mullowney Gallery, San Francisco, CA
Worth Ryder Art Gallery, UC Berkeley, CA
Art Gallery, University of Texas San Antonio, TX
IVAW Convention, Ocoee, TN
Braddock Carnegie Library, Braddock, PA
City College of San Francisco, CA
College of the Redwoods, Eureka, CA
Print Department, University of Illinois, Campaign-Urbana, IL
Victoria College of Art, Melbourne, Australia
SubRosa Community Space, Santa Cruz, CA
Trophy Room, Veterans Memorial Building, San Francisco Art Commission, San Francisco, CA
Booklyn, Brooklyn, NY
Honors College, University of Texas San Antonio, TX
Iraq Veterans Against the War (IVAW) was founded by Iraq war veterans in July 2004 at the annual convention of Veterans for Peace (VFP) in Boston to give a voice to the large number of active duty service people and veterans who are against this war, but are under various pressures to remain silent. From its inception, IVAW has called for:
Immediate withdrawal of all occupying

forces in Iraq

Reparations for the destruction and corporate pillaging of Iraq so that Iraqi people can control their own lives and future

Full benefits, adequate healthcare (including mental health), and other supports for returning servicemen and women
Today IVAW members are in 43 states, Washington, D.C., Canada, and on numerous bases overseas, including Iraq. IVAW currently has 27 chapters around the country and in Canada. IVAW members educate the public about the realities of the Iraq war by speaking in communities and to the media about their experiences. Members also dialogue with youth in classrooms about the realities of military service. IVAW supports all those resisting the war, including Conscientious Objectors and others facing military prosecution for their refusal to fight. IVAW advocates for full funding for the Veterans Administration, and full quality health treatment (including mental health) and benefits for veterans when they return from duty.
Celebrate People's History/Iraq Veterans Against the War: Ten Years of Fighting for Peace and Justice was a portfolio that celebrated IVAW's first ten years, the work of IVAW members to end the wars they served in, and their work to transform the society that fostered those wars. IVAW is now known as About Face: Veterans Against the War
The portfolio featured contributions from IVAW and Justseeds members, along with allied veterans, artists, and writers. It highlighted key ideas, moments, projects, tactics, and individuals from IVAW's history in order to uplift their ongoing struggle, inspire action, and preserve the movement's history.
Images of the individual prints from this portfolio can be seen here.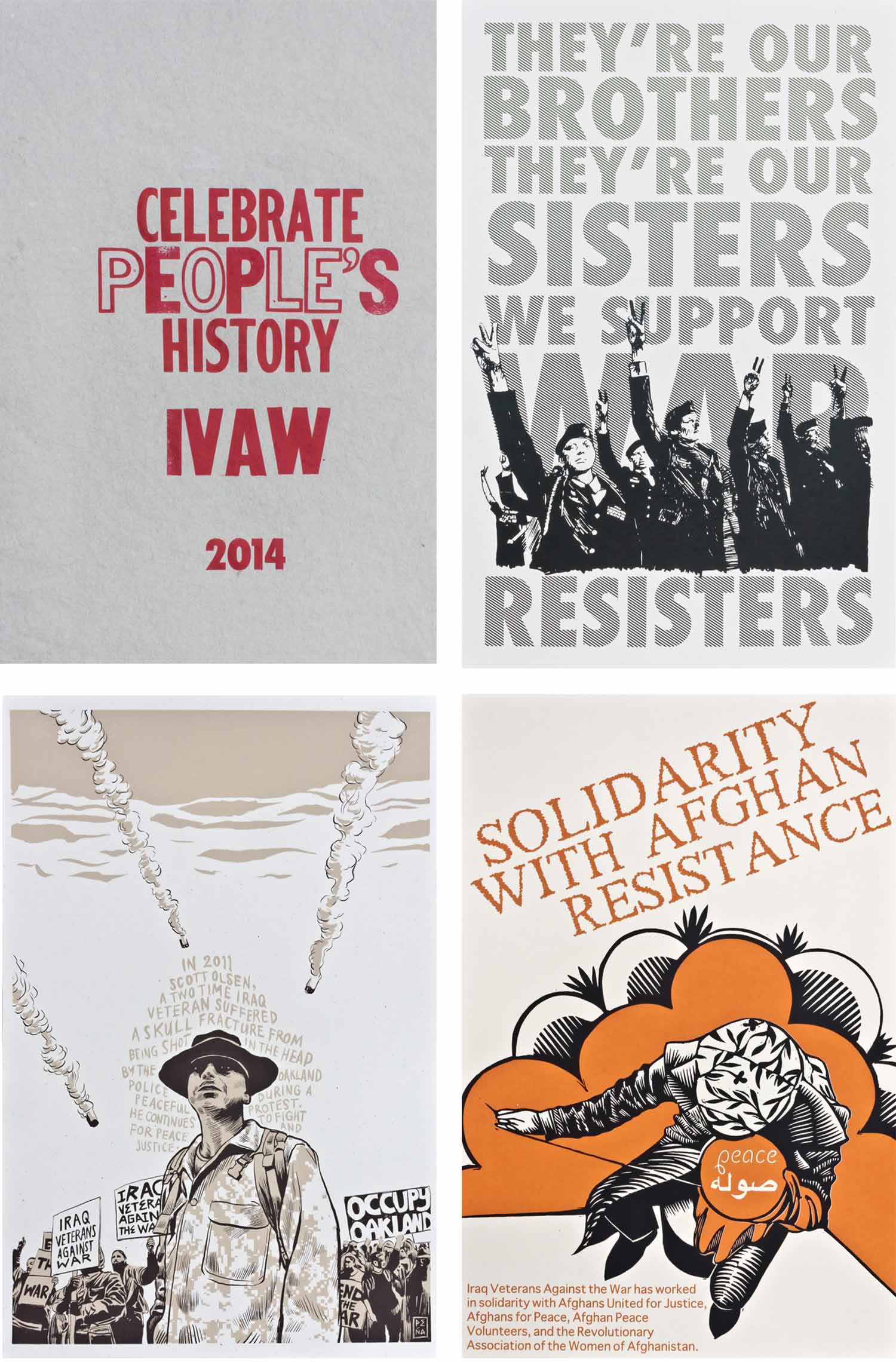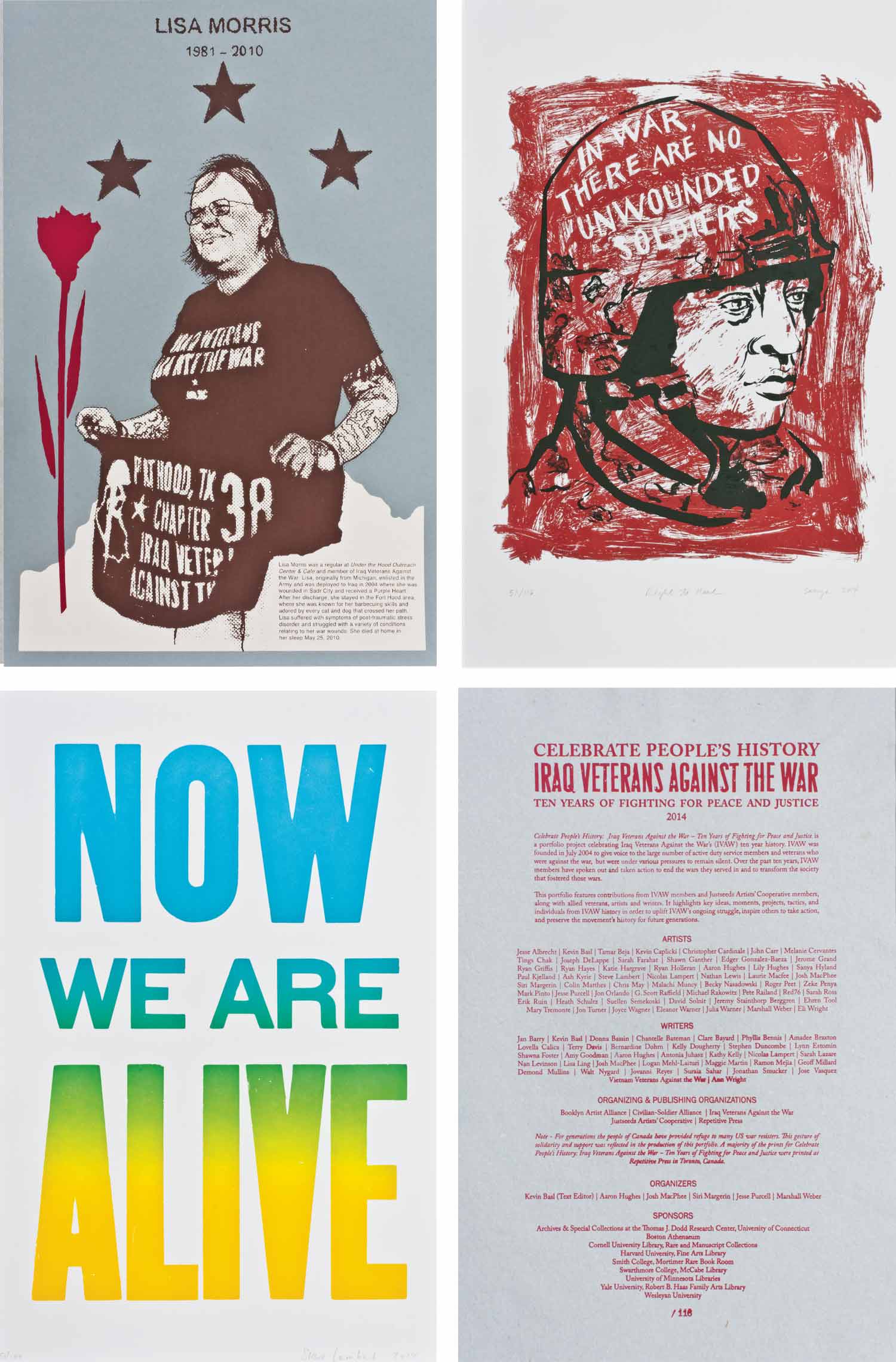 ---
Organizers
Kevin Basl of Iraq Veterans Against the War, Aaron Hughes of Iraq Veterans Against the War & Justseeds, Josh MacPhee of Justseeds, Siri Margerin of Civilian-Soldier Alliance, Jesse Purcell of Justseeds & Repetitive Press, and Marshall Weber of Booklyn Artist's Alliance.
Contributing Writers
Jan Barry, Kevin Basl, Donna Bassin, Chantelle Bateman, Clare Bayard, Phyllis Bennis, Amadee Braxton, Lovella Calica, Terry Davis, Bernardine Dohrn, Kelly Dougherty, Stephen Duncombe, Lynn Estomin, Shawna Foster, Amy Goodman, Aaron Hughes, Antonia Juhasz, Kathy Kelly, Nicolas Lampert, Sarah Lazare, Nan Levinson, Lisa Ling Josh MacPhee, Maggie Martin, Logan Mehl­Laituri, Ramon Mejia, Geoff Millard, Demond Mullins, Walt Nygard, Jovanni Reyes, Suraia Sahar, Jonathan Smucker, Vietnam Veterans Against the War, Jose Vasquez, & Ann Wright
---
We offer exhibition copies of all of our portfolios for loan to schools, galleries, libraries, community spaces, and other institutions and organizations that want to temporarily exhibit our work! Check out this page for more details and to get started!
---
Associated Artists
Aaron Hughes
,
Erik Ruin
,
Jesse Purcell
,
Josh MacPhee
,
Kevin Caplicki
,
Mary Tremonte
,
Melanie Cervantes
,
Nicolas Lampert
,
Paul Kjelland
,
Pete Railand
,
Roger Peet
, &
Sanya Hyland
Other Artists
Jesse Albrecht, Kevin Basl, Tamar Beja, Christopher Cardinale, John Carr, Tings Chak, Ian Cozzens, Joseph DeLappe, Sarah Farahat, Shawn Ganther, Edger Gonzalez­Baeza, Jerome Grand, Ryan Griffis, Ryan Hayes, Katie Hargrave, Ryan Holleran, Lily Hughes, Ash Kyrie, Steve Lambert, Nathan Lewis, Laurie Macfee, Siri Margerin, Chris May, Malachi Muncy, Becky Nasadowski, Zeke Penya, Mark Pinto, Jon Orlando, G. Scott Raffield, Michael Rakowitz, Red76, Sarah Ross, Heath Schultz, Suellen Semekoski, David Solnit, Jeremy Stainthorp Berggren, Ehren Tool, Jon Turner, Joyce Wagner, Eleanor Warner, Julia Warner, Marshall Weber, & Eli Wright